Preposition Mistakes in English for Specific Purposes: The Case of Indonesian Accounting Study Program Students
Agustine Andriana Ayu Mahardika

Universitas Sanata Dharma, Indonesia

Barli Bram

Universitas Sanata Dharma, Indonesia
Abstract
Prepositions remain challenging for learners of English as a foreign language. Linguistically speaking, prepositions are part of grammar and are frequently used in speaking, listening, reading, and writing. Thus, this research investigated the mastery of English prepositions of undergraduate accounting program students of batch 2021 at a private university in Yogyakarta. The data of this quantitative research were collected through a close-ended questionnaire using Google Forms distributed to 23 students. The collected data were analyzed to identify preposition mistakes. Results showed three common problems of prepositions, namely the addition of unnecessary prepositions, omission of prepositions, and misuse of prepositions. The findings would assist students, thesis advisors, and teachers in using English prepositions grammatically, particularly in English for Specific Purposes (ESP). It is expected that future researchers utilize larger data sets to obtain more robust results of proper uses of prepositions and future researchers are expected to observe the participants directly to maximize the results of the data.
References
Anjayani, P., Suprapto, D., & Hum, M. (2016). Error analysis on the use of prepositions in students' writing (A case study of the eleventh grade students of SMA Negeri 9 Semarang in the academic year of 2014/2015). ELT Forum: Journal of English Language Teaching, 5(2), 1–6. https://doi.org/10.15294/elt.v5i2.11227

Bram, B. (2005). Some common problems involving prepositions in writing English in a multilingual context. Proceedings of the 53rd International TEFLIN Conference, 1–7.

Bram, B. (2012). Learners' language challenges in writing English. Celt, A Journal of Culture, English Language Teaching & Literature, 12(1), 1–15.

Bram, B. (2013). Three main issues of simple prepositions in English. Academia, Accelerating the World's Research.

Creswell, J. W., & Creswell, D. J. (2018). Research Design: Qualitative, Quantitative, and Mixed Methods Approaches. In Angewandte Chemie International Edition, 6(11), 951–952. (5th ed.). SAGE.

Damaiyanti, S. (2021). Grammatical errors made by eighth-grade students in speaking English. Journal of English Language Teaching and Learning (JETLE), 2(2), 57–69. https://doi.org/10.24042/ee-jtbi.v14i1.8712

Debata, P. K. (2013). The importance of grammar in English language teaching: A reassessment. Language in India, 13(5), 482–486.

Delshad, S. (1998). Persian and English prepositions compared and contrasted from a pedagogical point of view. In Journal of Allergy and Clinical Immunology (Vol. 130, Issue 2).

Denzilveigas, A., & Wilson, D. D. (2021). Grammatical errors among L2 learners at the undergraduate level. Annals of R.S.C.B, 25(1), 5621–5635.

Fitria, T. N. (2021). Grammatical error analysis of English abstracts translation in Jurnal Ilmiah Ekonomi Islam ( JIEI ) Journal. LITE: Jurnal Bahasa, Sastra, Dan Budaya, 17(2), 117–126. https://doi.org/10.33633/lite.v17i2.5050

Gvarishvili, Z. (2013). Interference of L1 Prepositional Knowledge in Acquiring of Prepositional Usage in English. Procedia - Social and Behavioral Sciences, 70, 1565–1573. https://doi.org/10.1016/j.sbspro.2013.01.224

Hadriana, Ismail, M. A., & Mahdum. (2013). The relationship between motivations and self-learning and the English language achievement in secondary high school students. Asian Social Science, 9(12 SPL ISSUE), 36–43. https://doi.org/10.5539/ass.v9n12p36

Hideaki, I. (2021). From native-speaker likeness to self-representation in language: Views from the acquisition of Japanese transitive and intransitive verbs. Acta Linguistica Asiatica, 11(1), 25–35. https://doi.org/10.4312/ALA.11.1.25-36

Huang, L. S. (2009). The potential influence of L1 (Chinese) on L2 (English) communication. ELT Journal, 64(2), 155–164. https://doi.org/10.1093/elt/ccp039

Jajere, B. M., & Yunusa, M. Y. (2021). Analysing prepositions in students' English texts at Shehu Sule College of nursing and midwifery, Damaturu, Yobestate. Dutsin-Ma Journal of English and Literature (DUJEL), 295–310.

Johnson, R. B., & Christensen, L. (2013). Educational research: Quantitative, qualitative, and mixed approaches (5th Editio). SAGE Publications, Inc.

Lauder, A. (2008). The status and function of English in Indonesia: A review of key factors. Makara Human Behavior Studies in Asia, 12(1), 9–20. https://doi.org/10.7454/mssh.v12i1.128

Mahardika, A. A. A., & Kuswandono, P. (2022). Indonesian graduate students' strategies in regulating their motivation in academic reading. Premise: Journal of English Education and Applied Linguistics, 11(2), 329–347. https://doi.org/10.24127/pj.v%vi%i.4825

Mahmoodzadeh, M. (2012). A cross-linguistic study of prepositions in Persian and English: The effect of transfer. Theory and Practice in Language Studies, 2(4), 734–740. https://doi.org/10.4304/tpls.2.4.734-740

Mbato, C. L., & Cendra, A. (2019). EFL undergraduate students' self-regulation in thesis writing: Help-seeking and motivation-regulation. JELE (Journal of English Language and Education), 5(1), 66–82. https://doi.org/10.26486/jele.v5i1.949

Rao, P. S. (2019). The role of grammar in English language teaching (ELT) techniques. Research Journal Of English (RJOE), 4(2), 239–249.

Rebwar, N., & Hersh, R. (2021). Common Errors and Confusing Prepositions in English Language. https://doi.org/10.13140/RG.2.2.31081.83048

Saaristo, P. (2015). Grammar is the heart of language: Grammar and its role in language learning among Finnish university students. Voices of Pedagogical Development – Expanding, Enhancing and Exploring Higher Education Language Learning, 279–318. https://doi.org/10.14705/rpnet.2015.000296

Sanjaya, A. A., & Bram, B. (2021). Investigating preposition usage problems of English language education program students. Saga, 2(1), 19–34. https://doi.org/10.21460/saga.2020.

Seaton, A., & Mew, Y. H. (2007). Basic English Grammar. In Nature (Vol. 153, Issue 3881). Saddleback Educational Publishing. https://doi.org/10.1038/153339a0

Thumawongsa, N. (2018). L1 transfer on Thai EFL learners' utilization of prepositions: A corpus-based analysis. Journal of Community Development Research (Humanities and Social Sciences), 11(1), 35–47.

Wairimu, R., & Ngugi, B. N. (2021). An analysis of prepositional related errors in English composition of upper primary learners in Kieni East Sub County in Nyeri County. International Journal of English Literature and Social Sciences, 6(5), 49–61. https://doi.org/10.22161/ijels.65.9

Yuying, C. (2021). The error analysis of Chinese students ' use of English spatial prepositions from the cognitive perspective. International Journal of Liberal Arts and Science, 9(6), 58–64.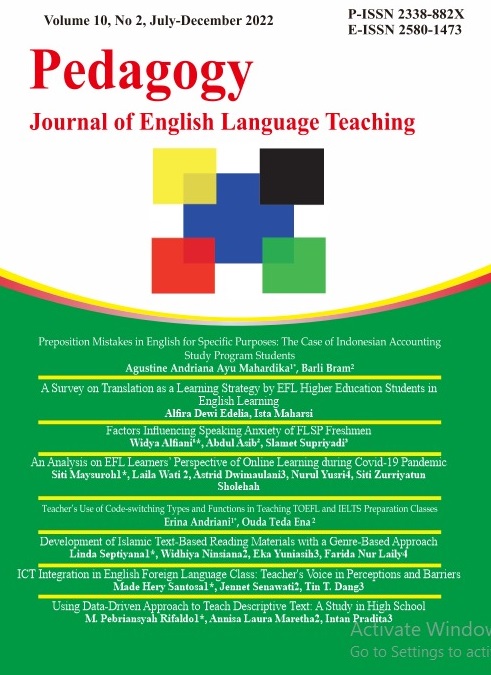 This work is licensed under a Creative Commons Attribution-ShareAlike 4.0 International License.