Exploring Students' Online Learning Readiness during Covid-19 Pandemic: A Case of an English Class in an Indonesian Junior High School
Firda Fadilla

Universitas Tanjungpura, Indonesia

Yohanes Gatot Sutapa Yuliana

Universitas Tanjungpura, Indonesia

Yanti Sri Rezeki

Universitas Tanjungpura, Indonesia
Abstract
Online learning readiness has become crucial and needs to be considered to support E-learning from various perspectives. This article sought to discover the E-learning Readiness (ELR) factors from students' perspectives during the Covid-19 Pandemic. Fifty-two seventh-grade Junior High School students in Indonesia participated in this study. This quantitative research used thirty-nine items in a questionnaire as the data collection instrument modified from Teddy and Swatman's (2006) model known as E-learning Readiness (ELR) factors. The model utilized six factors, namely (1) students' readiness, (2) teachers' readiness, (3) internet access supports, (4) management supports, (5) school culture, and (6) E-learning tendencies. The findings indicated that the students' readiness toward E-learning had an ELR score of 69%, which means they were ready for E-learning but needed slight improvement. The results showed students experienced difficulties (i.e., they were untrained in operating electronic devices, the devices lagged during the online teaching-learning process, and they had trouble following the English material due to the lack of instruction from English teachers) in implementing E-learning. The writer concluded that the student readiness towards E-learning was considered capable and ready but required some improvement from various aspects.
References
Adedoyin, O. B., & Soykan, E. (2020). Covid-19 pandemic and online learning: the challenges and opportunities. Interactive Learning Environments. https://doi.org/10.1080/10494820.2020.1813180

Alimyar, Z., & Lakshmi G, S. (2021). A study on language teachers' preparedness to use technology during COVID-19. Cogent Arts & Humanities, 8(1). https://doi.org/10.1080/23311983.2021.1999064

Creswell, J. W. (2012). Educational Research: Planning, conducting, and evaluating quantitative and qualitative research (M. Buchholtz, Ed.; 4th ed.). Pearson Education.

Firat, M., & Bozkurt, A. (2020). Variables affecting online learning readiness in an open and distance learning university. Educational Media International, 112–127. https://doi.org/10.1080/09523987.2020.1786772

Howard, S. K., Tondeur, J., Siddiq, F., & Scherer, R. (2021). Ready, set, go! Profiling teachers' readiness for online teaching in secondary education. Technology, Pedagogy, and Education, 30(1), 141–158. https://doi.org/10.1080/1475939X.2020.1839543

Joosten, T., & Cusatis, R. (2020). Online Learning Readiness. American Journal of Distance Education, 34(3), 180–193. https://doi.org/10.1080/08923647.2020.1726167

Martin, F., Stamper, B., & Flowers, C. (2020). Examining student perception of readiness for online learning: Importance and confidence. Online Learning Journal, 24(2), 38–58. https://doi.org/10.24059/olj.v24i2.2053

Pemerintahan Provinsi Kalimantan Barat. (2019). Gambaran umum aspek geografis Kalimantan Barat. Kalbarprov. https://kalbarprov.go.id/page/geografis

Smith, P. J. (2005). Learning preferences and readiness for online learning. In Educational Psychology (Vol. 25, Issue 1, pp. 3–12). https://doi.org/10.1080/0144341042000294868

Sunarno, A., Supriatna, N., & Malihah, E. (2020). E-learning in 21st Century Era: Junior High School Readiness in Social Studies. ACM International Conference Proceeding Series, 83–87. https://doi.org/10.1145/3395245.3396447

Taylor, S. J., Bogdan, R., & DeVault, M. L. (2016). Introduction to Qualitative Research Methods (4th ed.). John Wiley & Sons.

Teddy, S., & Swatman, P. M. C. (2006). E-Learning Readiness of Hong Kong Teachers. https://doi.org/DOI: 10.1.1.65.8121.

Wray, A., & Bloomer, A. (2006). Project In Linguistics: A Practical Guide To Researching Language (2nd ed.). Hodder Education.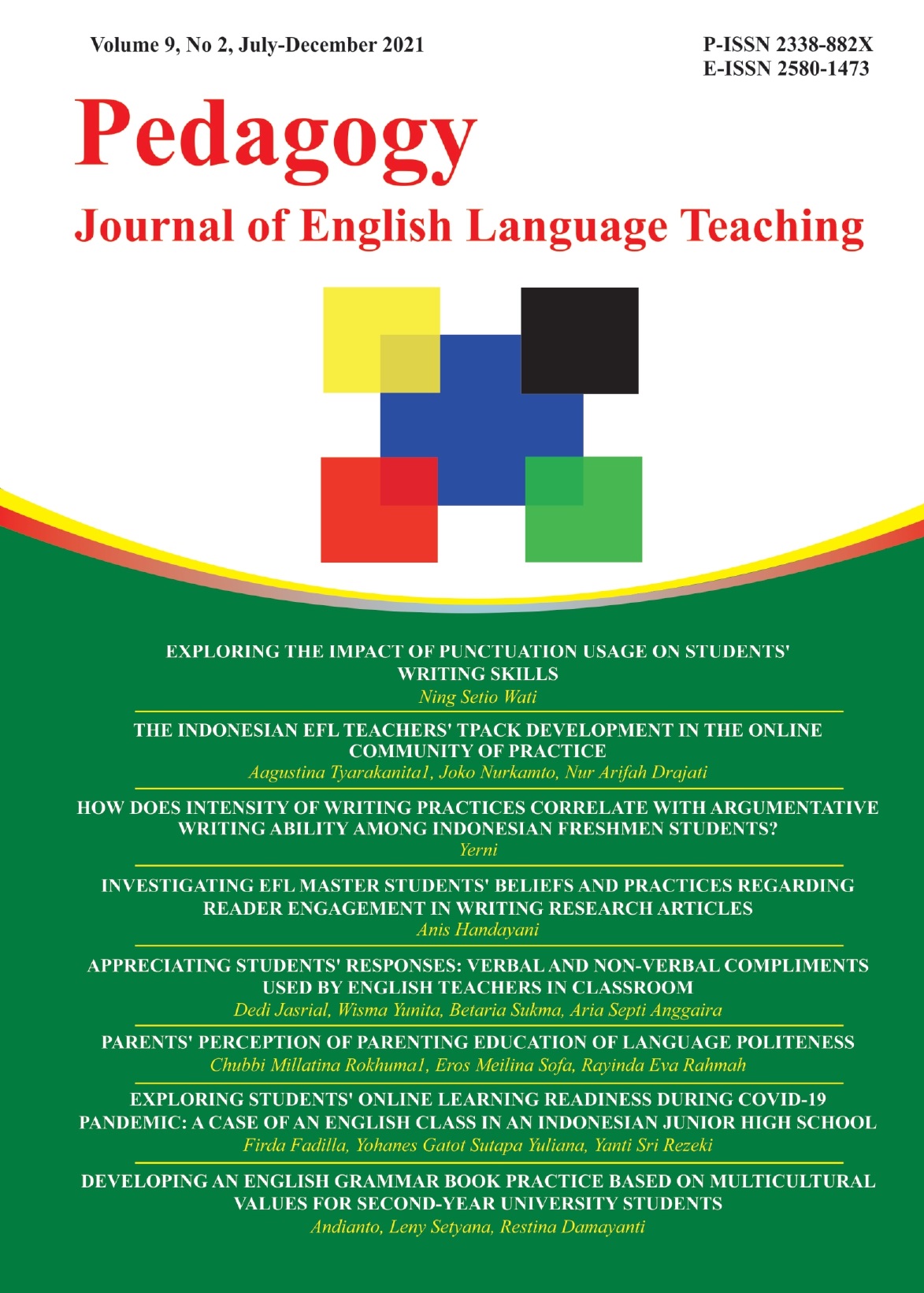 This work is licensed under a Creative Commons Attribution-ShareAlike 4.0 International License.