English Digital Literacy Practices Inside and Outside Class to Develop Students' Speaking Skills
Nor Amalia Khairunnisa

Universitas Islam Negeri Antasari. Indonesia

M Arinal Rahman

Universitas Islam Negeri Antasari. Indonesia

Ciptro Handrianto

Universiti Pendidikan Sultan Idris, Malaysia
Abstract
The development of technology has initiated new teaching systems. In teaching speaking, there are issues about whether the students should learn in the class or outside of the class using technology. This article describes the practice of students' digital English literacy practice at SMAN Kapuas to study this digital practice's pedagogical potential when students interact directly or through social networks such as live streaming on YouTube or Instagram, video calls, or chatting with friends. A mixed-method study using questionnaires and interviews analyzed deeper and richer data. The results show that many sentences were still wrong when spoken in class. However, they can understand speaking lessons based on digital literacy, which they play or watch outside of the class. This implied that students should be instructed in alternative speaking methods. They may enhance their speaking abilities more purposefully, carefully, and often by using suitable language acquisition tools outside of the class.
References
Argawati, N. O., & Suryani, L. (2020). Digital-based instruction: Chances and challenges in English language teaching context. International Journal of Evaluation and Research in Education, 9(4).

Ary, D., Jacobs, L. C., Sorensen, C., & Razavieh, A. (2010). Introduction to research in education. Cengage Learning.

Cabaysa, C. C., & Baetiong, L. R. (2010). Language learning strategies of students at different levels of speaking proficienc. Education Quarterly, 68(1), 16–35.

Gharbavi, A., & Mousavi, S. A. (2012). Do language proficiency levels correspond to language learning strategy adoption? English Language Teaching, 5(7), 110–122.

Handrianto, C., Uçar, A. S., Saputra, E., Nengsih, Y. K., Kenedi, A. K., & Rahman, M. A. (2021). Competences of adult learning facilitators in community service learning. Kolokium, 9(2), 118–129. https://doi.org/10.24036/kolokium-pls.v9i2.493

Irwansyah, D. (2019). Teaching english at indonesian islamic higher education: An epistemological perspective. Dinamika Ilmu, 18(1), 1–13. http://dx.doi.org/10.21093/di.v18i1.1120

Irwansyah, D., & Nurgiyantoro, B. (2019). A literature-based reading instructional model for Islam-affiliated university in Indonesia. International Journal of Instruction, 12(3), 577–594.

O'Malley, J., & Chamot, A. (1990). Learning strategies in second language acquisition. Cambridge University Bridge.

Oxford. (1990). Language learning strategies: What every teacher should know. Newbury House.

Pei-Shi, W. (2012). The effect of learning styles on learning strategy use by EFL learners. Journal of Social Sciences, 230–234. https://doi.org/10.3844/jssp.2012.230.234

Rahman, M. A., & Ja'afar, H. (2018). A review of the mingle model as a new technique in teaching speaking: Indonesian context. Linguistics, Literature and English Teaching Journal, 7(2), 181–194. http://dx.doi.org/10.18592/let.v7i2.1949

Rahman, M. A., Novotasari, D., Handrianto, C., & Rasool, S. (2022). Assessment challenges in online learning during the covid-19 pandemic. Kolokium Jurnal Pendidikan Luar Sekolah, 10(1). https://doi.org/10.24036/kolokium.v10i1.517

Rita, Y., & Handrianto, C. (2021). Innovation of digital learning in package c program in facing the new normal education. Kolokium, 9(1), 20-28. https://doi.org/10.24036/kolokium-pls.v9i1.447

Thedpitak, A., & Somphong, M. (2021). Exploring Thai EFL learners' attitudes toward the use of mobile applications for language learning. Learn Journal: Language Education and Acquisition Research Network, 14(1), 370–398.

Tiara, A., Rahman, M., & Handrianto, C. (2021). The Students` Perception about Use of Duolingo Application for Improving English Vocabulary. International Journal of Education, Information Technology, and Others, 4(4), 690–701. https://doi.org/10.5281/zenodo.5775915

UNESCO. (2004). The plurality of literacy and its implications for policies.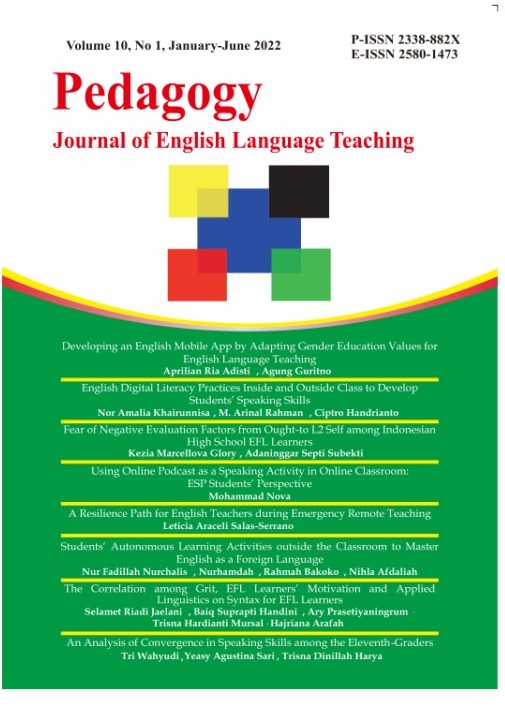 This work is licensed under a Creative Commons Attribution-ShareAlike 4.0 International License.