Bilingualism Practices Through Teacher's Verbal Input in Early Childhood Education
Syifana Arumaisya

Universitas Islam Indonesia, Indonesia
Abstract
This research aims to explore the use of teacher's verbal input in bilingualism practices to children in International Kindergarten. The research design was a qualitative method, specifically thematic analysis. Three preschool teachers from two kindergartens were chosen to be the participants of this research. The teachers were from junior pre-school (3-4 years of age) and senior pre-school (5-6 years of age) in International Islamic School and preparatory class in International Kindergarten Yogyakarta. A set of interview questions served as the instrument for this study. The questions were constructed based on De Houwer et al., (2012) and Hummel (2014) that were related to bilingualism practices through teacher's verbal input to interview the teacher on how the verbal input works in bilingualism practices and what are the challenges the teacher gets. The result showed that both schools have already implemented adult's verbal input to their students' bilingualism practices using two languages at school. The difference is in the most types applied from each school. Most types applied in International Islamic The school was shorter utterances, meanwhile, the most typically applied in International Kindergarten was substantial repetition. 
References
Adnyani, N. L. P. S., Beratha, N. L. S., & Suparwa, I. N. (2017). Child Comprehension of Adults' Verbal Input: a Case of Bilingual Acquisition in Infancy. Indonesian Journal of Applied Linguistics, 7(1), 11. https://doi.org/10.17509/ijal.v7i1.6853

Asmali, M. (2017). Young Learners' Attitudes and Motivation to Learn English. Novitas-ROYAL (Research on Youth and Language), 11(1), 53–68.

Baker, C. R. (2009). Foundations of Bilingual Education and Bilingualism. In The Modern Language Journal (Vol. 78, Issue 3). http://hdl.handle.net/10242/36636

Bijeljac-Babic, R., Höhle, B., & Nazzi, T. (2016). Early Prosodic Acquisition in Bilingual Infants: The Case of the Perceptual Trochaic Bias. Frontiers in Psychology, 7(February), 1–8. https://doi.org/10.3389/fpsyg.2016.00210

Braun, V., & Clarke, V. (2006). Using thematic analysis in psychology. Qualitative Research in Psychology, 3(2), 77–101. https://doi.org/10.1191/1478088706qp063oa

de Houwer, A., Bornstein, M. H., & de Coster, S. (2006). Early understanding of two words for the same thing: A CDI study of lexical comprehension in infant bilinguals. International Journal of Bilingualism, 10(3), 331–347. https://doi.org/10.1177/13670069060100030401

De Houwer, A., Bornstein, M. H., & Putnick, D. L. (2012). A bilingual-monolingual comparison of young children's vocabulary size: Evidence from comprehension and production. Applied Psycholinguistics, 35(6), 1189–1211. https://doi.org/10.1017/S0142716412000744

Grøver, V., Lawrence, J., & Rydland, V. (2018). Bilingual preschool children's second-language vocabulary development: The role of first-language vocabulary skills and second-language talk input. International Journal of Bilingualism, 22(2), 234–250. https://doi.org/10.1177/1367006916666389

Jackson, R. W. B. (1970). On the ontario institute for studies in education. In Interchange (Vol. 1, Issue 1). https://doi.org/10.1007/BF02214306

Nursanti, Y. (2016). Students ' Perception of Teacher ' S Bilingual Language. Journal of English and Education, 4(1), 159–176.

Poulain, T., & Brauer, J. (2018). The changing role of mothers' verbal and nonverbal behavior in children's language acquisition. First Language, 38(2), 129–146. https://doi.org/10.1177/0142723717735427

Pransiska, R. (2017). Benefits of Bilingualism in Early Childhood: A Booster of Teaching English to Young Learners. 58, 390–393. https://doi.org/10.2991/icece-16.2017.68

Soderstrom, M. (2007). Beyond babytalk: Re-evaluating the nature and content of speech input to preverbal infants. Developmental Review, 27(4), 501–532. https://doi.org/10.1016/j.dr.2007.06.002

Yulia, A. W. R. L. Y. (2018). an Evaluation Study of Bilingual Program in Fawwaz. Journal of English Language and Language Teaching (JELLT), 2(1), 1–8.

Zacharias, N. (2010). Issues of Teyl in Indonesian and What Parent Can Do About It. Indonesian Journal of English Language Teaching, 6(2), 15–28.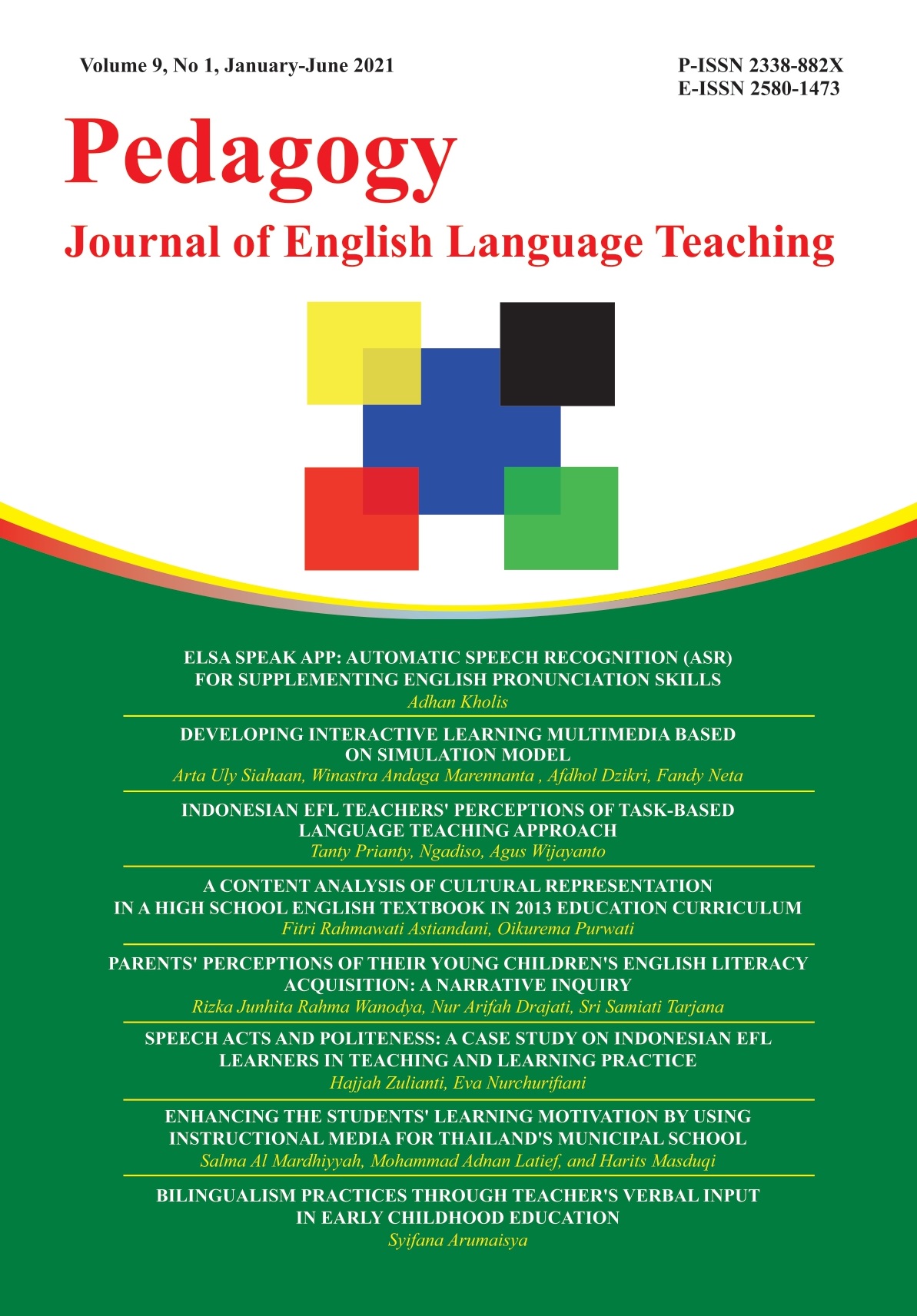 This work is licensed under a Creative Commons Attribution-ShareAlike 4.0 International License.