A Content Analysis of Cultural Representation in High School English Textbook in 2013 Education Curriculum
Fitri Rahmawati Astiandani

Universitas Negeri Surabaya

Oikurema Purwati

Universitas Negeri Surabaya
Abstract
This study reports cultural content in the latest high school English textbook concerning the 2013 education curriculum. Besides, this paper also explores the intercultural communicative competence within the English textbooks. A qualitative research design is employed in this study. Moreover, the cultural contents and intercultural communicative competence were taken from the reading text on English textbooks for the last grade of senior high school entitled 'Bahasa Inggris 2018 revised edition'. This study relied on the kind of cultural contents by Cortazzi & Jin (1999), types of cultural dimensions by Yuen (2011), and three levels of intercultural communicative competence by Byram (2002). It has been found that target culture with the cultural dimension of the product had a major proportion on the English textbook. Besides, the lowest level of intercultural communicative competence, namely basic cultural awareness was also discovered. In such a case, the complicity of intercultural values in the textbook should be given more attention so that students can easily grasp the values of various cultures. As a result, the aims of the 2013 education curriculum can be achieved well.
References
Ayu, M. (2020). Evaluation of Cultural Content on English Textbook Used by EFL Students in Indonesia. Journal of English Teaching (JET), 6(3), 183–192.

Byram, M., Gribkova, B., & Starkey, H. (2002). Developing the Intercultural Dimension in Language Teaching: A Practical Introduction for Teachers. Council of Europe.

Cortazzi, M., & Jin, L. (1999). Cultural Mirrors Materials and Methos in the EFL classroom. In Culture in Second Language Teaching and Learning (Eli Hinkel, pp. 196–219). Cambridge University Press.

Faris, I. N. I. (2014). Cultural Content Analysis of an English Textbook for Senior High School Grade Three in Cianjur, West Java. Journal of English and Education, 2(2), 14–25.

Mardiana, & Suyata, P. (2017). Evaluating the Philosophical Foundation of 2013 Curriculum. Jurnal Penelitian Dan Evaluasi Pendidikan, 21(2), 175–188. http://www.tjyybjb.ac.cn/CN/article/downloadArticleFile.do?attachType=PDF&id=9987

Mustofa, M. I., & Martina, F. (2019). The Analysis of Cultural Content in Two EFL Textbooks Used at SMA IT Iqra' and SMKN 1 Bengkulu City. Journal of English Education and Teaching (JEET), 3(4), 481–493. https://doi.org/10.33369/jeet.3.4.481-493

Nurjanah, I., & Umaemah, A. (2019). An Analysis of Cultural Content in the Textbook "Pathway to English" for Second Grade in Senior High School. ELT-Echo, 4(1), 83–92.

Samsudin. (2019). An Investigation on the Indonesian Cultural Aspects in English Textbooks for Senior High School Published by Kemendikbud. Lingual, 8(2), 1–7.

Widiati, U., Rohmah, Z., & Furaidah. (2018). Bahasa Inggris SMA/MA/SMK/MAK Kelas XII (Edisi Revisi 2018). In R. S. Anggraini (Ed.), Pusat Kurikulum dan Perbukuan, Balitbang, Kemendikbud (Revised ed).

Yuen, K. M. (2011). The Representation of Foreign Cultures in English Textbooks. ELT Journal, 65(4), 458–466. https://doi.org/10.1093/elt/ccq089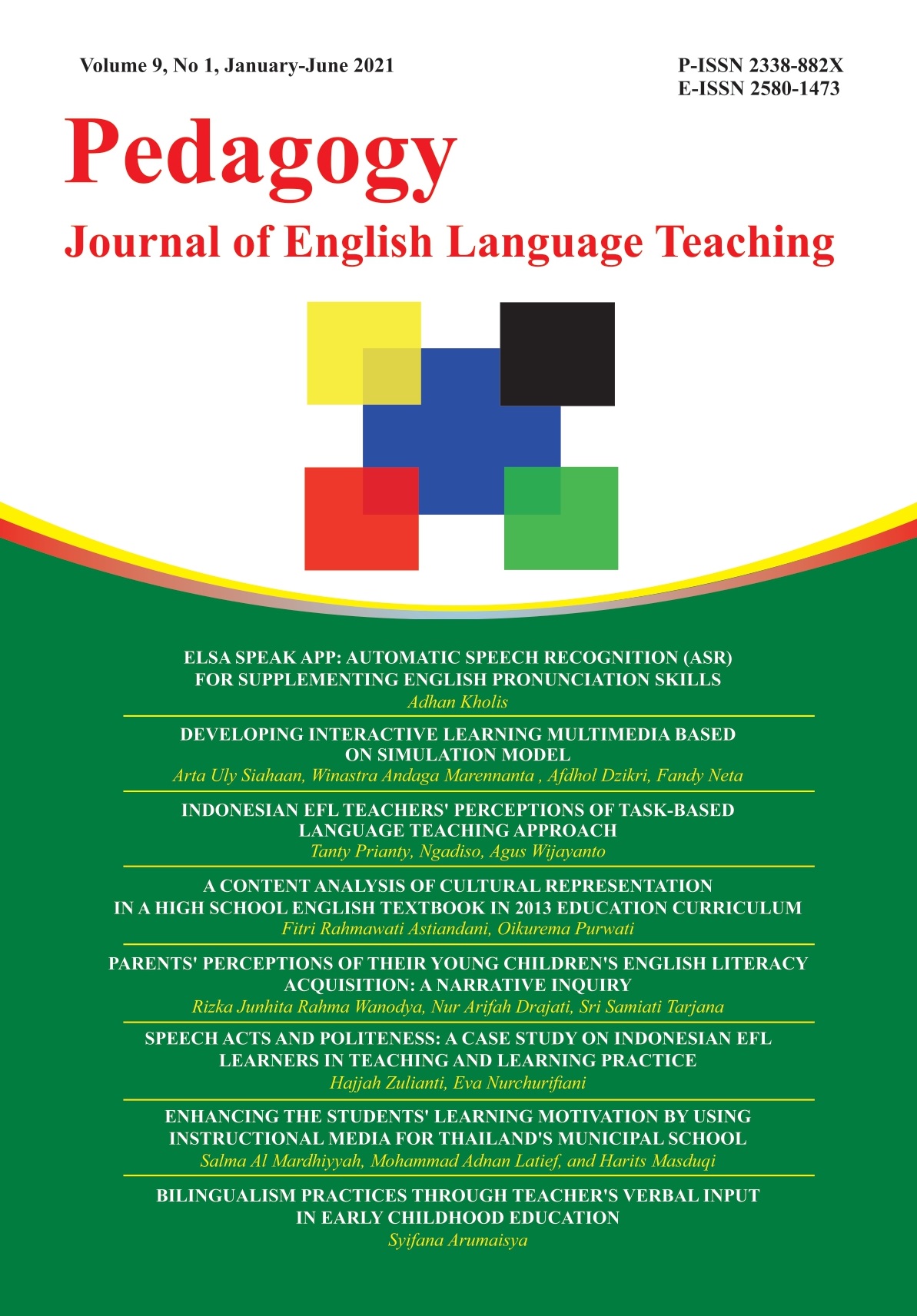 This work is licensed under a Creative Commons Attribution-ShareAlike 4.0 International License.