Developing Interactive Learning Multimedia Based on Simulation Model
Arta Uly Siahaan

Politeknik Negeri Batam, Indonesia

Winastra Andaga Marennanta

Politeknik Negeri Batam, Indonesia

Afdhol Dzikri

Politeknik Negeri Batam, Indonesia

Fandy Neta

Politeknik Negeri Batam, Indonesia
Abstract
The purpose of this research is to develop interactive multimedia namely Smile English that can be used as the media for learning reading especially for self-preparation on the Test of English for International Communication (TOEIC) material. This reading interactive media used a simulation model. This idea exploded after observing and collecting the data in the internal environment of Politeknik Negeri Batam Based on the placement test, it was found that about 540 (49,23%) of Polibatam students' test were categorized into the intermediate level and the rest were elementary and novice level. It means that the students need to improve their preparation before taking the test to an accomplished better score. Smile English was developed by using R and D research. In this case, the researcher followed the step of the Luther-Sutopo method which was started from concept, design, material collecting, assembly, testing, and distribution. It was designed using Adobe Flash software which in this software combined text, sound, and animation. The research result showed that the implementation of Smile English was successful to help the students in preparing themselves for the TOEIC test. Therefore, 60 students from Politeknik Negeri Batam had a good result in joining the TOEIC test, especially for the reading section.
References
Angelini, M. L., & García-Carbonell, A. (2019). Developing English speaking skills through simulation-based instruction. Teaching English with Technology, 19(2), 3–20.

Asyhar, R. (2011). Kreatif Mengembangkan Media Pembelajaran. Gaung. Persada (GP) Press. Jakarta.

Brown James Dean. (2005). Testing in Language Programs: A Comprehensive Guide to English Language Assessment. McGraw-Hill.

Caniglia, J. (2019). Simulation As a Teaching Strategy. Kent State University Center for Teaching and Learning. https://www.kent.edu/ctl/simulation-teaching-strategy

Chang, Y. S., Chen, C. N., & Liao, C. L. (2020). Enhancing English-learning performance through a simulation classroom for EFL students using augmented reality—A junior high school case study. Applied Sciences (Switzerland), 10(21), 1–24. https://doi.org/10.3390/app10217854

Crystal, D., & Ammon, U. (2008). The future of Englishes. English Today, 32(2), 10–20. https://doi.org/10.1075/lplp.32.2.08amm

Fauyan, M. (2019). Developing Interactive Multimedia Through Ispring on Indonesian Language Learning with The Insights of Islamic Values in Madrasah Ibtidaiyah. Al Ibtida: Jurnal Pendidikan Guru MI, 6(2), 177. https://doi.org/10.24235/al.ibtida.snj.v6i2.4173

Fauzi, I. (2016). The application of multimedia-based presentation in improving students` speaking skills. Journal of ELT Research, 1(1), 103–112.

Gusmida, R., & Islami, N. (2017). The Development of Learning Media for the Kinetic Theory of Gases Using the ADDIE Model with Augmented Reality. Journal of Educational Sciences, 1(1), 1. https://doi.org/10.31258/jes.1.1.p.1-10

Joshi, A., Kale, S., Chandel, S., & Pal, D. (2015). Likert Scale: Explored and Explained. British Journal of Applied Science & Technology, 7(4), 396–403. https://doi.org/10.9734/bjast/2015/14975

Putra, E. (2020). The Importance of Learning English Nowadays THE IMPORTANCE OF LEARNING ENGLISH NOWADAYS Erlangga Putra Sepuluh Nopember Institute of Technology ( ITS ) , Surabaya , Indonesia. November.

Putra, P. S., Asi, N. B., Anggraeni, M. E., & Karelius. (2020). Development of android-based chemistry learning media for experimenting. Journal of Physics: Conference Series, 1422(1). https://doi.org/10.1088/1742-6596/1422/1/012037

Ramadhani, R., & Muhtadi, A. (2018). Development of Interactive Multimedia in Learning Islamic Education. International Journal of Multicultural and Multireligious Understanding, 5(6), 9. https://doi.org/10.18415/ijmmu.v5i6.488

RISTEKDIKTI. (2015). Surat Keterangan Pendamping Ijazah Dokumen 008. September, 1–12.

Siahaan, A. U., Aji, S. B., Antoni, C., & Handayani, Y. (2020). Online Social Learning Platform vs E-Learning for Higher Vocational Education in Purpose to English Test Preparation. 411(Icoelt 2019), 76–82. https://doi.org/10.2991/assehr.k.200306.013

Szanajda, A., & Ou, F. (2018). A Simulation-Based Model for Teaching Business English: An Application in the Tourism and Hospitality Industries. International Journal on Studies in English Language and Literature, 6(5), 63–72. https://doi.org/10.20431/2347-3134.0605008

Williams, S. M., & Meitiri Group. (2009). The Impact of Collaborative, Scaffolded Learning in K-12 Schools : A Meta-Analysis. Learning.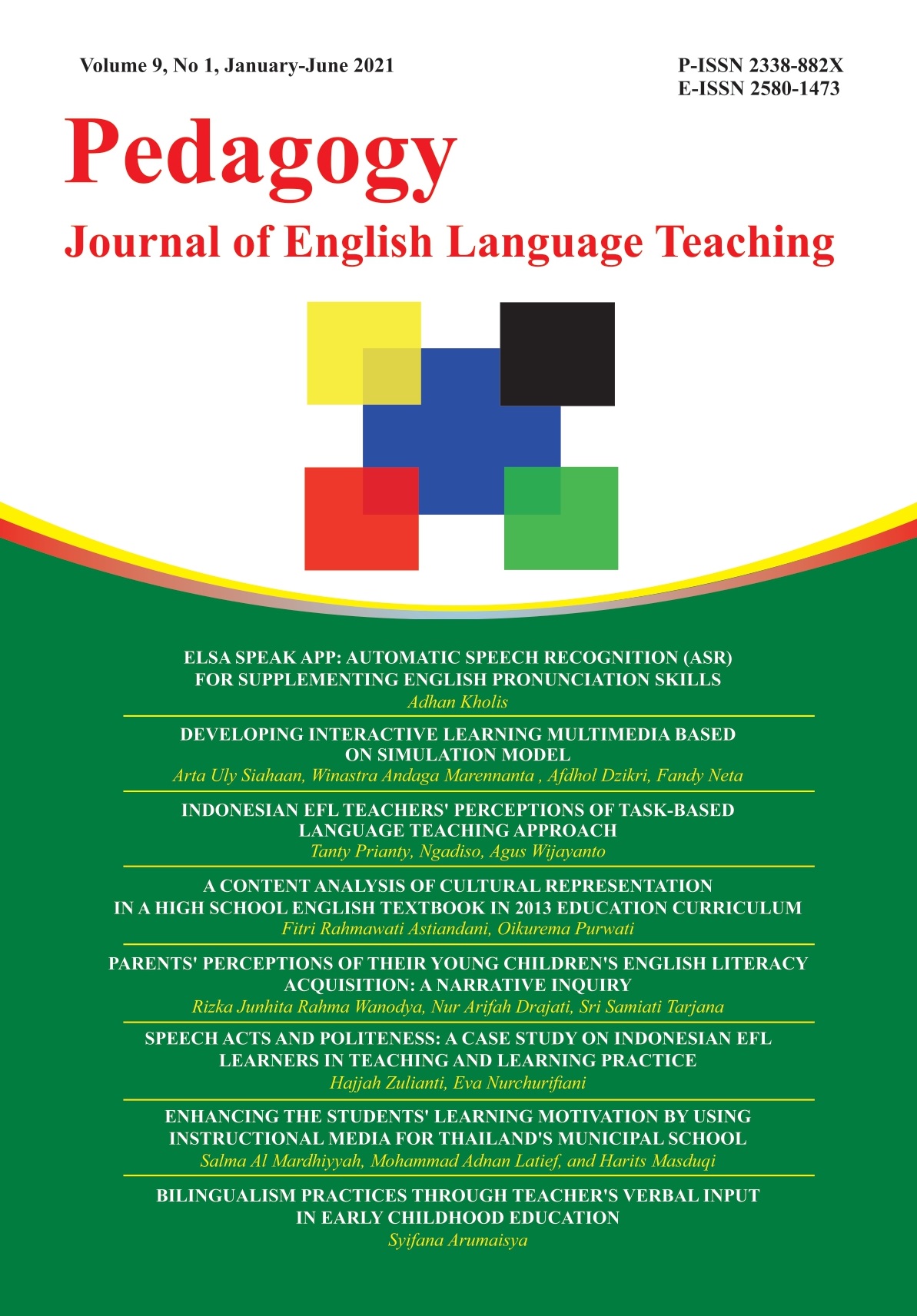 This work is licensed under a Creative Commons Attribution-ShareAlike 4.0 International License.