STRATEGI PENERJEMAHAN ARAB – JAWA SEBAGAI SEBUAH UPAYA DALAM MENJAGA KEARIFAN BAHASA LOKAL (INDIGENOUS LANGUAGE)
STUDI KASUS DALAM PENERJEMAHAN KITAB BIDAYATUL-HIDAYAH KARYA IMAM AL-GHAZALI
Muhammad Yunus Anis

Universitas Sebelas Maret

Kundharu Saddhono

Universitas Sebelas Maret
Abstract
Dewasa ini, kekhawatiran akan punahnya bahasa ibu selayaknya menjadi perhatian besar masyarakat Indonesia. Punahnya bahasa ibu atau bahasa-bahasa lokal merupakan salah satu indikator punahnya warisan budaya bangsa. Dengan semakin memudarnya warisan budaya bangsa maka hilanglah karakter utama bangsa, oleh sebab itu bahasa ibu dan bahasa lokal sebagai warisan budaya harus terus dijaga dan dipertahankan keberadaannya. Salah satu ikhtiar utama dalam menjaga warisan budaya tersebut adalah dengan menjaga bentuk penerjemahan khas Arab – Jawa, yang sudah jamak dilakukan oleh para santri pondok-pondok pesantren di Nusantara. Salah satu kitab yang menggunakan terjemahan tersebut adalah kitab Bidaayatul-Hidaayah karya Imam Al-Ghazali yang diterjemahkan oleh Kyai Haji Hammaam Naashirud-Din Magelang. Dalam menerjemahkan kitab tersebut, penerjemah menggunakan model word for word translation yang cukup khas dan berkarakter. Pesan moral yang ada dalam kitab diungkapkan dengan syarah (penjelasan) dengan menggunakan bahasa Jawa. Makalah ini akan mengelaborasi problematika penerjemahan yang ada dalam penerjemahan kitab Bidayatul-Hidayah, baik dari sisi teknik dan metode penerjemahan kitab tersebut. Dengan menggunakan metode kualitatif deskriptif, makalah ini menemukan adanya pergeseran bentuk satuan kebahasaan yang ada dalam penerjeman Arab – Jawa kitab Bidayatul-Hidayah. Selain itu, pesan moral yang ada dalam kitab tersebut telah menjadi landasan fundamental dalam pembentukan karakter Santri Nusantara.

Language extinction, both mother tongues and local languages, nowadays deserves Indonesian' attention. When a language extinguishes, a cultural heritage and a character of a nation also disappear. Mother tongue and local languages should be preserved. One plausible way to do so is by maintaining the translation pattern of Arabic-Javanese that are common among the Islamic boarding schools. An example of such pattern is seen in Imam Al-Ghazali's Bidaayatul-Hidaayah translated into Javanese by Kyai Haji Hammaam Naashirud-Din Magelang. The translation appears to be word-for-word translation with some explanation, syarah, which is also written in Javanese. This writing elaborated the translation problems of Bidaayatul-Hidaayah from its technique and method of translation. A qualitative descriptive method was used to figure out language feature shift in the Arabic-Javanese translation. This writing suggests that the moral message within Bidaayatul-Hidaayah serves as fundamental framework in shaping the Muslim learners in Indonesian Islamic boarding school.
Downloads
Download data is not yet available.
References
Bassnett, Susan. "Culture and Translation". dalam buku A Companion to Translation Studies. Kuhiwezak, Piotr. and Karin Littau (ed). (Toronto: Multilingual Matters LTD, 2007)
Hartono. Belajar Menerjemahkan, Teori dan Praktek. (Malang: Penerbit Universitas Muhammadiyah Malang Press, 2005).
Hornberger, Nancy H. Can Schools Save Indigenous Languages? Policy and Practice on Four Continents. (New York: Palgrave Macmillan, 2008).
Kridalaksana, Harimurti. Kamus Linguistik: Edisi Keempat. (Jakarta: PT Gramedia Pustaka Utama, 2009)
Machali, Rochayah. Pedoman bagi Penerjemah: Panduan Lengkap bagi Anda yang Ingin Menjadi Penerjemah Profesional. (Bandung: Penerbit Kaifa, 2009).
Marbawi. Muhammad Idris Abdur-Rauf. Qaamus Idrīs Al-Marbawiy, Arabiy – Malaayuu. (Mesir: Musthafa Al-Baaba Al-Chalabiy, 1350).
Naashiruddin, Hammaam. Bidaayatul Hidaayah. (Kudus: Maktabah Manara, 1964).
Newmark, Patter. "A Textbook of Translation". (Oxford: Pegamon Press. Pelajar, 1981).
______________. "A Textbook of Translation". (London: Prentice-Hall. 1988)
Simatupang, Maurit D.S. Pengantar Teori Terjemahan. Jakarta: Direktorat Jenderal Pendidikan Tinggi Departemen Pendidikan Nasional, 2000)
Suryawinata, Zuhridin. dan Sugeng Hariyanto. Translation: Bahasan Teori dan Penuntun Praktis Menerjemahkan. (Yogyakarta: Penerbit Kanisius, 2003)
Umar, Achmad Mukhtaar. 'Ilmud-Dalaalah. (Kairo: Alamalkotob. 2009)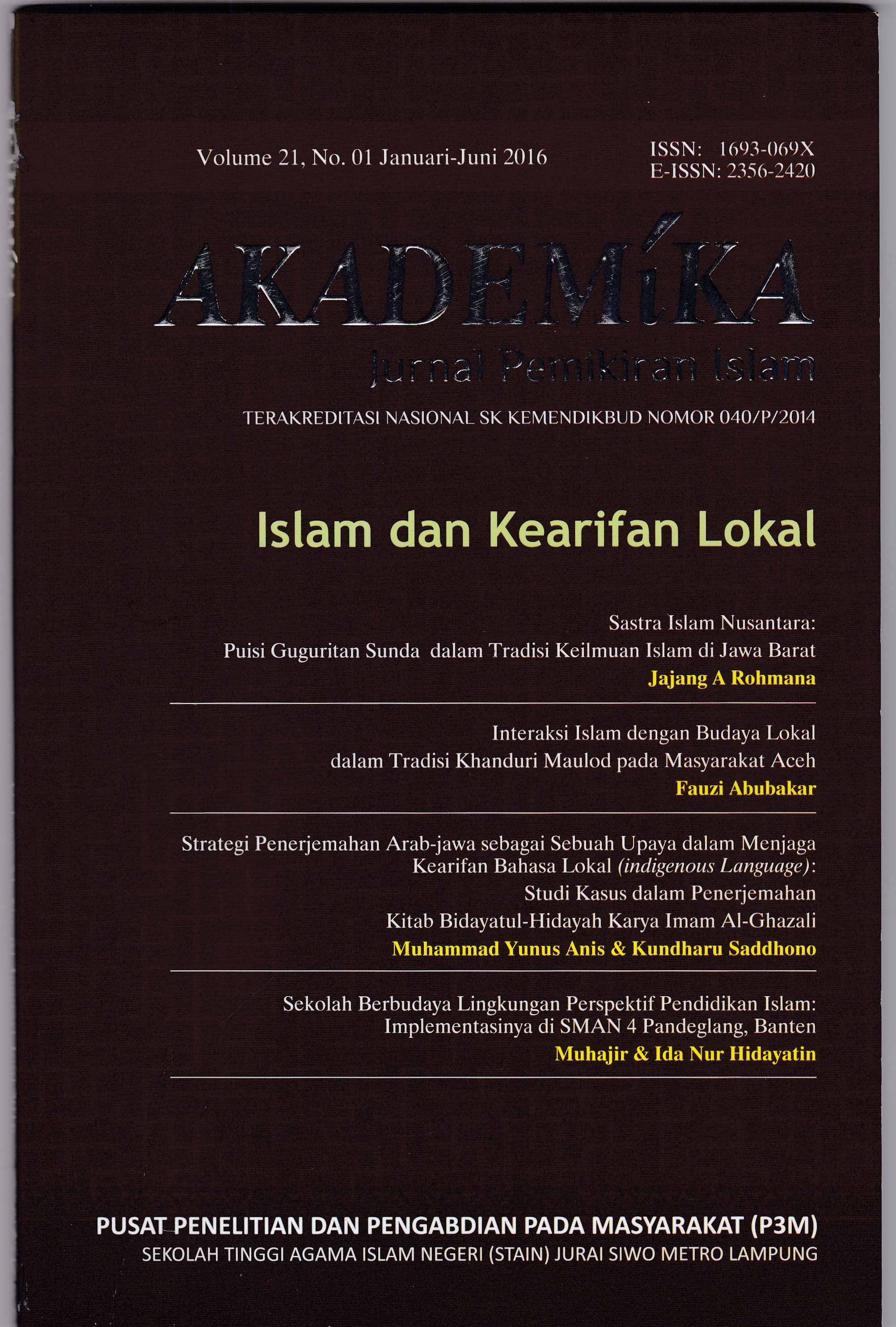 How to Cite
ANIS, Muhammad Yunus; SADDHONO, Kundharu. STRATEGI PENERJEMAHAN ARAB – JAWA SEBAGAI SEBUAH UPAYA DALAM MENJAGA KEARIFAN BAHASA LOKAL (INDIGENOUS LANGUAGE).
AKADEMIKA: Jurnal Pemikiran Islam
, [S.l.], v. 21, n. 1, p. 35-48, may 2016. ISSN 2356-2420. Available at: <
https://e-journal.metrouniv.ac.id/index.php/akademika/article/view/454
>. Date accessed: 21 sep. 2021.