PERSEPSI ULAMA BANGKA BELITUNG TENTANG TEORI KHILAFAH DAN IMPLIKASINYA TERHADAP UKLHWAH ISLAMIYAH DAN UKHUWAH BASYARIYAH DALAM KEUTUHAN NKRI DI BANGKA BELITUNG
Suparta Suparta

Sekolah Tinggi Agama Islam Negeri Syekh Abdurrahman Siddik Kepulauan Bangka Belitung
Abstract
Abstract
This study examines the perceptions of the Ulama ini Bangka Belitung about the concept of khilafah and its implications for Ukhwah Islmaiyah, Ukhuwah Basyariyah, and Ukhuwah Wathaniyah in the integrity of the Unity Republic of Indonesia in Bangka Belitung itself. As for the research method used in this study was field research. The results of the study show that the Bangka Belitung Ulema have the same majority perception of the establishment of the Islamic Khilafah, the Khilafah in Indonesia is still not enforceable because every ulama understands the Khilafah. This happened because the Ulama had no agreement and understanding about the Khilafah. The implications of the establishment of the Islamic Khilafah on Ukhwah Islmaiyah can lead to schismatic divisions among Muslims, the Implications of the Khilafah to Ukhuwah Basyariyah. where Indonesia has diverse tribes, races and religions. If the Khilafah is enforced upright it will become a horizontal conflict, namely the conflict between Muslims themselves and inter-religious conflict which makes the image of Muslims considered intolerant in the eyes of Indonesia and International. In addition, vertical conflict is the existence of conflict between Muslims who uphold the Khilafah with the Indonesian government and national figures and ulama who are Muslim who have not been Pro against the Caliphate. If this conflict occurs then what happens next is a split in the government and does not rule out the possibility of bloodshed. Finally, the implications for Ukhuwah Wathaniyah. In the slogan "Hubbul Wathan Minal Iman" (love of water or state is a part of Faith. This motto is one of the reasons the santri and Muslims strive for Indonesian independence from colonialism.      
Keywords: Caliphate, Ulama, and Bangka Belitung.
Abstrak
Penelitian ini mengkaji  persepsi Ulama Bangka Belitung tentang konsep khilafah serta implikasinya terhadap Ukhwah Islmaiyah,Ukhuwah Basyariyah, dan Ukhuwah Wathaniyah dalam keutuhan NKRI di Bangka Belitung sendiri. Adapun metode penelitian yang digunakan dalam penelitian ini adalah jenis penelitian lapangan (field research) yang berbentuk deskriptif kualitiatif. Adapun hasil penelitian adalah  Ulama Bangka Belitung memiliki persepsi yang mayoritas sama terhadap penegakkan Khilafah Islamiyah yaitu khilafah di Indonesia masih belum bisa ditegakkan karena setiap ulama berbeda paham tentang khilafah. Hal ini terjadi disebabkan para ulama belum ada kesepakatan dan kesepahaman tentang khilafah. Implikasi penegakkan khilafah islamiyah  terhadap ukhwah islmaiyah dapat menimbulkan perpecahan persaudaran di anatra kaum muslimin, Implikasi khilafah terhadap Ukhuwah Basyariyah. dimana Indonesia memiliki suku, ras dan agama yang beraneka ragam. Jika Khilafah  dipaksakan tegak maka akan menjadi Konflik horizontal yaitu konflik antar umat islam sendiri dan konflik antar umat  beragama yang menjadikan image  umat Islam di anggap intoleran dimata Indonesia dan International. Selain itu, Konflik vertikal yakni adanya konflik antara umat Islam yang menegakkan khilafah dengan pemerintah Indonesia dan para tokoh nasional dan ulama yang beragama Islam yang belum Pro terhadap khilafah. Bila Konflik ini terjadi maka yang terjadi adalah perpecahan dalam pemerintahan dan tidak menutup kemungkinan terjadi pertumpahan darah. Terakhir implikasi terhadap  ukhuwah wathaniyah.  Dalam slogan "Hubbul Wathan Minal Iman" (cinta tanai air atau negara adalah sebagaian dari Iman. Semboyan ini menjadi salah satu alasan para santri dan umat Islam gigih memperjuangkan kemerdekaan Indonesia dari Penjajahan.
Kata Kunci: Khilafah, Ulama, dan Bangka belitung.
Downloads
Download data is not yet available.
References
Fazlur Rahman. Islam. Chicago & London: The University of Chicago Press, 1982.
Jamal Al-Banna, Runtuhnya Negara Madinah, Islam Kemasyarakatan versus Islam Kenegaraan, terj. Jamadi Sunardi, Yogyakarta, Pilar Media, 2005, n.d.
Muhammad Thoha. Ketua Majelis Ulama Indonesia Kabupaten Bangka Barat, Wawancara, di Muntok, 12 Mei 2017.
Dedy Alwi dan Ustadz Yanto, S.Pd.I, Pimpinan Ponpes Miftahunnajah, Wawancara, pada tanggal 14 April dan 15 April 2017, n.d.
Hasyim Sya'roni,. Ketua MUI Bateng, 28 April 2017. Koba.
Muhammad Daud Ali, Pendidikan Agama Islam, Jakarta: PT. Raja Grafindo Pesada, 2000, n.d.
Hatamar. diskusi tertutup Pascasarjana IAIN SAS Babel, 23 Maret 2018.
Rachmat Djatmika, Sistem Etika Islam, Surabaya: Pustaka Islam, 1987, n.d.
Riadi, Haris. "Perspektif Taqiyuddin Al-Nabhani Tentang Bai'at," 2014, 14.
Salim bin Ied al-Hilali. Ensiklopedi Larangan Menurut al-Quran dan as-Sunnah, terj. Abu Ihsan al-Atsari. Bogor: Pustaka Imam Syafii, 2005.
Shofwan, Arif Muzayin. "Pandangan Hizbut Tahrir Terhadap Radikalisme Gerakan Isis Dalam Menegakkan Daulah Khilafah." Addin 10, No. 1 (1 Februari 2016): 141. https://doi.org/10.21043/addin.v10i1.1132.
Ustadz Sujoko. Pimpinan Cabang Muhammadiyah Kabupaten Belitung Timur, 18 April 2017.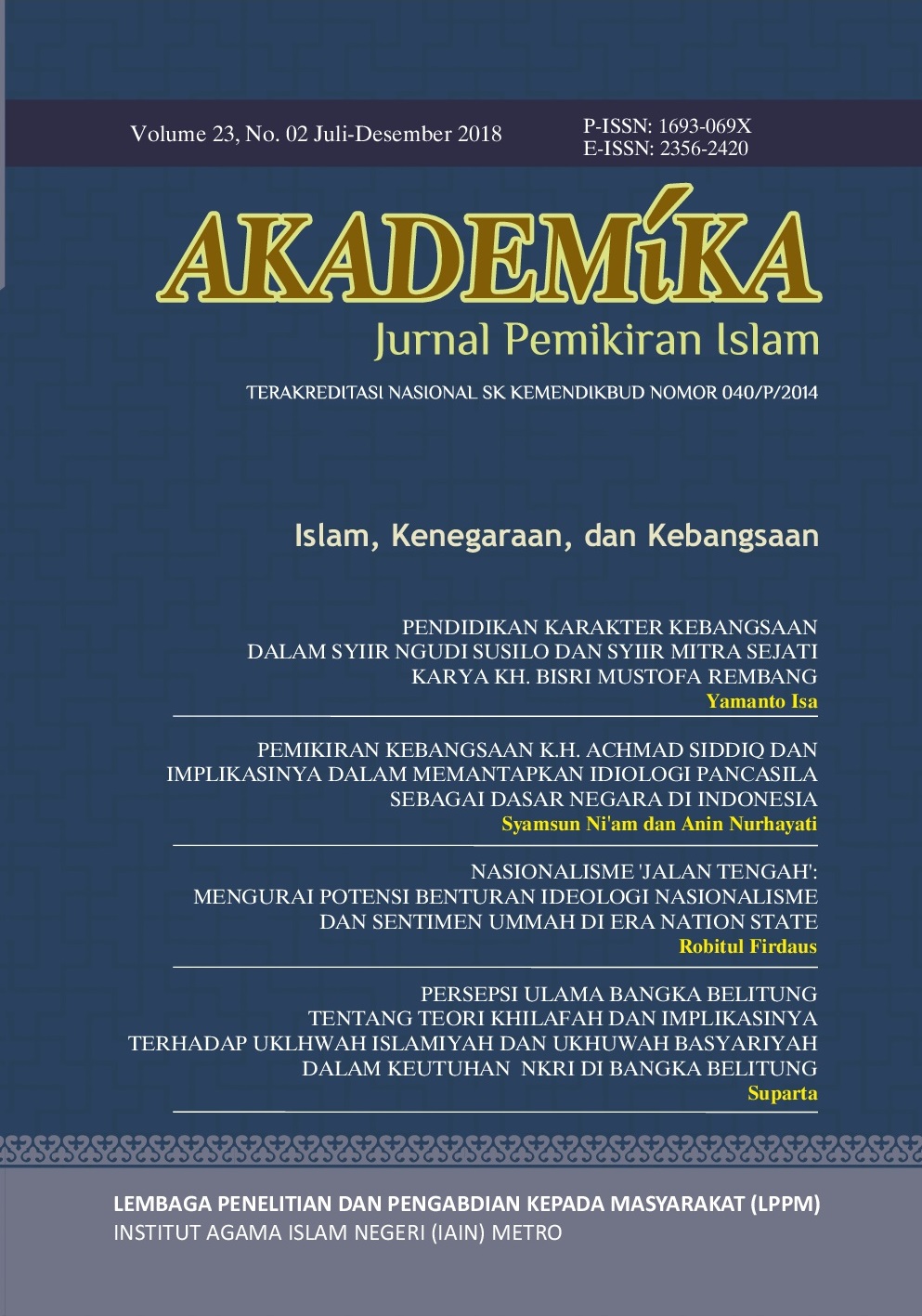 How to Cite
SUPARTA, Suparta. PERSEPSI ULAMA BANGKA BELITUNG TENTANG TEORI KHILAFAH DAN IMPLIKASINYA TERHADAP UKLHWAH ISLAMIYAH DAN UKHUWAH BASYARIYAH DALAM KEUTUHAN NKRI DI BANGKA BELITUNG.
Akademika : Jurnal Pemikiran Islam
, [S.l.], v. 23, n. 2, p. 367-386, nov. 2018. ISSN 2356-2420. Available at: <
https://e-journal.metrouniv.ac.id/index.php/akademika/article/view/1237
>. Date accessed: 06 feb. 2023.
This work is licensed under a Creative Commons Attribution-ShareAlike 4.0 International License.
All articles in the Akademika can be disseminated on condition that still include the identity of the article and the source of the article (Akademika). The publisher is not responsible for the contents of the article. The content of the article is the sole responsibility of the author.
Authors who publish this subject agree to the following terms:
Secondly, the authors are able to enter into a separate, or an acknowledgment of its initial (eg, post-institutional repository or publish it in a book) publication in this journal.
Third, the authors are permitted and encouraged to post their work online (e.g., in institutional repositories or on their website) prior to the citation of published work.