Kawin Hamil Perspektif Mazhab Fikih, Kompilasi Hukum Islam dan Maqāshid Syarī'ah (Sebuah Kajian Komprehensif)
Muhammad Nur Fathoni

Institut Agama Islam Negeri Metro

Nawa Angkasa

Institut Agama Islam Negeri Metro

Tarmizi Tarmizi

Institut Agama Islam Negeri Metro
Abstract
Marriage based on the provisions of Allah and His Messenger will make a happy household in this world and the hereafter based on sharia. The development of current trends in communication, information and technology can disrupt the noble value of marriage if it is misunderstood and misused. The real negative impact that occurs in society is the increasing number of women who become pregnant outside of marriage due to promiscuity. This study aims to examine the law of pregnant marriages in terms of three legal perspectives; Mazhab Fikih, Compilation of Islamic Law (KHI) and Maqāshid Shariā'h. This research is literature research with a literature approach. This type of research is library research with a document study approach where primary and secondary data are obtained from books, journals, books and references that discuss pregnant marriages. The results of this study found that the Ulama Mazhab Fikih discusses the act of pregnant marriage in Fikih and there is khilafiyyah related to the provisions and conditions for pre-marrying women who are pregnant outside of marriage and after marriage. The Compilation of Islamic Law (KHI) which regulates pregnant marriages in article 53 has fulfilled the five main objectives of sharia (adh-Dharūriyyah al-Khamsah); maintaining religion, soul, intellect, offspring/honor, and property after being reviewed with Maqāshid Sharī'ah.
References
Al Farisi, Salman. Pergaulan Bebas. Yogyakarta: Relasi Inti Media, 2017.

Aladin. "Pernikahan Hamil di Luar Nikah dalam Persepektif Kompilasi Hukum Islam (KHI) dan Fiqih Islam di Kantor Urusan Agama." Masalah-Masalah Hukum 46, no. 3 (2017): 240–41.

Ali, Zainuddin. Hukum Perdata Islam di Indonesia. Cet. Ke-2. Jakarta: Sinar Grafika, 2007.

Busyro. Maqashid Al-Syariah. Jakarta: Kencana Prenada Media Group, 2019.

Candra, Mardi. Pembaruan Hukum Dispensasi Kawin dalam Sistem Hukum di Indonesia. Cetakan ke-1. Rawamangun, Jakarta: Kencana, 2021.

djubaedah, Neng. Perzinaan dalam peraturan perundang-undangan di Indonesia ditinjau dari hukum islam. Jakarta: Kencana Prenada Media Group, 2010.

Hadi, Sutrisno. Metodologi Research. Yogyakarta: Fak. Piskolog UGM, 1990.

Hasibuan, Kalijunjung, dan Ali Hamzah. Problematika Anak di Luar Nikah Ditinjau Dari Maqashid As-Syari'ah. Yogyakarta: Bintang Pustaka Madani, 2020.

Humaedillah, Memed. Akad Nikah Wanita Hamil dan Anaknya. Jakarta: Gema Insani, 2002.

Kompilasi Hukum Islam. Yogyakarta: Pustaka Widyatama, 2006.

Sabiq, Sayyid. Fiqh Sunnah. Bandung: Alma & Apos, 1986.

Shomad, Abd. Hukum Islam: Panorama Prinsip Syariah dalam Perkawinan Hukum Indonesia. Cetakan ke-3. Jakarta: Kencana Prenada Media Group, 2017.

Zahro, Ahmad. Fiqih Kontemporer. Jilid I. Jakarta: Qaf Media Kreativa, 2017.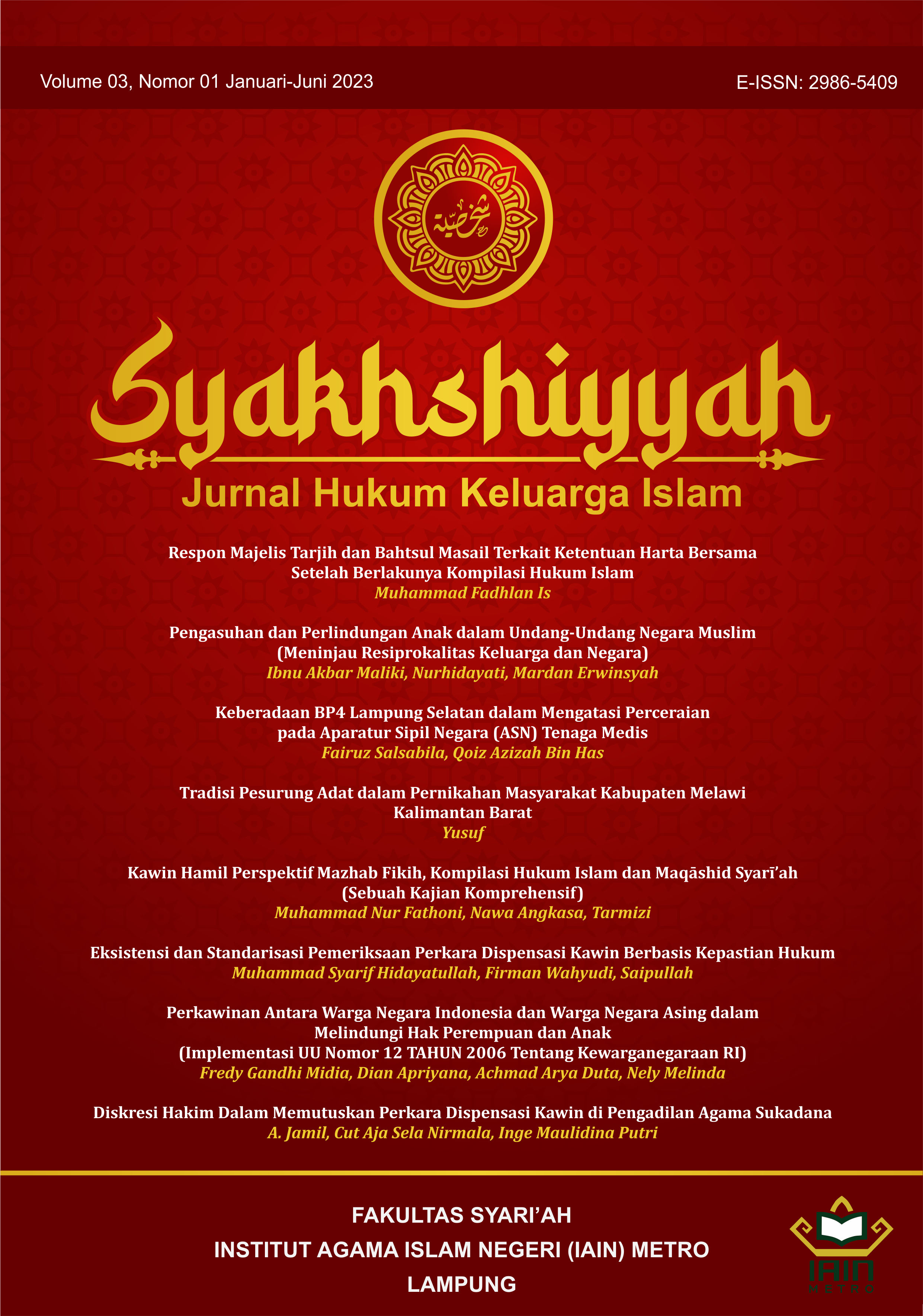 This work is licensed under a Creative Commons Attribution-ShareAlike 4.0 International License.