Pemahaman dan Penghayatan Peserta Didik tentang Ibadah dalam Pembelajaran Fiqih di MI Manafiul Ulum Gebog Kudus
Abstract
Era disrupsi memberi pengaruh terhadap perkembangan lembaga pendidikan Islam tingkat dasar. Lembaga pendidikan Islam tingkat dasar semakin banyak yang memasukkan program ibadah sebagai program unggulannya guna membentuk peserta didik yang Islami. Namun ini menimbulkan permasalahan tersendiri karena peserta didik tingkat dasar belum mampu berpikir abstrak sehingga sampai pada penghayatan. Padahal ibadah yang dilakukann harus dihayati. Penelitian ini bermaksud untuk mengetahui bagaimana pemahaman dan penghayatan peserta didik tentang ibadah di MI NU Manafiul Ulum Gebog Kudus. Penelitian ini termasuk penelitian kualitatif. Tujuan dilakukan penelitian ini adalah untuk mengetahui apa saja pengamalan ibadah peserta didik dan bagaimana pemahaman serta penghayatan peserta didik tentang ibadah yang dilaksanakannya. Hasil dari penelitian ini adalah ibadah yang diajarkan dan dibiasakan kepada peserta didik adalah salat, puasa, doa harian, membaca dan menghafal Al Quran. Pemahaman peserta didik tentang pengamalan ibadah sudah paham mengenai hukumnya seperti wajib, sunah, dosa, pahala, surga dan neraka. Namun peserta didik belum memahami tentang tujuan dan manfaat ibadah yang dilaksanakannya. Menariknya, pengamalan ibadah peserta didik tergolong taat dan sudah menjadi kebiasaan sehari-hari. Ini menunjukkan bahwa pengamalan ibadah peserta didik sudah menjadi kepribadian (being/tindakan moral) namun masih lemah dalam pemahaman (pengetahuan moral) dan belum mencapai kesadaran (perasaan moral).
References
Ayu, Sovia Mas. 2017. "Evaluasi Program Praktek Pengamalan Ibadah Di Sekolah Dasar Ar-Raudah Bandar Lampung." ejournal.radenintan.ac.id 8. http://www.ejournal.radenintan.ac.id/index.php/tadzkiyyah/article/view/2092 (November 7, 2019).
Benninga, JS. 1991. Moral, Character, and Civic Education in the Elementary School. New York: Teachers College Press. https://eric.ed.gov/?id=ED396970 (November 13, 2019).
Chaplin, James P. (James Patrick), and Kartini Kartono. 1989. Kamus Lengkap Psikologi. Rajawali Pers.
Daradjat, Zakiah. 2008. Ilmu Pendidikan Islam. Jakarta: Bumi Aksara.
Djamal, Samhi Muawan. 2017. "Pelaksanaan Nilai-Nilai Ajaran Islam Dalam Kehidupan Masyarakat Di Desa Garuntungan Kecamatan Kindang Kabupaten Bulukumba." journal.uin-alauddin.ac.id 17. http://journal.uin-alauddin.ac.id/index.php/adabiyah/article/view/3648 (November 7, 2019).
Ihsan, H. Fuad. 1997. Dasar-Dasar Kependidikan. Penerbit Rineka Cipta. https://books.google.co.id/books?id=z3rBtQEACAAJ&dq=Dasar-Dasar+Kependidikan+fuad&hl=id&sa=X&ved=0ahUKEwiPqJfnnublAhWBRo8KHTOoCkkQ6AEILDAA (November 13, 2019).
Lickona, Thomas. 2013. Educating for Character (Mendidik Untuk Membangun Karakter). Jakarta: Bumi Aksara.
Muhaimin. 1996. Strategi Belajar Mengajar. Surabaya: Citra Media.
Mulyana, Rohmat. 2005. Mengartikulasikan Pendidikan Nilai. Bandung: Alfabeta.
Poerwadaminta. 2002. Kamus Besar Bahasa Indonesia. Jakarta: Balai Pustaka.
Prafitri, Bayu, and Subekti. 2018. "METODE PEMBINAAN AKHLAK DALAM PENINGKATAN PENGAMALAN IBADAH PESERTA DIDIK DI SMP N 4 SEKAMPUNG LAMPUNG TIMUR." jurnal.iain-padangsidimpuan.ac.id 4. http://jurnal.iain-padangsidimpuan.ac.id/index.php/F/article/view/954 (November 7, 2019).
Puskur Kemendiknas. 2010. Pengembangan Pendidikan Budaya Dan Karakter Bangsa. Jakarta: Kemendiknas.
Radjasa, Radjasa, Sri Sumarni, and Istiningsih Istiningsih. 2017. "Developing Character Education Grounded on 'Abk' (Attitude Before Knowledge) Model for Kindergarten at Raudlatul Athfal State Islamic University "Sunan Kalijaga" Indonesia." IOSR Journal of Research & Method in Education (IOSRJRME) 07(01): 04–11.
Saeidi, M, M Ajilian, … H Farhangi - International Journal of, and Undefined 2014. 2014. "Rights of Children and Parents in Holy Quran." eprints.mums.ac.ir. http://eprints.mums.ac.ir/6833/ (November 7, 2019).
Salam, Burhanudin. 2000. Pengantar Pedagogik (Dasar-Dasar Ilmu Mendidik). Jakarta: Rineka Cipta.
Seligman, Martin E. P. et al. 2009. "Positive Education: Positive Psychology and Classroom Interventions." Oxford Review of Education 35(3): 293–311. http://www.tandfonline.com/doi/abs/10.1080/03054980902934563 (November 7, 2019).
Sobirin, Khoirus. 2016. "Pemahaman Kitab Fatkhul Mu'in, Pengamalan Thaharah Dan Shalat Fardlu:(Sebuah Penelitian Korelasi Dalam Pendidikan Agama Islam)." Qolamuna 1. http://ejournal.stismu.ac.id/ojs/index.php/qolamuna/article/download/18/16 (November 7, 2019).
Sugiyono. 2011. Metode Penelitian Kuantitatif, Kualitatif Dan R&D. Bandung: Alfabeta.
Tafsir, Ahmad. 2006. FIlsafat Pendidikan Islam: Integrasi Jasmani, Rohani Dan Kalbu Memanusiakan Manusia. Bandung: Remaja Rosdakarya.
Zafi, Ashif Az, and Firda Falasifah. 2019. "MODEL PEMBELAJARAN QUANTUM TEACHING PADA MATA PELAJARAN PAI DI SDN PURWOREJO 02 PATI." ojs.unsiq.ac.id. https://ojs.unsiq.ac.id/index.php/al-qalam/article/download/509/314 (November 7, 2019).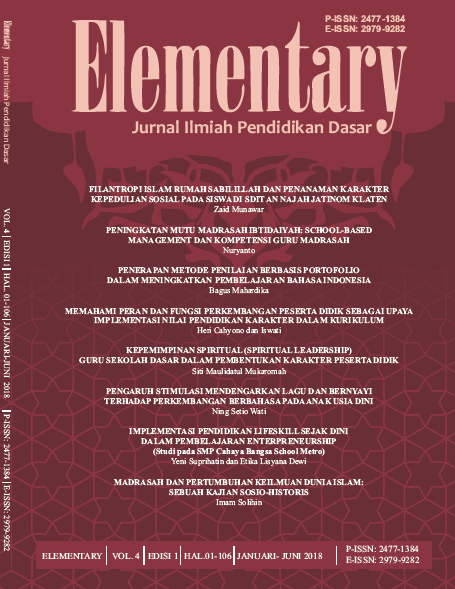 This work is licensed under a Creative Commons Attribution-ShareAlike 4.0 International License.
Authors who publish with this journal agree to the following terms:
Authors retain copyright and grant the journal right of first publication with the work simultaneously licensed under a Creative Commons Attribution-ShareAlike 4.0 International License that allows others to share the work with an acknowledgement of the works authorship and initial publication in this journal.
Authors are able to enter into separate, additional contractual arrangements for the non-exclusive distribution of the journals published version of the work (e.g., post it to an institutional repository or publish it in a book), with an acknowledgement of its initial publication in this journal.
Authors are permitted and encouraged to post their work online (e.g., in institutional repositories or on their website) prior to and during the submission process, as it can lead to productive exchanges, as well as earlier and greater citation of published work (See The Effect of Open Access).