Problematika Pengajaran Bahasa Arab Di Madrasah Aliyah
Agus Supriadi

Institut Agama Islam Negeri Metro

Akla Akla

Institut Agama Islam Negeri Metro

J. Sutarjo

Institut Agama Islam Negeri Metro
Abstract
This study aimed to analyze the problematics of teaching Arabic students in Islamic Senior High School. The method in this research was qualitative with a case study approach. This research was conducted at Islamic Senior High School Raudlatul Hidayah Ma'arif Nahdlatul Ulama 03 Mengandungsari. Research samples were 30 students of grade XI. Data collection methods in this study were observation and interviews. Data analysis techniques used descriptive qualitative analysis. The results showed that teaching Arabic in Islamic Senior High School included two main problems: linguistic and nonlinguistic problems. Linguistic problems were problems experienced by students during the learning process, and these problems were still related to parts of the language component. Linguistic problems included three main issues that became problematic in Arabic teaching, and they were phoneme problems (ashwat), vocabulary problems (mufrodat), and grammatical problems (qowaid/ nahwu/ tarkib). At the same time, nonlinguistic problems were problems which were not part of the language element. Such as teacher taught students, lack of motivation towards students, learning media, facilities and infrastructure that were still inadequate during the Arabic learning process.
References
Abdullah, Burhanuddin, Radiansyah Radiansyah, dan Ali Akbar. "Pendidikan Karakter Di Madrasah Aliyah Negeri (MAN) 2 Banjarmasin." INFERENSI: Jurnal Penelitian Sosial Keagamaan 9, no. 2 (2015): 537. https://doi.org/10.18326/infsl3.v9i2.537-560.
Firman. "Analisis Data dalam Penelitian Kualitatif," 1 November 2018. https://www.researchgate.net/publication/328675958_Analisis_Data_dalam_Penelitian_Kualitatif.
Hidayat, Nandang Sarip. "Problematika Pembelajaran Bahasa Arab." An-Nida' 37, no. 1 (2012): 82–88. http://ejournal.uin-suska.ac.id/index.php/Anida/article/view/315.
Himam, Muhammad Wafaul, dan Raswan Raswan. "Tamyiz; Model Alternatif Pembelajaran Bahasa Arab Sebagai Bahasa Al-Qur'an." Lisan Al-Arab : Journal of Arabic Language And Arabic Teaching 6, no. 1 (2017): 18–28. https://journal.unnes.ac.id/sju/index.php/laa/article/view/14389.
Khoirurrijal, Khotijah, Ahmad Arifin, Ani Susilawati, dan Nawang Wulandari. Interpretasi Makna (Prosedur Penerjemahan Arab - Indonesia). Yogyakarta: Idea Press, 2019.
Muliastuti, Liliana. "Linguistik Umum." Dalam Bahasa Dan Linguistik, 1:1–42. Jakarta: Universitas Terbuka, 2014. http://repository.ut.ac.id/4729/.
Muslim, Buhori. "Konsep Scientific Approach Dalam Pembelajaran Bahasa Arab Di Perguruan Tinggi (Upaya Meningkatkan Produktivitas, Kreativitas Dan Inovasi Mahasiswa Dalam Pembelajaran)." LISANUNA: Jurnal Ilmu Bahasa Arab dan Pembelajarannya 5, no. 1 (2016): 105. https://jurnal.ar-raniry.ac.id/index.php/lisanuna/article/view/858.
Nasution, Wahyudin Nur. "Perencanaan Pembelajaran: Pengertian, Tujuan Dan Prosedur." ITTIHAD 1, no. 2 (2017). http://ejournal-ittihad.alittihadiyahsumut.or.id/index.php/ittihad/article/view/23.
Nursyaidah. "Faktor-Faktor Yang Mempengaruhi Belajar Peserta Didik." FORUM PAEDAGOGIK 6, no. 3 (2014). http://jurnal.iain-padangsidimpuan.ac.id/index.php/JP/article/view/446.
Pingge, Heronimus Delu, dan Muhammad Nur Wangid. "Faktor Yang Mempengaruhi Hasil Belajar Siswa Sekolah Dasar Di Kecamatan Kota Tambolaka." Jurnal JPSD (Jurnal Pendidikan Sekolah Dasar) 2, no. 2 (2016): 107. http://journal.uad.ac.id/index.php/JPSD/article/view/4947.
Rahmaini. Strategi Pembelajaran Bahasa Arab Aktif dan Menarik. Medan: Perdana, 2015. http://repository.uinsu.ac.id/2452/.
Rahman, Anwar Abd. "Pengajaran Bahasa Arab Dengan Metode Eklektik." Jurnal Adabiyah 11, no. 1 (2011): 65–74. http://journal.uin-alauddin.ac.id/index.php/adabiyah/article/view/2801.
Sarbaini, Albarra. "Problematika Pengajaran Bahasa Arab Mahasiswa Lulusan Umum di Prodi PBA Jurusan Tarbiyah STAIN Jurai Siwo Metro 2016." An Nabighoh: Jurnal Pendidikan dan Pembelajaran Bahasa Arab 20, no. 02 (31 Desember 2018): 178–201. https://doi.org/10.32332/an-nabighoh.v20i02.1283.
Sembodo Ardi Widodo. "Model-Model Pembelajaran Bahasa Arab." Al-Arabiyah Jurnal Pendidikan Bahasa Arab 2, no. 2 (2006). http://digilib.uin-suka.ac.id/7957/.
Sugiyono. Metode Penelitian Kuantitatif, Kualitatif dan R & D. Bandung: Alfabeta, 2015.
Sukarno. "Pengaruh Penggunaan Media Pembelajaran Terhadap Prestasi Belajar Pendidikan Agama Islam Siswa Kelas XI IPA SMA N 3 Semarang." Skripsi, UIN Walisongo, 2009. http://eprints.walisongo.ac.id/11342/.
Suprihatiningrum, Jamil. Strategi Pembelajaran Teori & Aplikasi. Yogyakarta: Ar-Ruzz Media, 2013.
Sutrisno, Valiant Lukad Perdana, dan Budi Tri Siswanto. "Faktor-Faktor Yang Mempengaruhi Hasil Belajar Siswa Pada Pembelajaran Praktik Kelistrikan Otomotif SMK Di Kota Yogyakarta." Jurnal Pendidikan Vokasi 6, no. 1 (2016): 111. https://doi.org/10.21831/jpv.v6i1.8118.
Syarifuddin, Ahmad. "Penerapan Model Pembelajaran Cooperative Belajar Dan Faktor-Faktor Yang Mempengaruhinya." Ta'dib: Jurnal Pendidikan Islam 16, no. 01 (2011): 113. http://jurnal.radenfatah.ac.id/index.php/tadib/article/view/57.
Thoha, Mohammad. "Pembelajaran Bahasa Arab Dengan Pendekatan Manajemen Berbasis Sekolah." OKARA: Jurnal Bahasa Dan Sastra 6, no. 1 (2012). http://ejournal.iainmadura.ac.id/index.php/okara/article/view/420.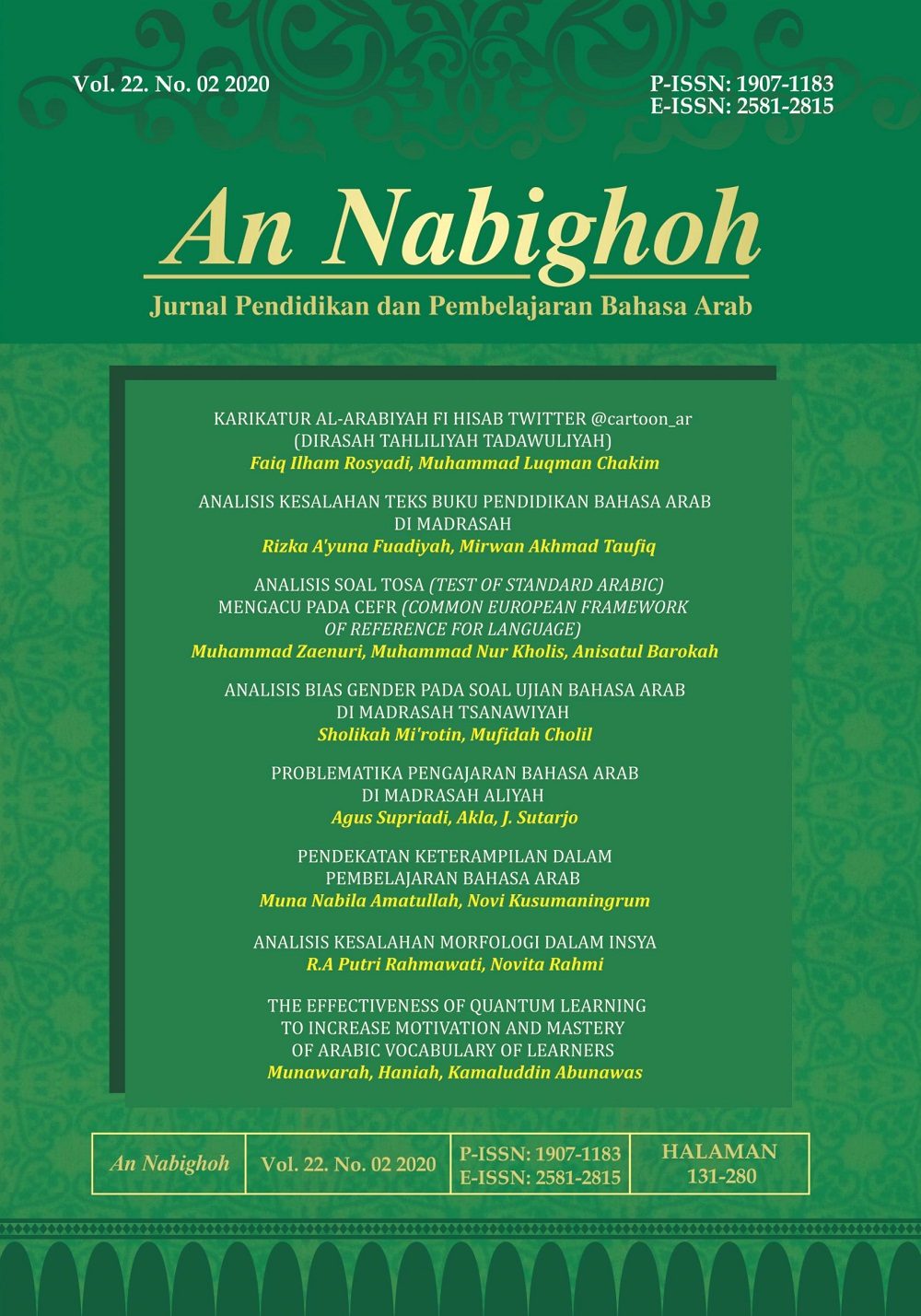 This work is licensed under a Creative Commons Attribution-ShareAlike 4.0 International License.