URBAN SOCIETY'S PERCEPTION OF ISLAMIC RELIGIOUS EDUCATION AND ITS IMPLICATIONS FOR CURRICULUM DEVELOPMENT IN THE ERA OF SOCIETY 5.0
Siti Salwa Md Sawari

International Islamic University Malaysia, Kuala Lumpur, Malaysia

Ahmad Muflihin

Universitas Islam Sultan Agung, Central Java, Indonesia

Warsiyah Warsiyah

Universitas Islam Sultan Agung, Central Java, Indonesia

Muna Yastuti Madrah

Universitas Islam Sultan Agung, Central Java, Indonesia
Abstract
Based on the Digital Civility Index (DCI), Indonesian internet users have the lowest Digital Civilization Index in Southeast Asia. This phenomenon is evident from the rise of fake news or hoaxes, hate speech, cyberbullying, discrimination, and even fraud. Modernization has also made people's lifestyles more consumptive. Indonesia is also a religious country with the largest Muslim population in the world. Indonesia is ready to face the coming era of what is known as the era of society 5.0. This article analyzes the public perception of urban society in Semarang city of the importance of religious education in their lives and how it is used as an aspect of curriculum development in the era of society 5.0. This research is qualitative research using a method of phenomenology. Data was collected from interviews, observations, and documentation. The results of this study indicate that contextualization of the Islamic religious education curriculum is needed to suit the needs of society in the era of society 5.0. Islamic religious education teaches students the physical dimension (shari'a) and the spiritual dimension (essential) so that Islamic religious education can foster spirituality for urban Muslim communities as a basis for values in everyday behaviour. Islamic religious education must instil the importance of monotheism and ethics in utilizing technology. The era of society 5.0 makes humans the centre (anthropocentric), while Islamic religious education instils the value that God is the centre (theocentric).
Downloads
Download data is not yet available.
References
Adnjani, M. D., & Madrah, M. yastuti. (2014). Identitas Remaja melalui Status Sosial di Face Book. Jurnal Ilmiah Komunikasi Makna, 4(2), 1991–1997.
Aziz, A. (2018). Religiusitas Masyarakat Urban di Era Digital (The Religiosity of Urban Communities in the Digital Era). International Conference Departement Communication.
Christine Tamir, Aidan Connaughton, and A. M. S. (2022). The Global God Divide. Pew Research Center.
Creswell, J. W. (1999). Mixed-method research: Introduction and application. In Handbook of educational policy (pp. 455–472). Elsevier.
Farikhah, F. (2014). Spiritualisasi Kurikulum di Indonesia (Telaah Filsafat Kurikulum dalam Konteks Keindonesiaan). Edukasia : Jurnal Penelitian Pendidikan Islam, 9(1). https://doi.org/10.21043/edukasia.v9i1.762.
Fitriani Lubis. (2019). Education in the Disruption Era. Britain International of Linguistics Arts and Education (BIoLAE) Journal, 1(2), 183–188. https://doi.org/10.33258/biolae.v1i2.85.
Fukuyama, M. (2018). Society 5.0: Aiming for a new human-centered society. Japan Spotlight, 27(5), 47–50.
Gottdiener, M., Hohle, R., & King, C. (2019). The New Urban Sociology. Routledge. https://doi.org/10.4324/9780429244452.
Habibie, M. L. H., Al Kautsar, M. S., Wachidah, N. R., & Sugeng, A. (2021). Moderasi beragama dalam Pendidikan Islam di Indonesia. Moderatio: Jurnal Moderasi Beragama Dan Kebudayaan Islam, 1(1), 121–141.
Husserl, E. (2014). Ideas. Routledge. https://doi.org/10.4324/9781315823577.
Judge, T. A., & Robbins, S. P. (2017). Essentials of Organizational Behavior. Pearson Education (us).
Karimipour, M., Sawari, S. S. M., & Hafiz, M. M. Al. (2015). Religion , Spirituality and Mental Health : A Review of Literature. Research Journal of Commerce and Behavioural Science, 5(1), 42–47.
Kasali, R. (2019). Disruption" Tak Ada yang Tak Bisa Diubah Sebelum Dihadapi Motivasi Saja Tidak Cukup". PT Gramedia Pustaka Utama.
Kemp, S. (2022). Digital 2022: Indonesia. 15 February 2022.
Kusnandar, V. B. (2022). Sebanyak 86,93% Penduduk Indonesia Beragama Islam pada 31 Desember 2021.
Langdridge, D. (2007). Phenomenological psychology: Theory, research and method. Pearson education.
Lase, D. (2019). Pendidikan di era revolusi industri 4.0. Sundermann: Jurnal Ilmiah Teologi, Pendidikan, Sains, Humaniora Dan Kebudayaan, 12(2), 28–43.
Madrah, M. Y. (2022). Pendidikan Agama Islam dalam Arus Teknologi. In Teknologi Pendidikan. GEt Press.
Madrah, M. Y., & Mubarok. (2018). Netizen dalam Kampanye Pilpres RI 2014. Interaksi: Jurnal Komunikasi, 7(1), 16–25.
Majid, A., Haryanto, S., Shidiq, N., Khoiri, A., & Sunarsi, D. (2018). Pengembangan Kurikulum Berbasis Pendidikan Spiritulitas dalam Kearifan Lokal di Jawa. Teknologi Pendidikan, 20(3), 280–286.
Muflihin, A., & Madrah, M. Y. (2019). Implementation of Al Ghazali's Islamic Education Philosophy in the Modern Era. Al Fikri, 2(1), 1–23.
Muflihin, A., & Makhshun, T. (2020). Peran Guru Pendidikan Agama Islam dalam Meningkatkan Literasi Digital Siswa Sebagai Kecakapan Abad 21. Ta'dibuna: Jurnal Pendidikan Agama Islam: Jurnal Pendidikan Agama Islam, 3(1), 91–103.
Muna Madrah. (2013). Sosialita di Era Internet. Jurnal Ilmiah Makna, 2/3.
Pihar, A. (2022). Modernisasi Pendidikan Agama Islam di Era Society 5.0. Book Chapter of Proceedings Journey-Liaison Academia and Society, 1(1), 1–12.
Sutrisman, D. (2019). Pendidikan Politik, Persepsi, Kepemimpinan, dan Mahasiswa. Guepedia.
Umro, J. (2020). Tantangan Guru Pendidikan Agama Islam Dalam Menghadapi Era Society 5.0,. Al Makrifat, 5(1).
Warsiyah, W. (2018). Pembentuk Religiusitas Remaja Muslim (Tinjauan Deskriptif Analitis). Cendekia: Jurnal Kependidikan Dan Kemasyarakatan, 16(1), 19. https://doi.org/10.21154/cendekia.v16i1.1262.
Wawancara Agustus 2022. (2022). Wawancara : Urban Parents di Semarang.
Wawancara dengan Sekretaris Dinas Pendidikan Kota Semarang. (2022).
Werner, H., & Wapner, S. (1952). Toward a general theory of perception. Psychological Review, 59(4), 324–338. https://doi.org/10.1037/h0059673.
Zaman, S. (2017). Pola Konsumtif Masyarakat Urban dalam Perspektif Semiotik dan Budaya. Paradigma, Jurnal Kajian Budaya, 7(1), 40. https://doi.org/10.17510/paradigma.v7i1.138.
Zamhari, A., & Mustofa, I. (2020). The Popular Da'wah Movement in Urban Communities: the Role of Hadrami Scholars' Da'wah in Response to Religious Radicalism in Indonesia. Akademika : Jurnal Pemikiran Islam, 25(1), 185. https://doi.org/10.32332/akademika.v25i1.2385.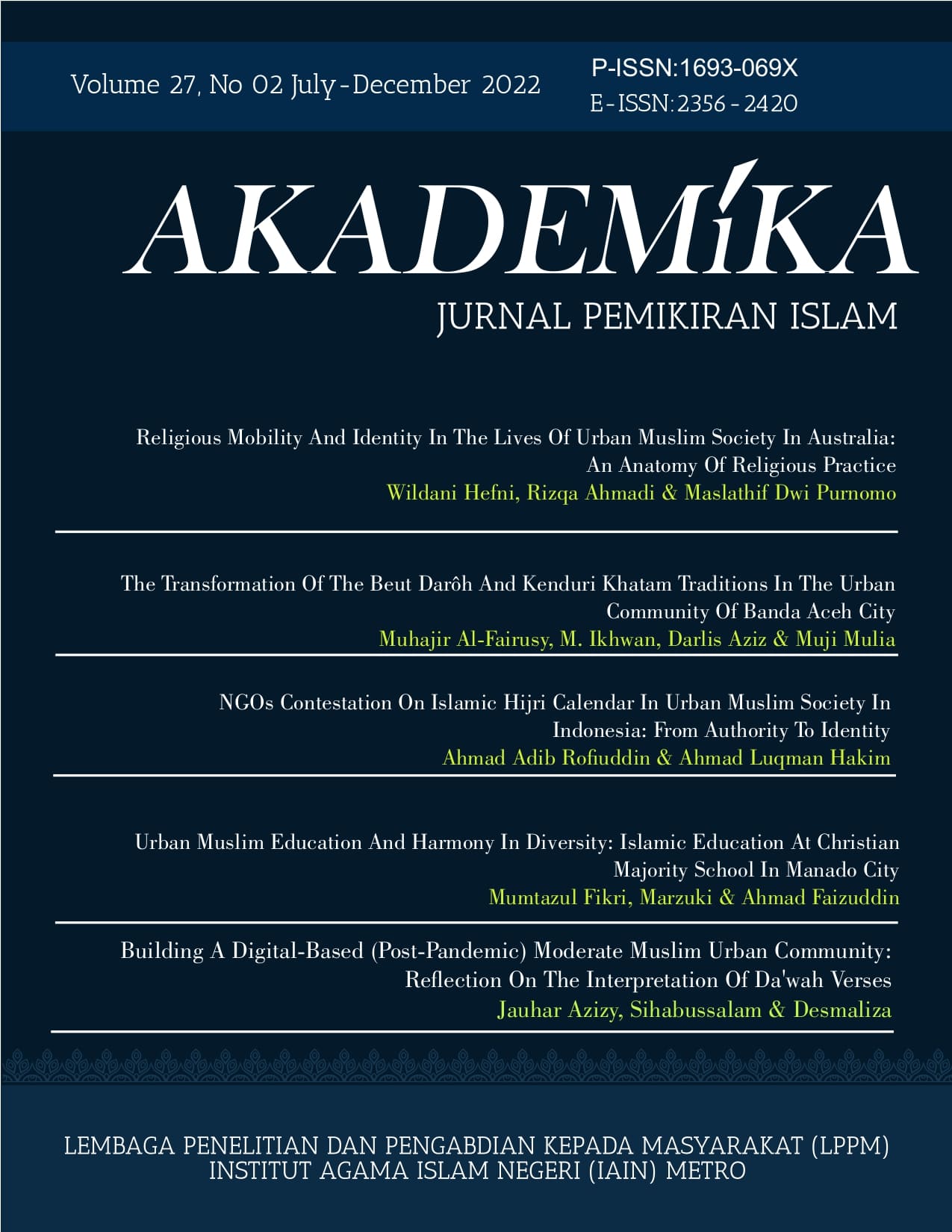 This work is licensed under a Creative Commons Attribution-ShareAlike 4.0 International License.
All articles in the Akademika can be disseminated on condition that still include the identity of the article and the source of the article (Akademika). The publisher is not responsible for the contents of the article. The content of the article is the sole responsibility of the author.
Authors who publish this subject agree to the following terms:
Secondly, the authors are able to enter into a separate, or an acknowledgment of its initial (eg, post-institutional repository or publish it in a book) publication in this journal.
Third, the authors are permitted and encouraged to post their work online (e.g., in institutional repositories or on their website) prior to the citation of published work.