BUILDING A DIGITAL-BASED (POST-PANDEMIC) MODERATE MUSLIM URBAN COMMUNITY: REFLECTION ON THE INTERPRETATION OF DA'WAH VERSES
Jauhar Azizy

Universitas Islam Negeri Syarif Hidayatullah, Jakarta, Indonesia

Sihabussalam Sihabussalam

Universitas Islam Negeri Syarif Hidayatullah, Jakarta, Indonesia

Desmaliza Desmaliza

University of Manchester, Manchester, United Kingdom
Abstract
Extremism is a common problem that needs to be resolved by various parties. One of the causes of extremism is the paradigm of primordialism and ethnocentrism. This paradigm holds that individuals or groups themselves are the best and tend to demean other groups. Socio-religious changes due to the Covid-19 pandemic have exacerbated the situation of a pluralistic Indonesian society. This has even permeated through the cyberspace. This article reflects on the interpretation of the verses calling for a response to the post-Covid-19 condition of Muslim urban communities. This article aims at maintaining the harmony of Indonesian society, especially urban Muslims, while at the same time reinforcing a moderate attitude after the outbreak. This study uses a qualitative research method with a content analysis approach. This article concludes that the reflection of these da'wah verses leads to the importance of digital da'wah as a means of building (post-pandemic) moderate urban Muslim communities by upholding the goals of Islam, namely rahmatan li al-'alamin, and collective benefit. There are six ways to build a moderate, digital-based Muslim urban community: First, through media literacy and digital literacy; second, a preacher must have the courage to expose his potential; third, grounding the content of moderation on social media; fourth, forming a group of moderate-minded digital media account managers; fifth, strengthening collaboration with influencers (people who are influential in social media); sixth, courteous communication.
Downloads
Download data is not yet available.
References
'Athiyyah, I. (1422). Al-Muharrar al-Wajiz fi Tafsir al-Kitab al-'Aziz. Dar al-Kutub al-'Ilmiyyah.
Abdul Syatar, A. S., Muhammad Majdy Amiruddin, Arif Rahman, & Haq, I. (2020). Darurat Moderasi Beragama Di Tengah Pandemi Corona Virus Desease 2019 (Covid-19). Kuriositas: Media Komunikasi Sosial Dan Keagamaan, 13(1), 1–13. https://doi.org/10.35905/kur.v13i1.1376.
Admin. (2020). Bupati Aceh Singkil Hentikan Pembangunan Rumah Pendeta. Inews.Co.Id. https://innews.co.id/bupati-aceh-singkil-hentikan-pembangunan-rumah-pendeta/.
Akhmadi, A. (2019). Religious Moderation in Indonesia's Diversity. Jurnal Diklat Keagamaan, 13(2), 45–55. https://bdksurabaya.e-journal.id/bdksurabaya/article/view/82/45.
Al-Baghawi, A. al-Ḥusain bin M. (1997). Tafsir al-Baghawi. Dar Thayyibah.
Al-Bukhari, A. A. M. bin I. (1993). Shahih al-Bukhari. Dar Ibn Katsir.
Al-Hajjaj, A. al-Husayn M. bin. (1433). Shahih Muslim. Dar Thuwuq al-Najah.
Al-Maraghi, A. bin M. (1946). Tafsir al-Maraghi. Syirkah al-Maktabah.
Al-Nawawi, A. Z. M. al-D. (1392). al-Minhaj Syarh Shahih Muslim. Dar Ihya' al-Turath al-'Arabi.
Al-Thabari, M. bin J. (2001). Jāmi' al-Bayan 'an Ta'wīl Ay al-Qur'an. Dār Hijr.
Al-Zamakhsyarī, A. al-Q. M. (1407). Al-Kasysyaf 'an Haqā'iq Gawamidh al-Tanzil. Dar al-Kutub al-'Arabi.
Al-Zuhailī, W. (1418). al-Tafsir al-Munir Fī al-'Aqidah wa al-Syarī'ah wa al-Manhaj. Dar al-Fikr al-Muʻashirah.
Aliah, S. D., Mudzakir, Ismail, Ekayanti, & Hafiz. (2018). Menghalau Ekstremisme Konsep dan Strategi Mengatasi Ekstremisme Kekerasan di Indonesia. Wahid Foundation.
Alkatiri, W. (2018). Religious Extremism di Era Post-Everything Perspektif Teori Kritis. Akademia.
Anjani, S., & Irwansyah, I. (2020). The Role Of Social Media Influencers In Communicating Messages Using Instagram. Polyglot: Jurnal Ilmiah, 16(2), 203. https://doi.org/10.19166/pji.v16i2.1929.
Antarnews. (2021). Telaah-Muhammad Kece, di antara Peran Media Tangkal Hoaks dan Intoleransi. Antarnews. https://kaltara.antaranews.com/berita/488090/telaah--muhammad-kece-di-antara-peran-media-tangkal-hoaks-dan-intoleransi.
Coakley, J. (2018). 'Primordialism' in nationalism studies: theory or ideology? Nations and Nationalism, 24(2), 327–347. https://doi.org/10.1111/nana.12349.
Fathurrrahman, Rumata, 'Arif, Iqbal, M., & Asman. (2021). Dakwah digital sebagai sarana peningkatan pemahaman moderasi beragama dikalangan pemuda. Jurnal Ilmu Dakwah, 41(2), 172–183. https://doi.org/10.21580/jid.v41.2.9421.
Hadiono, K., Murti, H., & Santi, R. C. N. (2021). Artikel Transformasi Digital di Masa Pandemi Covid-19. Proceeding SENDIU, July, 573–578. https://www.unisbank.ac.id/ojs/index.php/sendi_u/article/view/8652.
Hasanah, U. (2021). Dakwah In The Study Of Religious Moderation. Alfuad: Jurnal Sosial Keagamaan, 5(1), 59. https://doi.org/10.31958/jsk.v5i1.3188.
Hilmy, M., & Niam, K. (2021). Winning the battle of authorities: The Muslim disputes over the covid-19 pandemic plague in contemporary Indonesia. Qudus International Journal of Islamic Studies, 8(2), 293–326. https://doi.org/10.21043/qijis.v8i2.7670.
Indonesia, C. (2020). Viral Orang Usik Ibadah HKBP di Bekasi, RK Buka Suara. CNN Indonesia. https://www.cnnindonesia.com/nasional/20200918171352-20-548178/viral-orang-usik-ibadah-hkbp-di-bekasi-rk-buka-suara.
Isalamy, M. R. F. (2021). Optimalisasi Dakwah Media Sosial di Kalangan Mahasiswa di Masa Pandemi Dalam Dimensi Globalisasi. Jurnal Dakwah Dan Komunikasi, 6(1), 1. https://doi.org/10.29240/jdk.v6i1.2954.
Kathir, A. al-F. I. I. (1419). Tafsir al-Qur'an al-'Adzīm. Dār Kutub Al-'Ilmiyyah.
Kemenag RI. (2019). Moderasi Beragama. Kemenag RI.
Kirana, D., & Garadian, E. A. (2020). Religious Trend in Contemporary Indonesia: Conservatism Domination on Social Media. Studia Islamika, 27(3). https://doi.org/10.36712/sdi.v27i3.18823.
Lestari, P. P. (2020). Dakwah Digital Untuk Generasi Milenial. Jurnal Dakwah, 21(1), 41–58. https://doi.org/10.14421/jd.2112020.1.
Lin, Q., Zhao, S., Gao, D., Lou, Y., Yang, S., Musa, S. S., Wang, M. H., Cai, Y., Wang, W., Yang, L., & He, D. (2020). A conceptual model for the coronavirus disease 2019 (Covid-19) outbreak in Wuhan, China with individual reaction and governmental action. International Journal of Infectious Diseases, 93, 211–216. https://doi.org/10.1016/j.ijid.2020.02.058.
Murtiwidayanti, S. Y., & Ikawati, I. (2021). Kecemasan Masyarakat Dalam Menghadapi Pandemi Covid-19. Sosio Konsepsia, 10(3), 227–240. https://doi.org/10.33007/ska.v10i3.2353.
Nasution, M. R. (2019). Da'wah of Digital Era Applicative Study: Qs. An-Nahl: 125 on Millennial Generation. Budapest International Research and Critics Institute (BIRCI-Journal) : Humanities and Social Sciences, 2(2), 380–391. https://doi.org/10.33258/birci.v2i2.312.
Nurjanah, A. S., & Wibowo, R. W. (2021). Aktualisasi Moderasi Beragama Abad 21 Melalui Media Sosial. Madania: Jurnal Ilmu-Ilmu Keislaman, 11(2).
Pahlevi, R. (2022). Pengguna Internet di Dunia Capai 4, 95 Miliar Orang Per Januari 2022. Databoks.Katadata.Co.Id, 2022. https://databoks.katadata.co.id/datapublish/2022/02/07/pengguna-internet-di-dunia-capai-495-miliar-orang-per-januari-2022.
Prayitno, Potoewas, B., & Yanzi, H. (2018). Pengaruh Sikap Primordialisme Terhadap Upaya Pembentukan Proses Harmonisasi Masayarakat Multikulltural. Jurnal Kultur Demokrasi, 18(1), 1–15. https://core.ac.uk/download/pdf/11715904.pdf.
Rahman, T. (2018). Extreme Overvalued Beliefs : How Violent Extremist Beliefs Become " Normalized ." 8(1–11). https://doi.org/https://doi.org/10.3390/bs8010010.
Rasyid, I., Efendi, J., Peranto, S., & R, M. (2021). Pandemi, Demokrasi, dan Ekstremisme Berkekerasan di Indonesia. In The Habibie Center. http://habibiecenter.or.id/img/publication/5b9f109d63b1d05010b2b0f42198f4.
Restianty, A. (2018). Literasi Digital, Sebuah Tantangan Baru Dalam Literasi Media. Gunahumas, 1(1), 72–87. https://doi.org/10.17509/ghm.v1i1.28380.
Rizkinaswara, L. (2021). Kominfo Blokir 20.453 Konten Terorisme Radikalisme di Media Sosial. Aptika Kominfo. https://aptika.kominfo.go.id/2021/04/kominfo-blokir-20-453-konten-terorisme-radikalisme-di-media-sosial/
Rizqi, A. R. (2020). Pancasila in the Primordialism and Modernism Intersections. Proceedings of the International Conference on Agriculture, Social Sciences, Education, Technology and Health (ICASSETH 2019), 429(Icasseth 2019), 24–28. https://doi.org/10.2991/assehr.k.200402.006.
Rukmana, M. L. H. (2018). Metode Dakwah KH. Abdurrahman Navis dalam Program Fajar Syiar di Radio El-Victor Surabayat [Universitas Islam Negeri Sunan Ampel Surabaya]. In UIN Sunan Ampel Surabaya. http://digilib.uinsby.ac.id/id/eprint/23816.
Said, I. G., & Santosa, N. E. T. I. (2021). Negotiating Religiosities among Indonesian Muslims amid the Covid-19 Pandemic: Acceptance, Resistance, and Transformation. Journal of Indonesian Islam, 15(2), 271. https://doi.org/10.15642/JIIS.2021.15.2.271-300.
Said, N. (2017). Pendidikan Toleransi Beragama Untuk Humanisme Islam di Indonesia. Edukasia: Jurnal Penelitian Pendidikan Islam, 12(2).
Santoso, B. (2020). Heboh Larangan Beribadah di Desa Ngastemi, Ketum PKPI: Tindakan Bodoh! Suara.Com.
Sari, E. N., & Samsuri, S. (2020). Etnosentrisme dan Sikap Intoleran Pendatang Terhadap Orang Papua. Jurnal Antropologi: Isu-Isu Sosial Budaya, 22(1), 142. https://doi.org/10.25077/jantro.v22.n1.p142-150.2020.
Setara. (2021). Pandemik Lahan Subur Diskriminasi dan Intoleransi. Setara Institute. https://setara-institute.org/pandemi-lahan-subur-diskriminasi-dan-intoleransi/.
Setiawan, R. (2020). Agar "Pelarangan Ibadah" di Cikarang Tidak Terulang. Tirto.Id. https://tirto.id/agar-pelarangan-ibadah-di-cikarang-tidak-terulang-ePXM.
Sumadaria, H. (2014). Sosiologi Komunikasi Massa. Simbiosa Rekatama Media.
Suprianto, B. (2022). Ekstremisme dan solusi moderasi beragama di masa pandemi covid 19. Jurnal Studi Agama, 6(1), 42–55.
Suryahadi, A., Al Izzati, R., & Suryadarma, D. (2020). Estimating the Impact of Covid-19 on Poverty in Indonesia. Bulletin of Indonesian Economic Studies, 56(2), 175–192. https://doi.org/10.1080/00074918.2020.1779390.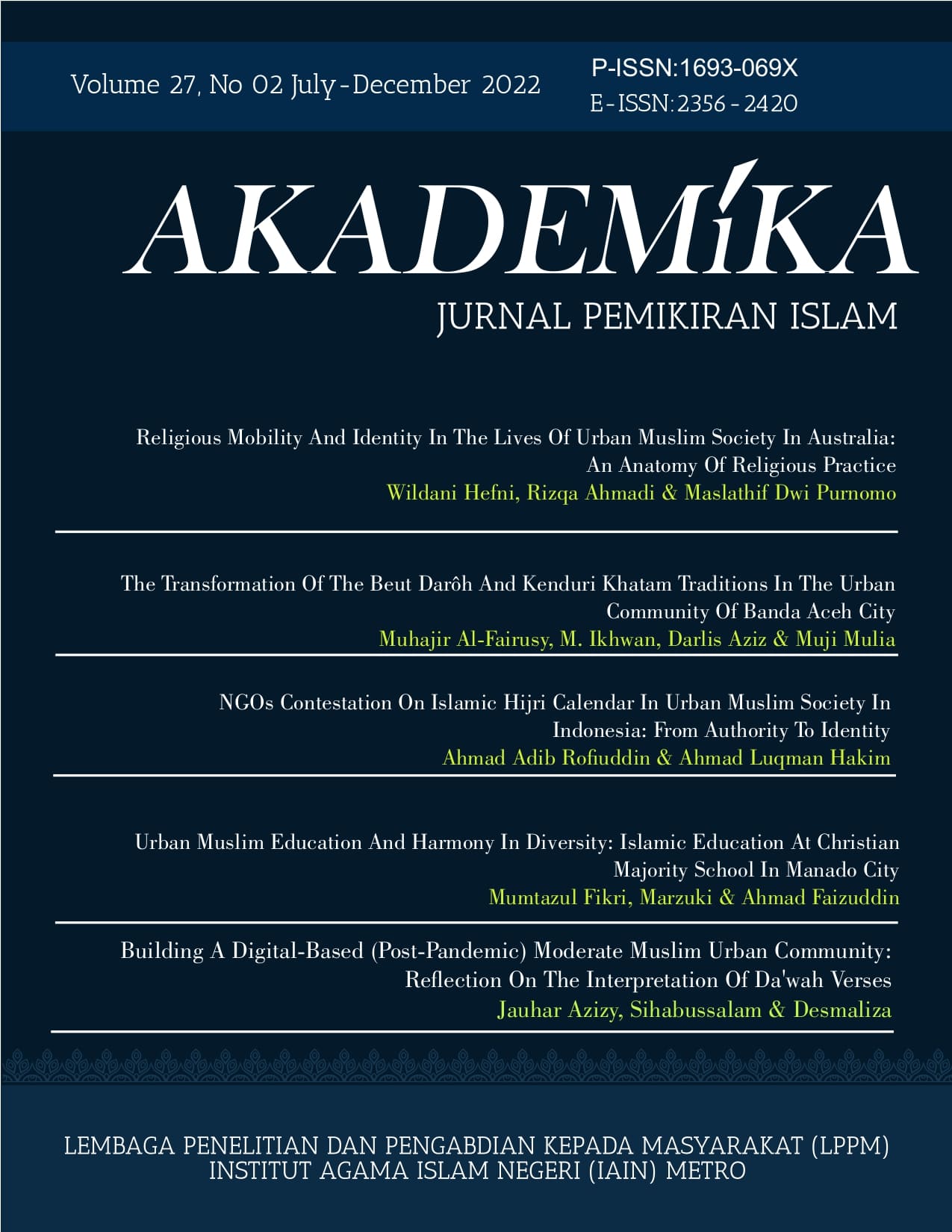 This work is licensed under a Creative Commons Attribution-ShareAlike 4.0 International License.
All articles in the Akademika can be disseminated on condition that still include the identity of the article and the source of the article (Akademika). The publisher is not responsible for the contents of the article. The content of the article is the sole responsibility of the author.
Authors who publish this subject agree to the following terms:
Secondly, the authors are able to enter into a separate, or an acknowledgment of its initial (eg, post-institutional repository or publish it in a book) publication in this journal.
Third, the authors are permitted and encouraged to post their work online (e.g., in institutional repositories or on their website) prior to the citation of published work.