DA'WAH AMONG URBAN MUSLIMS IN INDONESIA
Rini Setiawati

Universitas Islam Negeri Raden Intan, Lampung, Indonesia

Dede Mercy Rolando

Institut Agama Islam Negeri Metro, Lampung, Indonesia.

Robby Aditya Putra

Institut Agama Islam Negeri Curup, Bengkulu, Indonesia.

Osman Koroglu

Nile University of Nigeria, Abuja, Nigeria.
Abstract
The condition of da'wah portraits in the current era of information globalization which is increasingly heavy and complex is certainly a challenge for the development of da'wah. The emergence of problems that target the younger generation is a point of threat to the survival of Muslims, especially in Indonesia. This study aims to look at the portrait of the current da'wah problem and its strategy. The type of research used is a literature review. The results obtained are portraits of the problems faced and become challenges and threats for da'wah activists and da'i namely "silting of faith" due to the progress of the times such as problems related to the erosion of Faith and Manner, shifts in the authority of a single religion, problems of pluralistic, hedonistic, individualistic society. towards a materialistic society associated with rationalistic Muslims. The characteristics of the profile of the Indonesian Muslim community have caused problems both internally and externally. So that this reality requires the application of an effective and efficient da'wah strategy by linking the elements of preachers, messages as well as media in order to compete and maintain Islamic values ​​in the midst of the threat of the times by improving the quality in terms of substantive and methodological competence, increasing the values ​​of rahmatan lil alamin and universal values ​​and the importance of mastering information technology with the use of media up-to-date.
Downloads
Download data is not yet available.
References
Abdul Aziz, A. Z. (2020). Optimasi Instagram Sebagai Media Penyampaian Pesan Dakwah. Jurnal Ilmu Sosial Dan Pendidikan, 1(4), 216–226.
Abdul, M. (2001). Komunikasi Islam. Remaja Rosdakarya.
Afif, M., & P. (2018). Pengaruh Motivasi Belanja Hedonis, Gaya Hidup Berbelanja dan Promosi Penjualan terhadap Pembelian Impulsif pada Konsumen Shopee ID. Jurnal Ekonomi Dan Bisnis, 2(2), 130.
Ali M. Semjan P. (2017). Perdukunan Modern Dalam Perspektif Ulama Syafiíyah Dan Solusi Menangkalnya. Al-Majaalis : Jurnal Dirasat Islamiyah, 5(1), 34-49.
Amin, S. (2008). Rekonstruksi Pemikiran Dakwah Islam. Hamzah.
Arifin, F. (2019). Mubalig Youtube Dan Komodifikasi Konten Dakwah. Al-Balagh : Jurnal Dakwah Dan Komunikasi, 4(1), 91–120.
Arifuddin. (2016). Dakwah Through Internet: Challenges and Opportunities for Islamic. Ar-Raniry: International Journal of Islamic Studies, 3(2), 118–129.
Asmar, A. (2020). Ekspresi Keberagaman Online: Media Baru dan Dakwah. Jurnal Ilmu Dakwah [Online], 2(2), 54–64.
Brooke, T. . (1997). Dewa virtual. Harvest House.
Bundy, A. (2000). Drowning in Information, Starved for Knowledge: Information Literacy, Not Technology, Is the Issue. Victorian Association for Library Automation.
Campbell, H. A. (2012). Digital religion: Understanding religious practice in new media worlds. Digital Religion: Understanding Religious Practice in New Media Worlds, February, 1–273. https://doi.org/10.4324/9780203084861.
Capurro, Rafael, & Hjørland, B. (2003). The Concept of Information. Annual Review Of Information Science And Technology, 37(1), 343–411.
Coleman, J. (2006). The Adolescent Society. Education Next.
Dawson, L. L., & Cowan, D. E. (2004). Religion Online: Finding Faith on the Internet (1st editio). Routledge.
Denzin, N. K. & Y. S. L. (2009). Handbook of Qualitative Research (Terj. Dariyatno (ed.)). Pustaka Pelajar.
Fakhruroji, M. (2015). SMS Tauhiid Sebagai Teknoreligion Perspektif Teknokultur atas Penyebaran Tausyiah Agama Melalui SMS. Jurnal Sosioteknologi, 14(3), 246–260.
Ghozali, M. I. (2018). Peranan Da'i dalam Mengatasi Problem Dakwah Kontemporer. Mawa'Izh: Jurnal Dakwah Dan Pengembangan Sosial Kemanusiaan, 8(2), 293–307. https://doi.org/10.32923/maw.v8i2.777.
Halimi, S. (2008). Etika Dakwah dalam Perspektif Al-Quran, Antara idealitas Qurani dan Realitas Sosial. Walisongo Press.
Helland, C. (2002). Surfing for Salvation. Jurnal Religion, 32(4), 293–302. https://doi.org/DOI: 10.1006/reli.2002.0406.
Hootsuite dan We Are Social. (2021). Digital in Indonesia: All the Statistics You Need in 2021. DataReportal.
Ikrar Nusa Bhakti, N. P. (2012). Menemukan Akar Masalah Dan Solusi Atas Konflik Papua : Supenkah?". Jurnal Penelitian Politik, 9(1), 120.
Iqbal, A. M. (2016). Cyber-Religion and the Secularization Thesis. Jurnal Komunikasi Islam, 6(1), 1–28.
Ishanan, I. (2017). Dakwah di Era Cyberculture: Peluang dan Tantangan. Jurnal Komunike, 9(2), 91–104.
J. Moleong, L. (1989). Metode Penelitian Kualitatif. Remaja Rosdakarya.
K.Yin, R. (2012). Studi Kasus: Desain dan Metode diterjemahkan oleh Djauzi Mudzakir (Jakarta: PT.Raja Grafiindo Persada 2012). Raja Grafindo Persada.
Kominfo RI. (2022). isis sebar paham radikal melalui media digital. Kominfo RI.
Latif, Y. (2011). Media Massa Dan Pemiskinan Imajinasi Sosial dalam Idi Subandi Ibrahim, Kritik Budaya Komunikasi. Jalansutra.
Lestari, P. P. (2020). Dakwah Digital Untuk Generasi Milenial. Jurnal Dakwah, Vol. 21.(1), 40-50.
Ma'luf. (1977). Al-Munjid Fi Al-Lugat. Dar al-Masyriq.
Malik, H. (2021). Cyber Religion dan Real Religion di tengah Masyarakat Digital. Jurnal Komunika, 4(1), 63–78. https://doi.org/10.24042/komunika.v4i1.8615.
Munawwir, W. (1997). Kamus Al-Munawwir. Pustaka Progressif.
Mutmainnah. (2020). Akidah Akhlak Learning in Implementing Character Education in MTs Darul Falah Ketapang. International Journal of Graduate of Islamic Education, 1(2).
Nasor, M. (2018). Paradigma Dakwah Pada Masyarakat Prulal dalam Menghadapi Perbedaan sebagai Kerangka Persatuan. Analisis: Jurnal Studi Keislaman, 18(1), 55–68. https://doi.org/10.24042/ajsk.vlil.3303.
Nuwairah, N. (2021). Peace Building: Tantangan Dakwah di Era Disrupsi. Alhadharah: Jurnal Ilmu Dakwah, 19(2), 47–63.
Prihananto. (2001). Internet Sebagai Media Dakwah Alternatif Pada Masyarakat Informasi. Jurnal Ilmu Dakwah, 4(2).
Putra. (2017). Implementasi pendidikan karakter dalam pembelajaran Aqidah Akhlak (studi mukti kausus di MIN Sekuduk dan MIN Pemangkat Kab. Sambas). Al-Bidayah: Jurnal Pendidikan Dasar Islam, 16(2).
Qatawneh, M. A. S., & Rababah, Y. A. S. (2021). Reflections of Faith ('Aqidah) on Arts: A Comparative Analytical Study on Islamic And Westrn Arts. Afkar Journal of Aqidah & Islamic Thought, 23(1), 251–278.
Qudratullah. (2020). Strategi Dakwah sebagai Soluasi Terhadap Problematika Masyarakat Hedonisme. At-Tabsyir: Jurnal Komunikasi Penyiaran Islam, 7(2).
Rakhmawati, I. (2013). Potret Dakwah di Tengah Era Globalisasi dan Perkembangan Zaman. Jurnal At-Tabsyir: Jurnal Komunikasi Penyiaran Islam, 1(1), 75–92.
Risma Refiani Suryana. (2002). Hubungan Penggunaan Media Sosial DenganAkhlak Siswa Kelas Ix Di Madrasah TsanawiyahNegeri (Mtsn) 1 Kota Bogor. Jurnal Komunikasina, Volume Ix,(1), 269-272.
Rumadi. (2012). Islam dan Otoritas Keagamaan. Jurnal Studi Komunikasi, 20(1).
Said, N. M. (2013). Dakwah dan problematika umat islam. Jurnal Dakwah Tabligh, 14(1).
Saifuddin, L. H. (2019). Moderasi untuk kebersamaan umat: Memaknai Rapat Kerja Nasional Kemenag 2019. Mentri Agama Republik Indonesia.
Saleh, I. A., Saefullah, C., & Sukayat, T. (2020). problematika dakwah penyuluh agama. Tabligh Jurnal Komunikasi Dan Penyiaran Islam, 5(3), 287–308.
Sukayat, T. (2015). Ilmu Dakwah Perspektif Filsafat Mabadi 'Asyarah. Simbiosa Rekatama Media.
Suprima. (2021). Dakwah di masa pandemi Covid-19: Eksistensi, Problematika serta solusi. Jurnal Ilmu Dakwah, 41(1), 85–96.
Toni, H., Rolando, D. M., Yazid, Y., & Putra, R. A. (2021). Fenomena Cyber Religion Sebagai Ekspresi Keberagamaan di Internet pada Komunitas Shift. Jurnal Dakwah Risalah, 32(1), 56–74. https://doi.org/10.24014/jdr.v32i1.11626.
Warsah, I., Putra, R., & Morganna, R. (2021). Merging Religiosity on Social Media: Indonesian Millennial Youth's Understanding of the Concepts of Jihad and Religious Tolerance. Cendekia: Jurnal Kependidikan Dan Kemasyarakatan, 19(2)(2).
Zulkifli. (2013). The Ulama in Indonesia: Between Religious Authority and Symbolic Power. Jurnal Miqot, 37(1).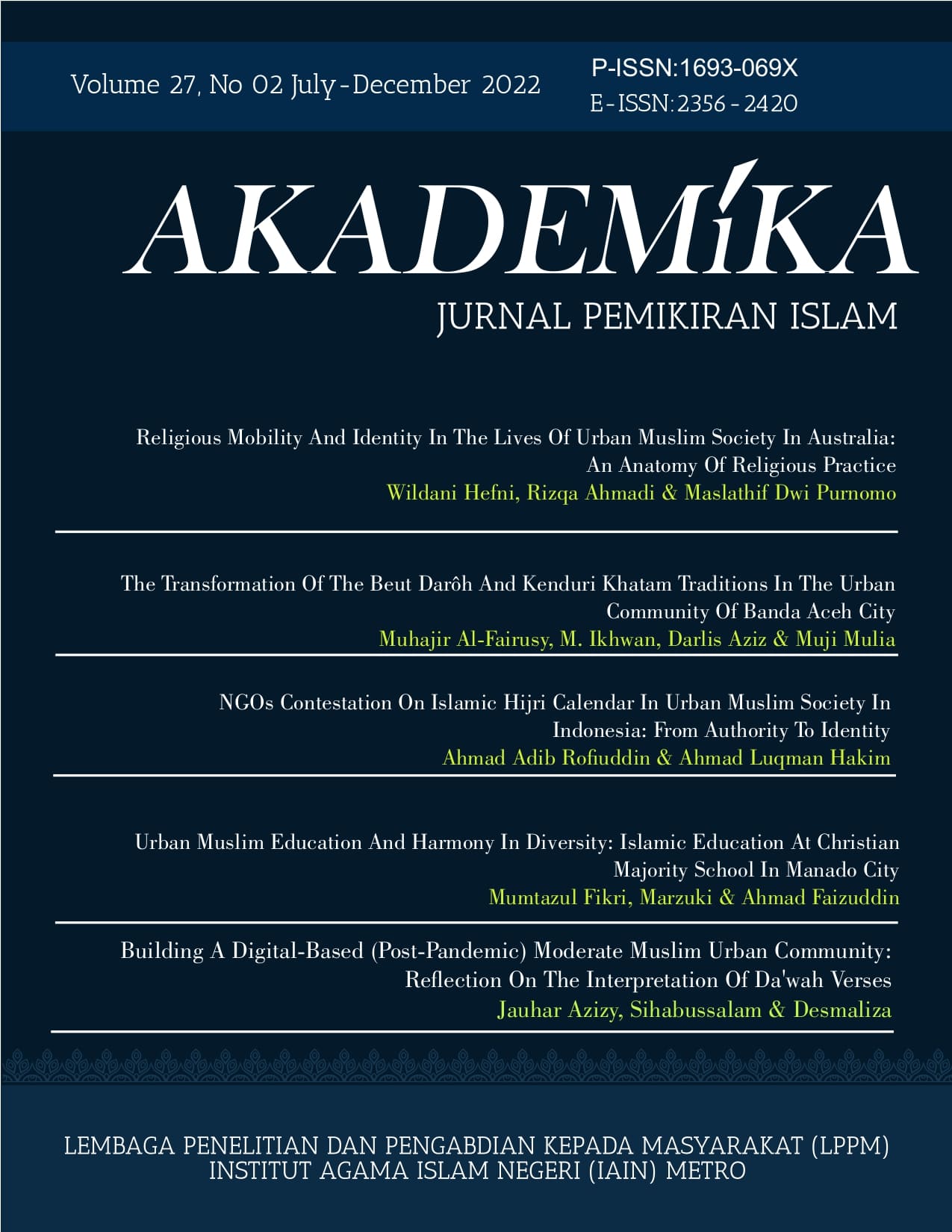 This work is licensed under a Creative Commons Attribution-ShareAlike 4.0 International License.
All articles in the Akademika can be disseminated on condition that still include the identity of the article and the source of the article (Akademika). The publisher is not responsible for the contents of the article. The content of the article is the sole responsibility of the author.
Authors who publish this subject agree to the following terms:
Secondly, the authors are able to enter into a separate, or an acknowledgment of its initial (eg, post-institutional repository or publish it in a book) publication in this journal.
Third, the authors are permitted and encouraged to post their work online (e.g., in institutional repositories or on their website) prior to the citation of published work.