INTERNATIONALIZATION OF AHLUSSUNNAH WAL-JAMA'AH IN SOUTHEAST ASIA: ANALYSIS OF THE DA'WAH MOVEMENT KH ALI TUNGKAL
Saidina Usman

Universitas Islam Negeri Raden Fatah Palembang, South Sumatra, Indonesia

Ris'an Rusli

Universitas Islam Negeri Raden Fatah Palembang, South Sumatra, Indonesia

Masyhur Masyhur

Universitas Islam Negeri Raden Fatah Palembang, South Sumatra, Indonesia

Makmur Harun

Universiti Pendidikan Sultan Idris Tanjong Malim, Perak, Malaysia
Abstract
The internationalization of Ahlussunnah Waljama'ah Islam in Southeast Asia in particular is growing rapidly. The spirit of maintaining the scientific sanad and teachings of Ahlussunnah Waljama'ah is one of the efforts to internationalize the role of KH Ali Tungkal's da'wah. With qualitative-descriptive and pure field research using bibliographical data methods, documentation, and interview results through a historical approach, this study explores: (1) The characteristics of the Islamic da'wah of Ahlussunnah Waljama'ah KH Ali Tungkal. (2) The Urgency of Internationalization of Ahlussunnah Waljama'ah Islam in Southeast Asia in a contemporary context with. The results of this study show that: (1) the characteristics of KH Ali Tungkal's missionary strategy movement, namely by establishing the Qadiriyah wa Naqsabandiyah (TQN) Tarekat. KH Ali Tungkal also founded the Al Baqiatus Shalihat Islamic boarding school. The characteristics of KH Ali Tungkal's da'wah material generally follow the Ahlussunnah Waljama'ah school. KH Ali Tungkal's da'wah material was planned as much as possible by referring to the books of Kifâyat al-Awwâm, Tuhfat al-Murȋd 'alâ Syarh Jauharat al-Tawhȋd, Syarh Hikam li 'Abdullâh al-Syarqâwȋ, Kifâyat al-Mubtadi'ȋn, Aqâ'id al -Faith and 'Charity Ma'rifah. The method of preaching KH Ali Tungkal both in the Al-Baqiyat Islamic Boarding School environment and in the community with Bil Lisan and Bil Qalam da'wah. (2) The internationalization of Ahlussunnah Waljama'ah Islam with tolerance, moderation, balance, and friendliness to all mankind is the most important thing in the context of Muslims in the contemporary era. So that KH Ali Tungkal's students are in Indonesia, Malaysia, Singapore, and Thailand. Internationalization and universalization of Islam Ahlussunnah Waljama'ah are increasingly unavoidable.
Downloads
Download data is not yet available.
References
Abitolkha, A. M., Muvid, M. B., & Lubis, M. A. (2020). Revitalizing National Political Values Through The Socio-Political Movements Of The Tarekat: Studied at the Political Social Role of Tarekat Qadiriyah wa Naqsyabandiyah in Nusantara. Al-Tahrir, 2(20), 373–398.
Abizar, M. (2019). Pluralisme dalam Pandangan Mukti Ali. Ishlah: Jurnal Ilmu Ushuluddin, Adab Dan Dakwah, 1(2), 185–212.
Ahmad Syukri , M. (2022). Interview with student KH Ali Tungkal
Azra, A. (2013). Jaringan Ulama Timur Tengah dan Kepulauan Nusantara Abad XVII & XVIII (Pertama). Kencana.
Edi, R. N. (2014). As-Sunnah (Hadits) (Suatu Kajian Aliran Ingkar Sunnah). Asas, 6(2), 132–148. http://ejournal.iainradenintan.ac.id/index.php/asas/article/viewFile/549/450
Eliza, & Hudaidah. (2021). Proses Islamisasi dan Perkembangan Islam di Kesultanan Banjarmasin. HEURISTIK: Jurnal Pendidikan Sejarah, 1(2), 54–62.
Farihin, Syafaah, A., & Rosidin, D. N. (2019). Jaringan Ulama Cirebon Abad ke-19 Sebuah Kajian Berdasarkan Silsilah Nasab dan Sanad. Urnal Tamaddun: Jurnal Sejarah Dan Kebudayaan Islam, 7(1).
Hasan, S. M. (2021). Aktualisasi Paham Ahlussunnah Wal Jama'ah (Aswaja) bagi Kehidupan Generasi Milenial. An Nahdhoh Jurnal Kajian Islam Aswaja, 1(2), 100–108.
Hurgrenje, S. (1973). Islam di Hindia Belanda terj. S. Gunawan. Bhatara.
Khotib, A. (2020). Almarhalah Jurnal Pendidikan Islam. Al Marhalah, 4(1), 29–50. https://doi.org/https://doi.org/10.38153/alm.v4i1.25.
Leur, J.C. Van. (1995). Indonesian trade and Society, (Bandung: Van Hoeve)
Muzakir, A. (2015). Petunjuk Baru Silsilah Ahmad Khatib Sambas : Tiga Teks Tulisan Melayu. Jurnal Lektur Keagamaan, 13(2), 513 – 532. https://doi.org/https://doi.org/10.31291/jlk.v13i2.238.
Nasution, S., & Suhayib. (2018). Sejarah Perkembangan Islam di Brunei Darussalam. Nusantara; Journal for Southeast Asian Islamic Studies, 14(1), 1–19.
Nugroho, B. H. (2020). Jambi Ulama Fatwa Typology: The Ijtihad Method of Guru Muhammad 'Ali Ibn 'Abd al-Wahhab al-Tungkali in Kitab al-Fatawa al-Tungkaliyah. Cinta Buku Media.
Pilo, N. (2016). Hakikat Ahlusunnah Wal-Jama'ah: Studi Perbandingan Antara Pemikiran Kalam Abu Hasan Al-Asy'ari dan Ibnu Taimiyah. Universitas Islam Negeri Alauddin Makassar.
Polo, M. (1866). Cathay and the Way thither. Printed for the Haklyut Society.
Putra, B. A. (2018). Islamisasi Di Dunia Melayu Jambi. Titian: Jurnal Ilmu Humaniora, 2(1), 29–50.
Rofie, M. K. H., Ahmad, S., Dahaman, M. A. D., & Sobihatul, N. K. (2018). Indeks Pemetaan ASWJ di Malaysia the index of the holdings of Ahlu Sunah wal Jamaah (ASWJ) mapping in Malaysia. Jurnal Sultan Alauddin Sulaiman Shah, 618–631.
Saleh, A. S. (2016). Kontribusi KHM Ali Abdul Wahab Dalam Melestarikan Tradisi Keilmuan Keagamaan Etnis Banjar di Kuala Tungkal, Provinsi Jambi. Transformasi Sosial Dan Intelektual Orang.
Sugiyono. (2019). Metode Penelitian Pendidikan (Kuantitatif, Kualitatif, Kombinasi, R&D dan Penelitian Pendidikan). Alfabeta.
Syed Muhammad Naquib al-Attas. (2011). Historical fact and Fiction. UTM press.
Tajuddin, Y. (2015). Walisongo dalam Strategi Komunikasi Dakwah. Addin, 8(2).
Tjandrasasmita, U. (2009). Arkeologi Islam Nusantara. Kepustakaan Populer Gramedia.
Wahyudi, T. (2021). Reinterpretasi Jihad dalam Pendidikan di Era Digital. 32, 129–150.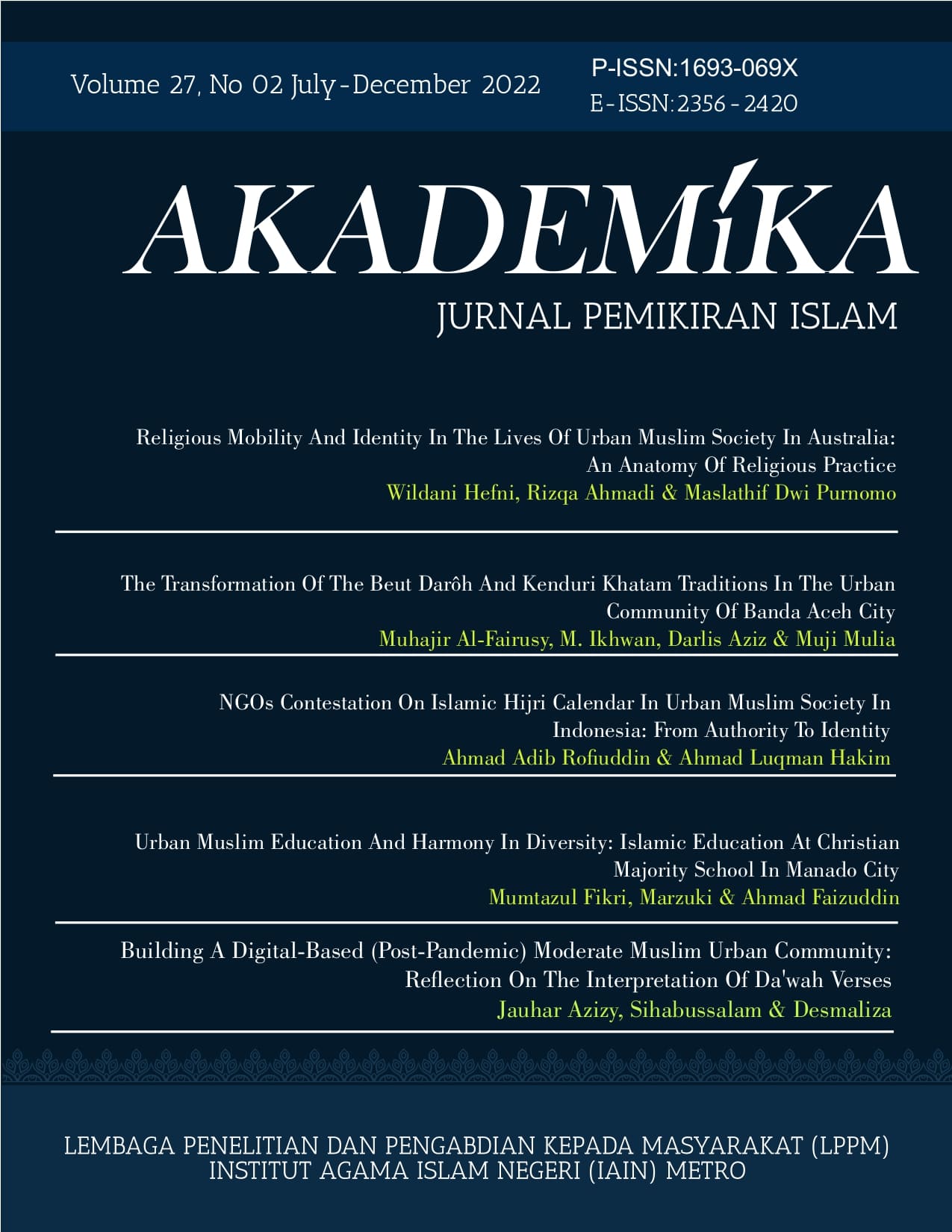 This work is licensed under a Creative Commons Attribution-ShareAlike 4.0 International License.
All articles in the Akademika can be disseminated on condition that still include the identity of the article and the source of the article (Akademika). The publisher is not responsible for the contents of the article. The content of the article is the sole responsibility of the author.
Authors who publish this subject agree to the following terms:
Secondly, the authors are able to enter into a separate, or an acknowledgment of its initial (eg, post-institutional repository or publish it in a book) publication in this journal.
Third, the authors are permitted and encouraged to post their work online (e.g., in institutional repositories or on their website) prior to the citation of published work.