RELIGIOUS MOBILITY AND IDENTITY IN THE LIVES OF URBAN MUSLIM SOCIETY IN AUSTRALIA: AN ANATOMY OF RELIGIOUS PRACTICE
Wildani Hefni

Universitas Islam Negeri Kiai Haji Achmad Siddiq Jember, East Java, Indonesia

Rizqa Ahmadi

Universitas Islam Negeri Sayyid Ali Rahmatullah Tulungagung, East Java, Indonesia

Maslathif Dwi Purnomo

Charles Sturt University, Bathurst, Australia
Abstract
This article discusses religious mobility in the lives of urban Muslim society in Australia by investigating organizational projects and religious practices. This paper uses ethnographic fieldwork consisting of in-depth interviews and hang-out in the organization meeting and gatherings among urban Muslim society in Australia. This paper argues that although urban Muslim society in Australia is associated with a Muslim minority, they contribute significantly to the development of Islamic education, Islamic altruism, and spirituality performance. Urban Muslim society in Australia demonstrates social sensitivity by establishing social institutions to show their embodied Muslim identity, such as Islamic Society of Melbourne Eastern Region (ISOMER) in Melbourne, Islamic Science and Research (ISRA) in Sydney, and Australian Sufi Association (ASA). They show their religious mobility as well as their religious practices as part of an agent of social change by promoting community engagement as an embodiment of social solidarity.
Downloads
Download data is not yet available.
References
Ata, A. W. (Ed.). (2020). Muslim Minorities and Social Cohesion: Cultural Fragmentation in the West. Routledge. https://doi.org/10.4324/9781003044529.
Batson, C. D. (2011). Altruism in Humans. Oxford University Press.
Bouma, G. D., Pietsch, J., & Aarons, H. (2012). Minority Religious Identity and Religious Social Distance in Australia. Dalam Australia: Identity, Fear and Governance in the 21st Century (hlm. 47–60). ANU Press. https://www.jstor.org/stable/j.ctt24hbqz.9.
Campbell, R. L. (2006). Altruism in Auguste Comte and Ayn Rand. 7(2), 13.
Claydon, D. (2000). Islam in a western context: Australia. Transformation, 17(1), 29–31.
Cleland, B. (2002). The Muslims in Australia: A Brief History. Islamic Council of Victoria.
Cook, A. B. S. (2018). Tasawwuf 'Usturaliya: Prolegomena to a History of Sufism in Australia. Australian Journal of Islamic Studies, 3(3), Art. 3. https://doi.org/10.55831/ajis.v3i3.119.
Dunn, K. M., Klocker, N., & Salabay, T. (2007). Contemporary racism and Islamaphobia in Australia: Racializing religion. Ethnicities, 7(4), 564–589.
Frager, R. (1999). Heart, Self, and Soul: The Sufi Psychology of Growth, Balance, and Harmony. Quest Books.
Haddad, Y. Y., & Smith, J. I. (2002). Muslim Minorities in the West: Visible and Invisible. Rowman Altamira.
Hartley, J., & Cherney, A. (2016). Forming Partnerships to Tackle Terrorism and Violent Extremism: Insights and Experiences from Australia. Counter Terrorist Trends and Analyses, 8(4), 4–9.
Hassan, R. (2018). Australian Muslims: The Challenge of Islamophobia and Social Distance. International Centre for Muslim and non-Muslim Understanding, University of South Australia.
Hassan, R., Lester, L., Collins, E., & Prentice, P. (2018). Australian Muslims: The challenge of Islamophobia and social distance. International Centre for Muslim and non-Muslim Understanding, University of South Australia.
Haveric, D. (2019). Muslims making Australia home: Immigration and Community Building. Melbourne University Publishing.
Hutchinson, J. (2017). Violent Extremism and Far-Right Radicalism in Australia: A Psychosocial Perspective. Counter Terrorist Trends and Analyses, 9(11), 16–19.
Interview with TG and FF, who are Muslim Druze in Sydney on June, 6, 2019. (n.d).
Interview with MO, ZK, GH and FD, who are represented from ISRA in Sydney on June, 9, 2019. (n.d).
Interview with FR and MI, who are represented from ISOMER in Melbourne on Auguts, 14, 2019. (n.d).
Lam, K., & Mansouri, F. (2021). Beyond (mis)-recognition: Muslim youth and religiosity in Australia. Journal of Youth Studies, 24(6), 765–780. https://doi.org/10.1080/13676261.2020.1766667.
M, M. Dahlan. (2019). Islam di Australia (Tinjauan Historis dan Perkembangan). Jurnal al-Hikmah, 21(1), Art. 1.
Makārim, S. N. (1974). The Druze Faith. Caravan Books.
Milani, M., & Possamai, A. (2013). The Nimatullahiya and Naqshbandiya Sufi Orders on the Internet: The Cyber-construction of Tradition and the McDonaldisation of Spirituality. Journal for the Academic Study of Religion, 26(1), 51–75. https://doi.org/10.1558/arsr.v26i1.51.
Myers, D. G. (2002). Social Psychology. McGraw-Hill.
Pickering, W. S. F., & Redding, J. (1975). Durkheim on Religion: A Selection of Readings with Bibliographies and Introductory Remarks (1 ed.). The Lutterworth Press. https://doi.org/10.2307/j.ctt1cgf6tc.
Saeed, A., & Akbarzadeh, S. (2001). Muslim Communities in Australia. UNSW Press. https://research.monash.edu/en/publications/muslim-communities-in-australia.
Sohrabi, H., & Farquharson, K. (2015). Australian Muslim leaders and normalisation discourses. Ethnicities, 15(5), 633–651.
Stephenson, P. (2009). Keeping it in the family: Partnerships between Indigenous and Muslim communities in Australia. Aboriginal History, 33, 97–116.
Syachrir, K., Najamuddin, N., & Ahmadin, A. (2021). Sejarah Masuk dan Perkembangnya Islam di Australia Pada Abad Ke 18-20 M. Attoriolong, 19(2), Art.
Wilson, I. D. (2015). The Politics of Protection Rackets in Post-New Order Indonesia: Coercive Capital, Authority and Street Politics (1 edition). Routledge.
2021 Census shows changes in Australia's religious diversity | Australian Bureau of Statistics. (2022, Juni 28). https://www.abs.gov.au/media-centre/media-releases/2021-census-shows-changes-australias-religious-diversity.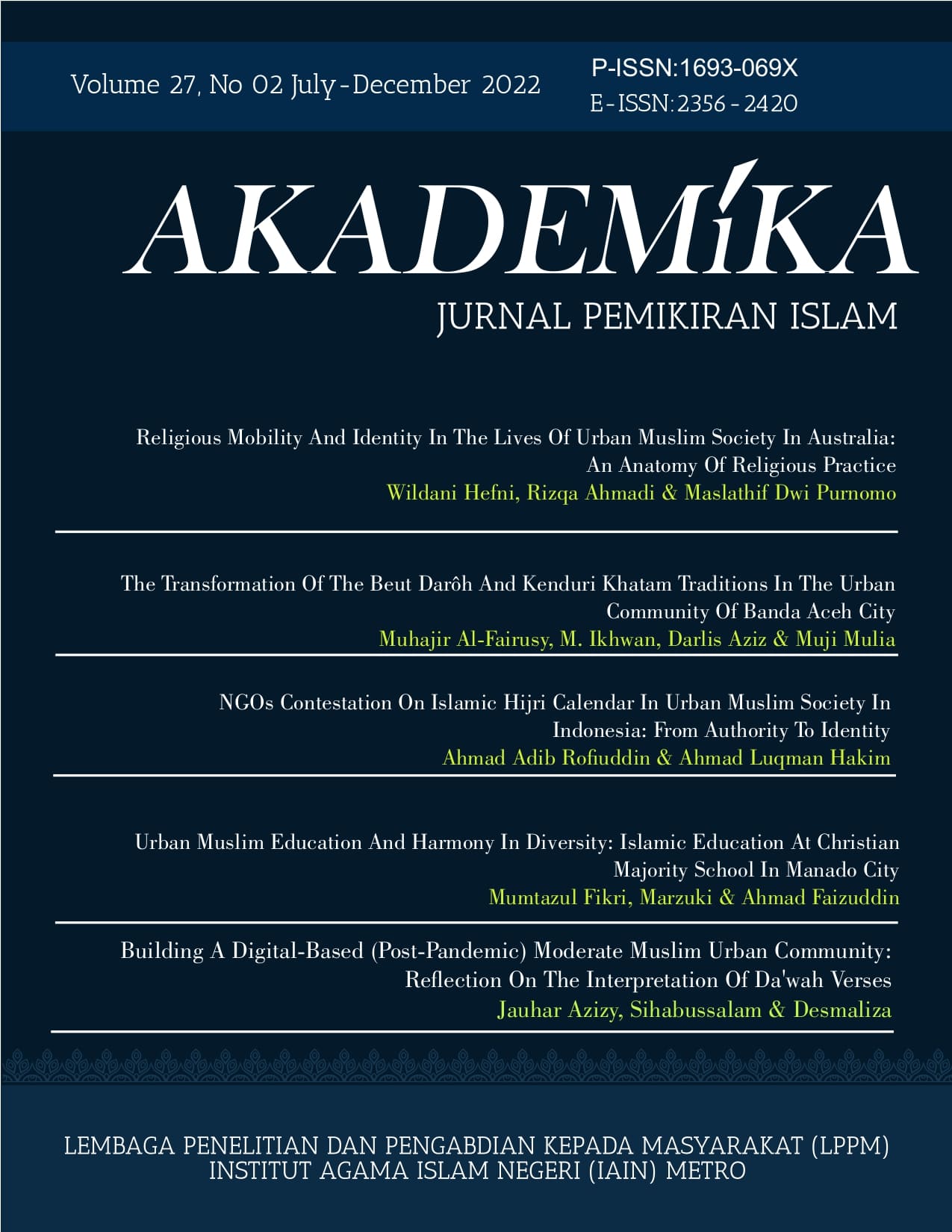 This work is licensed under a Creative Commons Attribution-ShareAlike 4.0 International License.
All articles in the Akademika can be disseminated on condition that still include the identity of the article and the source of the article (Akademika). The publisher is not responsible for the contents of the article. The content of the article is the sole responsibility of the author.
Authors who publish this subject agree to the following terms:
Secondly, the authors are able to enter into a separate, or an acknowledgment of its initial (eg, post-institutional repository or publish it in a book) publication in this journal.
Third, the authors are permitted and encouraged to post their work online (e.g., in institutional repositories or on their website) prior to the citation of published work.