URBAN MUSLIM EDUCATION AND HARMONY IN DIVERSITY: ISLAMIC EDUCATION AT CHRISTIAN MAJORITY SCHOOL IN MANADO CITY
Mumtazul Fikri

Universitas Islam Negeri Ar-Raniry Banda Aceh, Aceh, Indonesia

Marzuki Marzuki

Universitas Islam Negeri Ar-Raniry Banda Aceh, Aceh, Indonesia

Ahmad Faizuddin

Universiti Utara Malaysia Sintok, Kedah, Malaysia
Abstract
This study aims to determine a pattern of harmonization of urban Muslim education in interfaith relations and forms of harmonization in Christian-majority schools in Manado. This research was qualitative research through a case study method. The research data were collected through in-depth interviews, focus group discussions (FGD), observation, and documentation. This research was conducted at the Manado State Senior High School, with the research subjects are the principal, teachers, and students. The results show that the first pattern of harmonization that occurs in urban Muslim education in the city of Manado is accommodation. Second, harmonization of urban Muslim education in Manado occurs in four forms, namely: (1) the existence of Islamic religious teachers; (2) the availability of Islamic education facilities and infrastructure; (3) the ease in performing praying for Muslim students and teachers; (4) the freedom to wear Muslim clothing for women and to use symbols of the Islamic religion in the school; and (5) the facilitation provided by the school to celebrate Islamic holidays (PHBI).
Downloads
Download data is not yet available.
References
Bulotio, L. A. (2019). Keberagaman dan Toleransi Pengurus ROHIS di SMA Negeri 2 Manado.
Central Bureau of Statistc. (2022). Kota Manado dalam Angka 2022.
Dzulfaroh, A. . (2022). 10 Daerah Paling Toleran di Indonesia. Kompas.
Frangky, S. (2017). Keberagaman Budaya dan Agama di Kota Mando. Endogami: Jurnal Ilmiah Kajian Antropologi, 1(1), 55–62.
Hidayati, K. & Genggor, R. (2006). Sosiologi 2. Jakarta: Esis.
Liando, M. R. & H. (2022). Praktik Kultur Moderasi Beragama dalam Lembaga Pendidikan Muhammadiyah (Studi di SMA Muhammadiyah Manado). Edukasi Islami: Jurnal Pendidikan Islam, 11(1).
Maarif, S. (2022). Toleransi dan Moderasi Beragama sebagai Nafas Bumi Nyiur Melambai.
Sianturi, N. P. & Wentuk, D. N. (2018). Toleransi Antar Umat Beragama di SMAN 9 Manado. . . Jurnal Ilmiah Tumou Tou, 5(1).
Spradley, James P. & McCurdy, D. W. (1975). Anthropology: the Cultural Perspective. New York: Wiley.
Swazey, K. (2007). From the City of Brotherly Love: Observations on Christian-Muslim Relations in North Sulawesi. Explorations: A Graduate Student Journal of Southeast Asian Studies, 7(2).
Syamsulrijal. (2021). Sisi Gelap Toleransi Beragama di Sulawesi Utara. Jurnal Al-Qalam, 18(1).
Tangkudung, F. G. (2022). Bukit Kasih, Objek Wisata Simbol Toleransi di Sulawesi Utara. Retrieved from Newsantara website: https://newsantara.id/2020/11/04/bukit-kasih-objek-wisata-simbol-toleransi-di-sulawesi-utara
Wekke, I. S. & Mokodenseho, S. (2018). Tolerance, Understanding, and Religious Teaching and Learning in Minority Muslim of Manado, North Sulawesi. International Seminar on Islamic and Arabic Education in Southeast Asia, Universitas Muhamamdiyah Malang.
Yusuf, N. & Hasan, F. (2020). Pilar-pilar Kerukunan Beragama di Sulawesi Utara. Journal of Goverment and Political Studies, 3(2).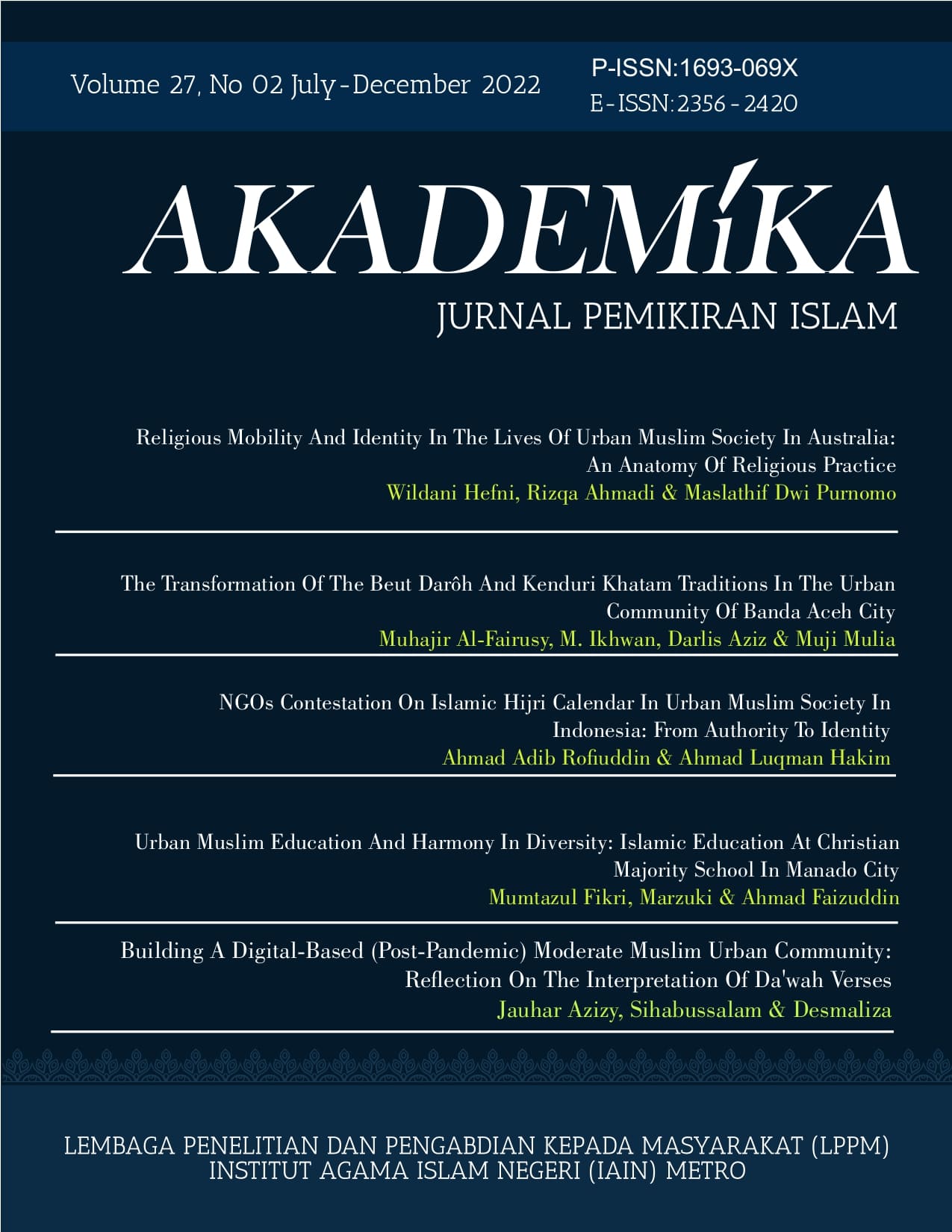 This work is licensed under a Creative Commons Attribution-ShareAlike 4.0 International License.
All articles in the Akademika can be disseminated on condition that still include the identity of the article and the source of the article (Akademika). The publisher is not responsible for the contents of the article. The content of the article is the sole responsibility of the author.
Authors who publish this subject agree to the following terms:
Secondly, the authors are able to enter into a separate, or an acknowledgment of its initial (eg, post-institutional repository or publish it in a book) publication in this journal.
Third, the authors are permitted and encouraged to post their work online (e.g., in institutional repositories or on their website) prior to the citation of published work.