THOUGHT OF NUSANTARA MOSLEM SCHOLARS: FIQH CONCEPTS OF SYEIKHARSYAD AL-BANJARI IN SABILALMUHTADIN
Muhammad Roy Purwanto

Islamic University of Indonesia
Abstract
In the current context, the fiqh concepts of ulama nusantara(Nusantara Moslem Scholars) are important to be discussed as it has local wisdoms, progressivity, and adaptability in giving solutions to the society's problems. This paper will discuss the fiqh concepts ofSyeikhArsyad al-Banjari in his book entitled SabilalMuhtadin that discusses fiqh(Islamic jurisprudence) in the perspective of Nusantara's society, especially Banjarese society. This paper uses normative-sociological approach in analyzing the fiqh concepts of SyeikhArsyad al-Banjari, such as, zakat receivers, floating lavatory, corpse burial in coffin (tabala), and providing food for mourners. The results of the study indicate that al-Banjariwas mainly relied on "custom is law" (al-adatumuhakkamah) and "generating benefits or mashlahah and declining damage" (jalb al-mashalihwadar' al-mafasid) in his ijtihad (independent reasoning). He also believed that law evolved according to the society's situation and condition (taghayyur al-ahkamyata'allaqu bi taghayyur al-azminahwa al-amkinah). All of al-Banjari's concepts are in-line with Syafi'iyyah school.
Keywords: Ijtihad, Fiqh, Nusantara, and Sabilal Muhtadin
Downloads
Download data is not yet available.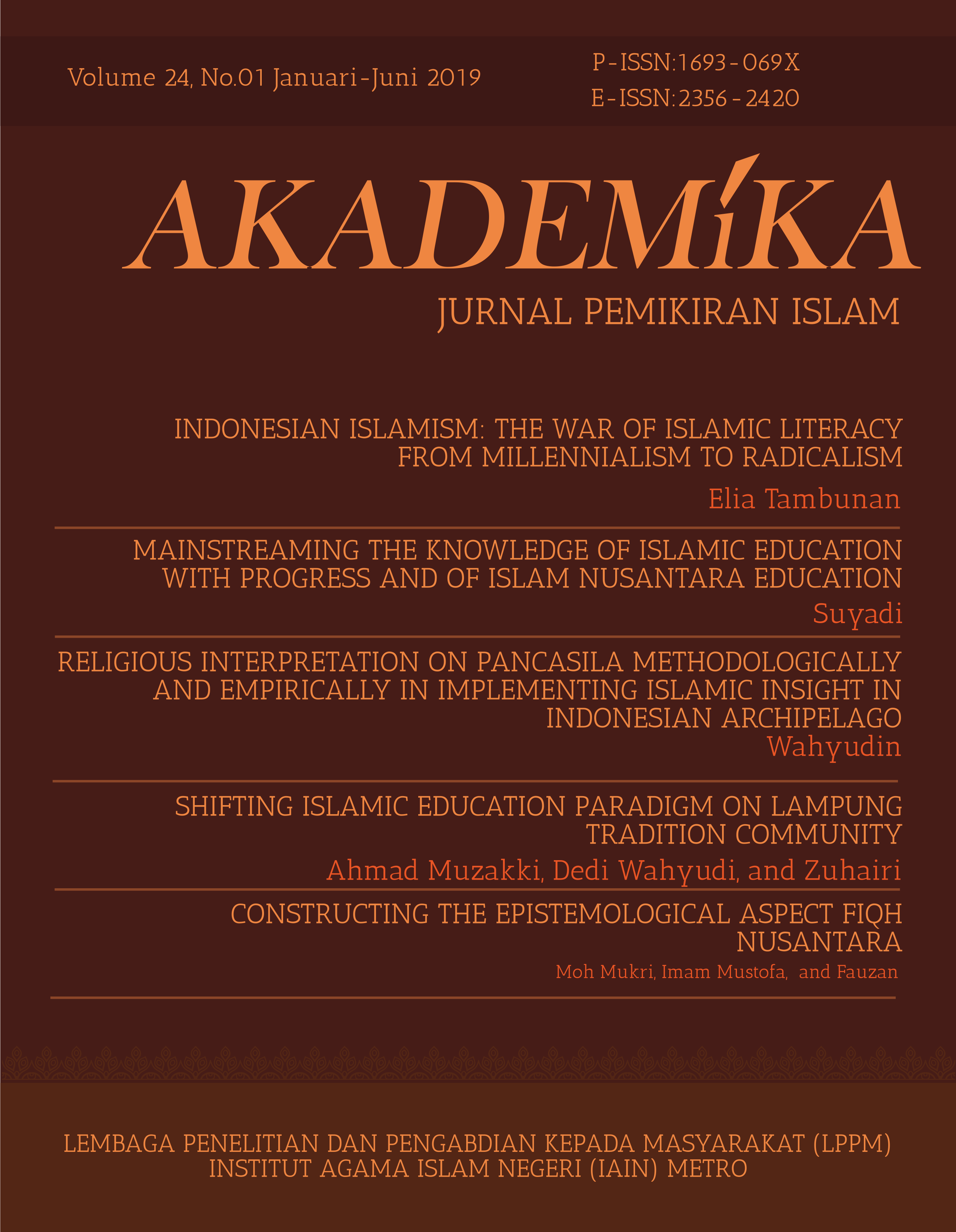 This work is licensed under a Creative Commons Attribution-ShareAlike 4.0 International License.
All articles in the Akademika can be disseminated on condition that still include the identity of the article and the source of the article (Akademika). The publisher is not responsible for the contents of the article. The content of the article is the sole responsibility of the author.
Authors who publish this subject agree to the following terms:
Secondly, the authors are able to enter into a separate, or an acknowledgment of its initial (eg, post-institutional repository or publish it in a book) publication in this journal.
Third, the authors are permitted and encouraged to post their work online (e.g., in institutional repositories or on their website) prior to the citation of published work.