CONCEPT OF MAQASYID SYARIAH FAMILY SAKINAH IN THE AL-MISBAH TAFSIR BY MUHAMMAD QURAISH SHIHAB
Nurhadi Nurhadi

Islamic High School (STAI) Al-Azhar Pekanbaru

Mawardi Dalimunthe

State Islamic University of Sultan Syarif Kasim Riau T
Abstract
The concept of sakinah family according to Muhammad Qurasih Shihab in Tafsir Al-Mishbah there are ten basic constructs, namely: 1). Marriage unites spirituality (mind) and body. 2). Marriage brings calm. 3). Know each other. 4). Love each other. 5). Love each other. 6). Biological channeling. 7). Sourced from all family members. 8). Its function brings together two large families. 9). Sourced from the heart (heart), then radiated outward in the form of activity (husband and wife). 10). Sakinah family strongly supports the effectiveness of worship to God. Ten constructs, the essence of Maqasyid sharia from the concept of the sakinah family according to Muhammad Quraish Shihab in the interpretation of Al-Mishbah is mahabbatullah (love of Allah). Love (mawaddah) is a tree that thrives in the heart. The root is humility to the lover (warahmah), the trunk is the introduction to him, the branch is fear of God and the creature must not let anyone stain it, the leaves are shy to shame and humiliation, the fruit is the unity of the heart that gives birth to cooperation, the flowers are mutually guarding each other's honor and closing the other's shame, the seed is calm (sakinah), while the water that watering it is remembering and mentioning his name. The thinking of Muhammad Quraish Shihab about sakinah family in the interpretation of al-Mishbah in terms of the development of Islamic family law in Indonesia that the concept of sakinah family is very relevant to the Marriage Law, because his concept according to article 1 is to establish a happy and eternal family based on the Godhead The Almighty.
Keywords: Concept, Maqasyid Syariah, and Sakinah Family
Downloads
Download data is not yet available.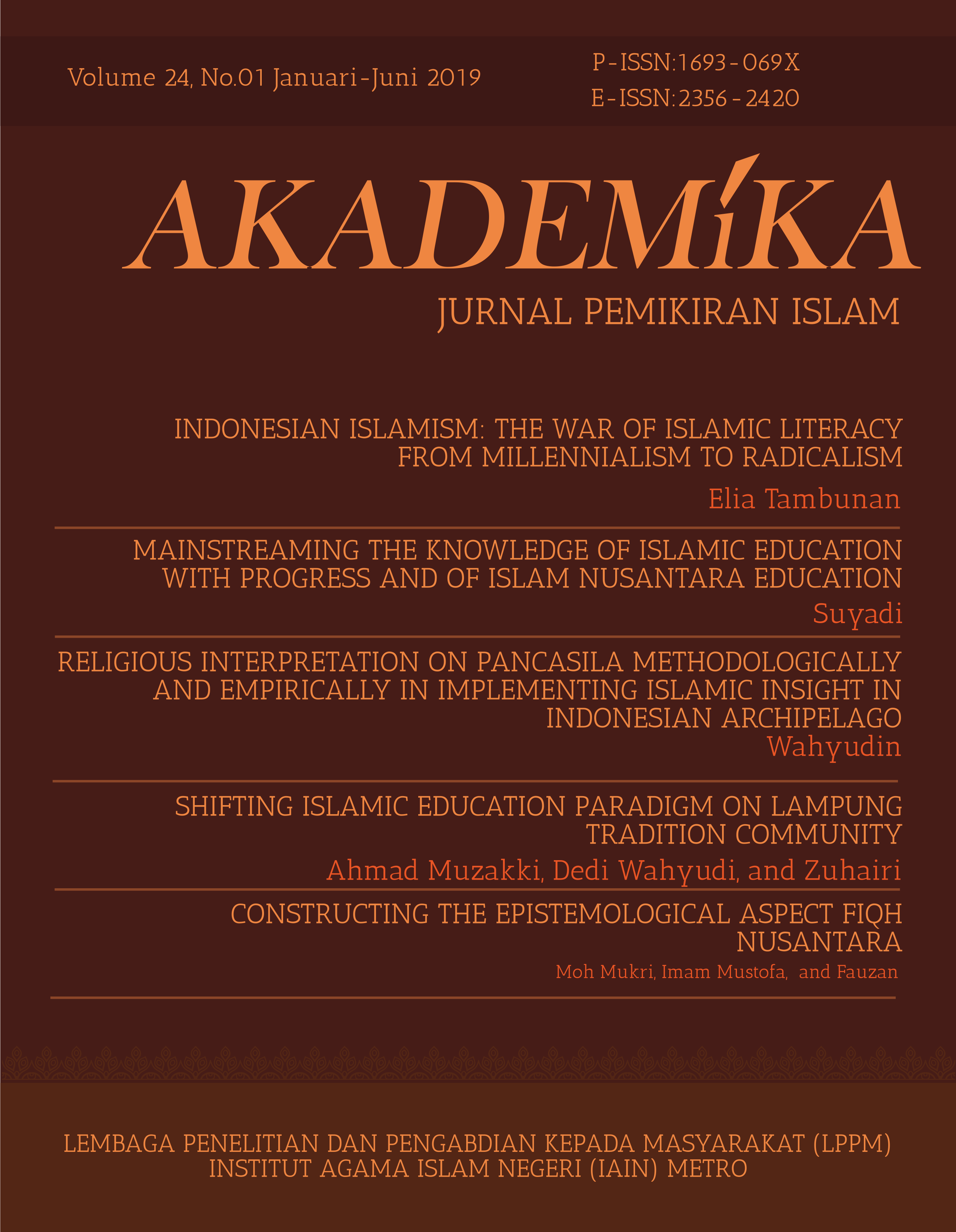 This work is licensed under a Creative Commons Attribution-ShareAlike 4.0 International License.
All articles in the Akademika can be disseminated on condition that still include the identity of the article and the source of the article (Akademika). The publisher is not responsible for the contents of the article. The content of the article is the sole responsibility of the author.
Authors who publish this subject agree to the following terms:
Secondly, the authors are able to enter into a separate, or an acknowledgment of its initial (eg, post-institutional repository or publish it in a book) publication in this journal.
Third, the authors are permitted and encouraged to post their work online (e.g., in institutional repositories or on their website) prior to the citation of published work.