MAINSTREAMING THE KNOWLEDGE OF ISLAMIC EDUCATION WITH PROGRESS AND OF ISLAM NUSANTARA EDUCATION
Suyadi Suyadi

Universitas Ahmad Dahlan
Abstract
The knowledge of Indonesian Islamic education is still strongly influenced by Middle Eastern Islamic education, which is currently experiencing political turmoil and bloodshed due to the transnationalism and global Salafism movement. If this condition continues, Indonesian Islamic education will suffer the same fate. In such a situation, Islamic education with progress and Islam Nusantara education must appear prominent, becoming the mainstream (mainstreaming) as a stronghold of the NKRI. Although some studies deliberately make the difference between them, they have the potential for conflict, but the principle of caring for diversity must be put forward. Library research with this qualitative approach formulates the scientific mainstreaming of Islamic education with progress and Islam Nusantara education amidst the flow of transnational Islamic education. The findings of this study indicate that the scientific advancement of Islamic education with progress is Al-Islam and Kemuhammadiyahan (AIK) while that of Islam Nusantara education is Aswaja. AIK develops knowledge that supports the local wisdom and diversity, while Aswaja maintains local wisdom and national character through science. Both represent the science of moderate Islamic education that is more enlightening than Middle Eastern Islam; thereby, it has the potential to promote Indonesia as a barometer of Islamic world education.
Keywords: Islamic education, Kemuhamamdiyahan, and Aswaja
Downloads
Download data is not yet available.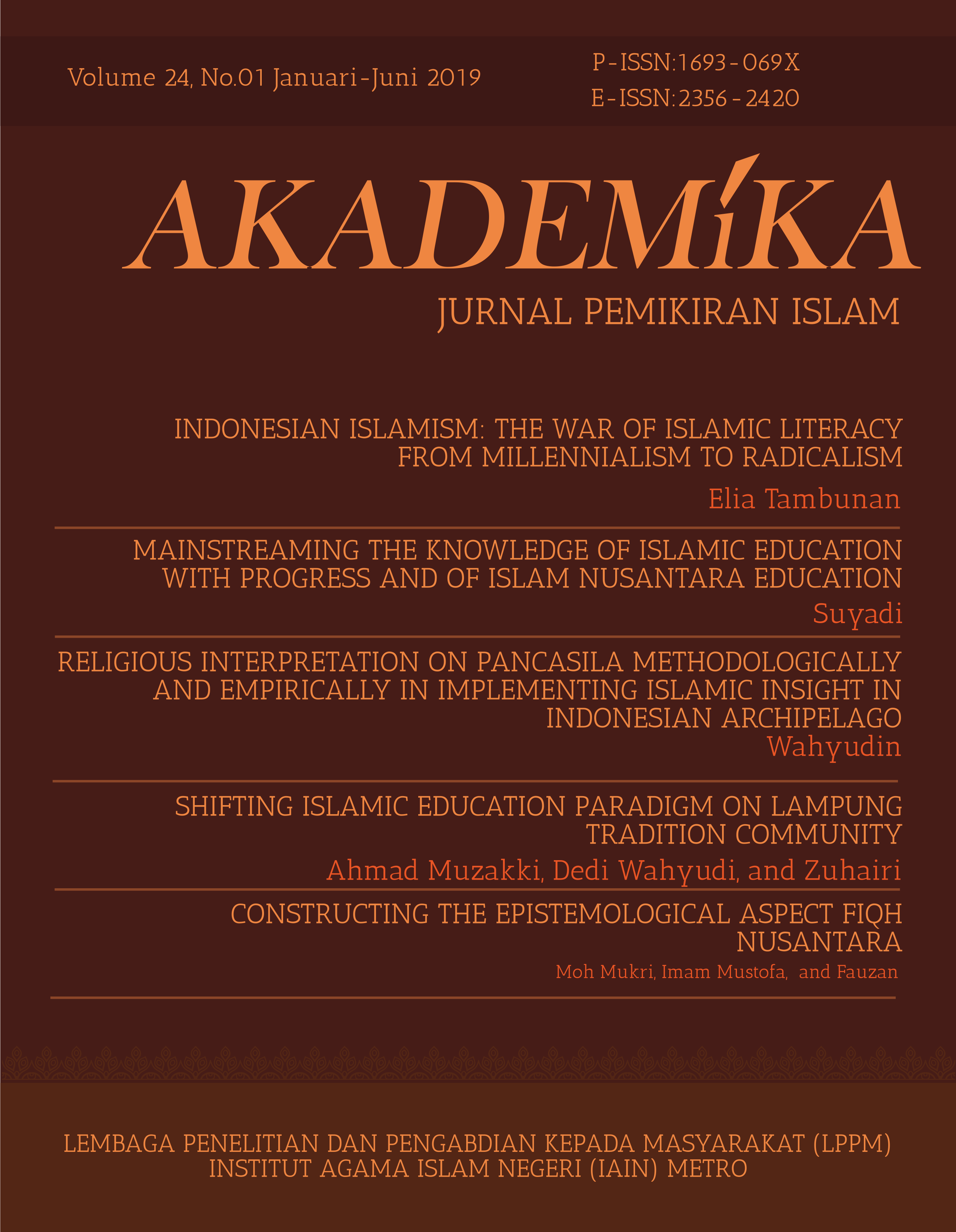 This work is licensed under a Creative Commons Attribution-ShareAlike 4.0 International License.
All articles in the Akademika can be disseminated on condition that still include the identity of the article and the source of the article (Akademika). The publisher is not responsible for the contents of the article. The content of the article is the sole responsibility of the author.
Authors who publish this subject agree to the following terms:
Secondly, the authors are able to enter into a separate, or an acknowledgment of its initial (eg, post-institutional repository or publish it in a book) publication in this journal.
Third, the authors are permitted and encouraged to post their work online (e.g., in institutional repositories or on their website) prior to the citation of published work.