PENDEKATAN SUFISTIK DALAM PENDIDIKAN ISLAM BERWAWASAN PERDAMAIAN
A Gani

Universitas Islam negeri Raden Intan Lampung
Abstract
Abstract
Conflict becomes part of contemporary phenomena that embraces all dimensions of human life, starting from the level of individuals, society, to relations between countries. Conflict in all of its variety, both economic, political conflicts, even conflicts between civilizations, cannot be separated from the "on-name" religion. Islam which teaches love and peace is distorted into Islam that teaches conflict. Islamic education in a broad context is responsible for the formation of logical thinking of humans who like to spread terror and conflict. This paper examines how the Sufism approach in Islamic education plays its part as the Islamic tradition that teaches Islam in the form of love and spreads Peaceful Islam and has A peace of mind with research Library research that uses qualitative descriptive analysis techniques with the results of research that is mystical approach in Islamic education fundamental alternatives in order to reduce conflict and bring peace.      
Keywords: Education, Islam, Peace, and Sufism.
Abstrak
Konfik menjadi bagian dari fenomena kontemporer yang melanda seluruh dimensi kehidupan manusia, mulai dari tingkat individu, masyarakat, sampai hubungan antar negara. Konflik dalam ragam rupanya, baik konflik ekonomi, politik, bahkan konflik antar peradaban, tidak bisa dilepaskan dari atas-nama agama. Islam yang mengajarkan cinta kasih dan perdamaian didistorsi menjadi Islam yang mengajarkan konflik. Pendidikan Islam dalam konteks yang luas bertanggungjawab atas terbentuknya nalar berpikir manusia yang suka menebar teror dan konflik. Tulisan ini mengkaji tentang bagaimana pendekatan sufisme dalam pendidikan islam menjadi bagian dari tradisi Islam yang mengajarkan Islam dalam rupa cinta kasih dan menebarkan Islam Damai dan berwawasan perdamaian dengan jenis penelitian Library research yang menggunakan teknik analisis deskriptif kualitatif dengan hasil penelitian yaitu pendekatan sufistik dalam pendidikan Islam adalah alternatif fundamental dalam rangka mengurangi konflik dan mewujudkan perdamaian bangsa. Salah satu teladan prakteknya dapat dilihat dari ulama-ulama Nusantara.
Kata Kunci: Pendidikan, Islam, Perdamaian, and Sufisme.
Downloads
Download data is not yet available.
References
Abu Bakar Ahmad bin al-Husain al-Baihaqi. Kitab Al-Zuhdu al-Kabir. Beirut: Dar al-Jinan, 1987.
Abu Bakar Muhammad bin Abdullah Ibnul Arabi. Ahkam al-Quran. jilid 2. Beirut: Dar al-Kutub al-Ilmiah, 2003.
Ahmad al-Witari. Fiqh al-Wujud: Muqaddamah fi al-Mafhum al-Qurani li al-Hayah wa al-Mawt wa al-Jannah,. Al-Manhal, 2011.
Ahmad Thib ibn al-Basyir. Kitab al-Hikam al-Musamma an-Nafs al-Rahmani fi al-Thur al-Insani. Beirut: Dar al-Kutub al-Ilmiah, 2014.
A.J. Berry. Sufism: An Account of the Mystics of Islam. Oxon: Routledge, 2013.
Al-Kaf, Idrus. "Pemikiran Sufistik Syaikh Umar Ibn Al-Fâridh dalam Dîwân Ibn Al-Fâridh" 20, no. 1 (2014): 23.
Amad Zaki al-Barudi. Asma Allah al-Husna wa Sifatihi al-Ulya min Kutub Ibn al-Qayyim. al-Maktabah al-Tawfiqiyah, t.t.
Amanullah Halim. Buku Putih Kaum Jihadis: Menangkal Ekstrimisme Agama dan Fenomena Pengafiran. Tangerang: Lentara Hati, 2015.
Andres Solimano. Prevention and Insurance of Conflict and Terrorism: Issue and Evidence for Latin America,. Santiago: United Nations Publication, 2003.
Asghar Ali Enginer. Islam dan Teologi Pembebasan. Yogyakarta: Bentang Pustaka, 2000.
Azyumardi Azra. Islam in the Indonesian World an Account of Institutional Formation. Bandung: Mizan, 2006.
Binyamin Abrahamov. Divine Love in Islamic Mysticism: the Teachings of al-Ghazali and al-Dabbagh. Oxon: Routledge, 2003.
E. O'Ballance. Islamic Fundamentalist Terrorism. The Iranian Connection, 1979.
Harun Nasution,. "Teologi Islam; Aliran-aliran Sejarah Analisa Perbandingan." Jakarta: UI Press, 1986.
Ibrahim ib Abdul Aziz al-Najid. Bayan al-Huda min al-Dhalal fi al-Radd ala Shahib al-Ighlal. jilid 1. Kairo: Mathba'ah al-Salafiyah, 1368.
Isaac Mayer Wise. Judaism: Its Doctrines and Duties. Washington: Office of The Israelite, 1872.
Jannah, Fathul. "PENDIDIKAN ISLAM DALAM SISTEM PENDIDIKAN NASIONAL" 13, no. 2 (2013): 13.
Jean Louis Michon, dan Roger Gaetani. Sufism: Love & Wisdom. Indiana: Worl Wisdom Inc., 2006.
Jimly As-Shiddiqie. Bang Imad: Pemikiran dan Gerakan Dakwahnya,. Jakarta: Gema Insani Press, 2002.
Khaled Abou El Fadhl. Selamatkan Islam dari Muslim Puritan. Jakarta: Serambi, 2006.
Klaus K. Klostermaier. A Survey of Hinduism. 3 ed. New York: SUNY Press, 2007.
Madarzuki Wahid dan Rumi. Fiqh Madzhab Negara: Kritik atas Politik Hukum Islam di Indonesia. Yogyakarta: LKiS, 2011.
Mamadou Diouf. Tolerance, Democracy, and Sufis in Senegal,. New York: Columbia University Pres, 2013.
Mani' ibnu Hammad al-Juhni. al-Mawsu'ah al-Muyassarah fi al-Adyan wa al-Madzahib wa al-Ahzab al-Mu'ashirah. 4 ed. Riyadh: Dar al-Nadwah al-Alamiyah, 1420.
Mark J. Sedgwick. Sufism: the Essentials. New York: Oxford University Press, 2003.
Moch Eksan, dan Kiai Kelana. Biografi Kiai Muchith Muzadi. Yogyakarta: LKIS, 2000.
Moeflich Hasbullah. Islam dan Transformasi Masyarakat Nusantara: Kajian Sosiologis Sejarah Indonesia. Depok: Kencana, t.t.
Muhammad al-Rawi. al-Ridha. Mesir: Maktabah al-Akademiqoh, 2009.
Muhammad A.S. Hikam. Demokrasi dan Civil Society. Jakarta: PT. Pustaka Lembaga Penelitian, Pendidikan, dan Penerangan Ekonomi-LP3ES Indonesia, 1996.
Muhammad bin Muhammad al-Ghazali. Ihya' Ulumiddin. Aleppo: Maktabah Ma'had al-Turats, 2001.
Muhammad Hamid. al-Mutasyawwif. Dar al-Muharrir al-Adabi, 2018.
Muhammad Hisyam Kabbani. Tasawuf dan Ihsan, terj. Zaimul Am. Jakarta: Serambi, 2007.
Muhammad Nawawi al-Bantani. al-Futuhat al-Madaniyyah (T.Th.), t.t.
Muhammad Sholih Munjid. al-Tawakkul. A'mal al-Qulub, 2009.
Muhammad Sholikhin, Sufi Modern: Mewujudkan Kebahagiaan, Menghilangkan Keterasingan, (Jakarta: Elex Media Komputindo, 2013), t.t.
Nathanael Emmons and Jacob Ide. Systematic Theology. Bonston: Crocker& Brewster, 1842.
N.K. Singh. A Religion of Peace. Global Vision, 2002.
Quito R. Motinggo. Keajaiban Cinta: Membuat Hidup Lebih Berenergi dan Dinamis,. Bandung: Hikmah, 2005.
Rani Anggraeni Dewi. Menjadi Manusia Holistik,. Bandung: Mizan, 2007.
Rosalind Boyd. "Locating Gender in Approaches to Human Security: An Introduction," dalam Rosalind Boyd (ed.), The Search for Lasting Peace: Critical Perspective on Gender-Responsive Human Security. USA: Ashgate Publishing, 2014.
Said Aqil Siroj. Tasawuf Sebagai Kritik Sosial: Mengedepankan Islam sebagai Inspirasi bukan Aspirasi. Bandung: Mizan, 2006.
Salim bin Ied al-Hilali. Ensiklopedi Larangan Menurut al-Quran dan as-Sunnah, terj. Abu Ihsan al-Atsari. Bogor: Pustaka Imam Syafii, 2005.
Sayyed Hossein Nasr. The Garden of Truth. Bandung: Mizan, 2010.
Sehat Sultoni Dalimunthe. Filsafat Pendidikan Akhlak. Yogyakarta: Deepublish, 2016.
Sokhi Huda. Tasawuf Kultural: Fenomena Shalawat Wahidiyah. Yogyakarta: LKIS, 2008.
Taqiyuddin Ahmad Ibnu Taimiyah al-Harrani. Majmu'ah al-Fatawa. Jilid 36. Dar al-Wafa, 2005.
Thomas Matyok, dkk. Peace on Earth: the Role of Religion in Peace and Conflict Studies. Lexington Books, 2013.
Titus Burckhardt. Introduction to Sufi Doctrine. Indiana: World Wisdom, Inc., 2008.
Toshihiko Izutsu. Sufism and Taoism: A Comparative Study of Key Philosophical Concepts. California: University of California Press, 1984.
Tudor Rose. Agree to Differ. France: UNESCO Publishing, 2015.
Wayne Cristaudo dan Gregory Kaplan. Love in the Religions of the World,. UK: Cambridge Scholars Publishing, 2011.
Wolfram Weisse, dan Inga Niehaus. Muslim School and Education in Europe and South Africa,. Munster: Waxmann, 2011.
Yudit Kornberg Greenberg. Encyclopedia of Love in World Religions. Vol. 1. California: ACB-CLIO, 2007.
Yusuf Ahmad Muhammad al-Badawi. Maqashid al-Syariah inda Ibn Taymiyah. Yordania: Dar al-Nafais, 1999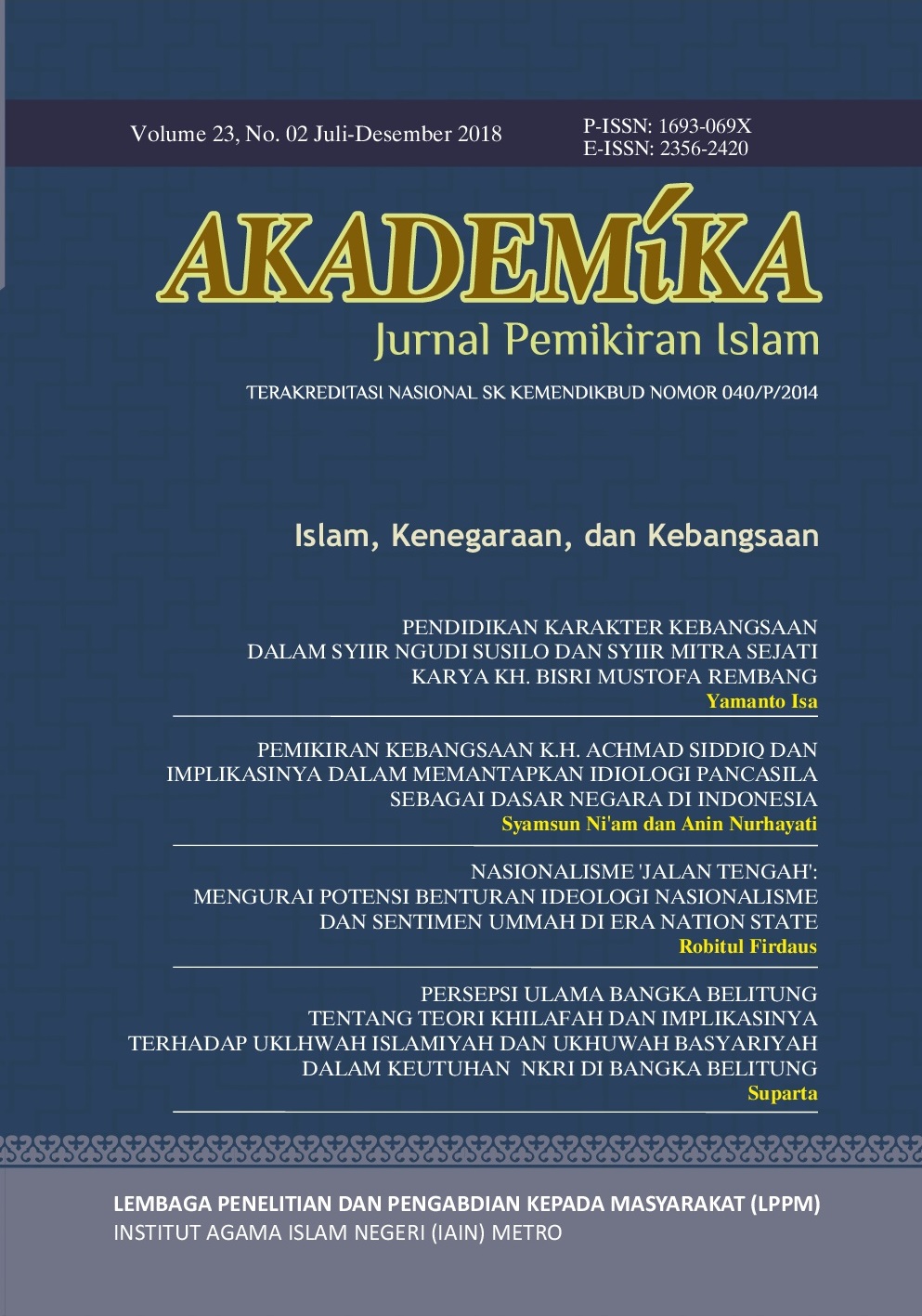 This work is licensed under a Creative Commons Attribution-ShareAlike 4.0 International License.
All articles in the Akademika can be disseminated on condition that still include the identity of the article and the source of the article (Akademika). The publisher is not responsible for the contents of the article. The content of the article is the sole responsibility of the author.
Authors who publish this subject agree to the following terms:
Secondly, the authors are able to enter into a separate, or an acknowledgment of its initial (eg, post-institutional repository or publish it in a book) publication in this journal.
Third, the authors are permitted and encouraged to post their work online (e.g., in institutional repositories or on their website) prior to the citation of published work.