Pengembangan Model Pembelajaran Terpadu Berbasis Budaya Lokal di SD Kota Metro
Tusriyanto Tusriyanto

Institut Agama Islam Negeri Metro
Abstract
This research was focused on "Developing Integrated Learning Models Based on Local Culture in
Metro City Elementary Schools". This research has only produced a draft of learning material about
"Piil Pesenggiri" which will later be used as a module or teaching material in local culture-based
learning in Metro City SD. In addition, based on the results of input and discussion in the FGD
activities that learning media are needed in the form of benner standing which gives about the principle
of "Pesenggiri Piil" so that it can be read by both teachers and students. Furthermore, learning plans
will also be made from the lesson plans to the assessment of integrated learning based on Lampung's
local culture. Local culture-based learning is needed as an effort to maintain the regional culture of
each province including Lampung province.
References
Alexon, Pembelajaran Terpadu Berbasis Budaya, Bengkulu: Unit FKIP UNIB Press, 2010.
Dokumentasi SD Muhammadiyah Tahun 2017.
Dominikus Tulasi, "Terpaan Media Massa dan Turbulensi Budaya Lokal" dalam Jurnal Humaniora Vol. 3 No. 1 April 202.
Eze, Ukamaka Teresa, Journal of Education and Practice www.iiste.org ISSN 2222-1735 (Paper) ISSN 2222-288X (Online) Vol.4, No.6, 201
George J. Sefa Die, Jurnal "Canadian and International Education", vol. 40 issue 1 tanggal 1 Juni 2011 Articles 3
http://kiens-edu.blogspot.co.id/2014/09/pendidikan-berbasis-budaya-lokal.html diakses tanggal 28 Januari 2017
http://metromaju.blogspot.co.id/2012/10/data-sd-di-kota-metro.html
http://www.jurnalguru.net/2016/11/mendikbud-kota-metro-sebagai-kota.html diakses tanggal 03 April 2017
Journal of Education and Practice www.iiste.org ISSN 2222-1735 (Paper) ISSN 2222-288X (Online) Vol.6, No.33, 2015.
Nirva Diana, "Manajemen Pendidikan Berbasis Budaya Lokal Lampung (Analisis Eksploratif Mencari Basis Filosofis)" dalam Jurnal Analisis Vol. XII, Nomor 1 Juni 2012.
Nita Fitria, "Bimbingan Kelompok Berbasis Tata Nilai Budaya Lampung Untuk Meningkatkan Tingkah Laku Prososial Siswa" dalam Jurnal Fokus Konseling, Vol. 1 No. 2 Agustus 2015.
Nita Fitria, "Pola Asuh Orang Tua Dalam Mendidik Anak Usia Pra Sekolah Ditinjau Dari Aspek Budaya Lampung", dalam Jurnal Fokus Konseling Volume 2 No. 2, Agustus 2016.
Olcott Jr. D., Carrera Farran, X., Gallardo Echenique, E. E., & González Martínez, J. (2015). Ethics and Education in the Digital Age: Global Perspectives and Strategies for Local Transformation in Catalonia. RUSC. Universities and Knowledge Society Journal, 12(2). pp. 59-72. doi http://dx.doi.org/10.7238/rusc.v12i2.2455
Pairin dan Djohan, Metro Sebagai Kota Pendidikan dan Wisata Keluarga, visi misi yang disampaikan tanggal 29 Juli 2015.
Phaedra Mohammed and Permanand Mohan, Caribbean Teaching Scholar Vol. 1, No. 1, April 2011, 21-33
Proceedings of The 4th International Conference on Teacher Education; Join Conference UPI & UPSIBandung, Indonesia, 8-10 November 2010
Sugiono. Metode Penelitian Kuantitatif Kualitatif dan R&D. Bandung, Alfabeta, 2012.
Sutrisno Hadi, Metodologi Research II, Yogyakarta, Fakultas UGM, 2004.
Tatang M. Amirin, " Implementasi Pendekatan Pendidikan Multikultural Kontektual Berbasis Kearifan Lokal Di Indonesia" dalam Jurnal Pembangunan Pendidikan Fondasi dan Aplikasi. Fakultas Ilmu Pendidikan Universitas Negeri Yogyakarta. Vol. I, Nomor I Juni 2012.
Team Penyusun, Pedoman Penulisan Skripsi Karya Ilmiah, Ed. Revisi, STAIN Jurai Siwo Metro, 2010.
Udin S. Winataputra, Pembaharuan Pembelajaran IPS di SD. Jakarta: Universitas Terbuka, 2012.
Umar M. Sadim, dkk., "Revitaisasi Nilai-Nilai Bhinneka Tunggal Ika dan Kearifan Lokal Berbasis Leaning Society Pascakonflik Sosial di Ternate" dalam Jurnal Pembangunan Pendidikan: Fondasi dan Aplikasi P-ISSN: 2356-1807 e-ISSN: 2502-1648
UU No. 14 Tahun 2005 tentang Guru dan Dosen BAB IV Pasal 8 dan 10"Kualifikasi, Kompetensi dan Sertifikasi"
Wahira, "Kebutuhan Pelatihan Manajemen Pembelajaran Seni Tari Berbasis Pendekatan Saintifik Pada Guru Sekolah Dasar" dalam Catharsis: Journal of Arts Education 3 (2) 2014.
Widhiya Ninsiana, "Pendekatan Multikultural dan Kearifan Lokal: Solusi Dalam Masalah Konflik Lampung" dalam Jurnal Akdemika, Vol XVII, No. 1 januari-Juni 2012.
Zudan Rosyidi, "Perspektif Budaya Lokal Dalam Pembelajaran Di Sekolah Tingkat Dasar" dalam MADRASATUNA (Jurnal Pengembangan MI Volume 03, Nomor 02 Maret 2012)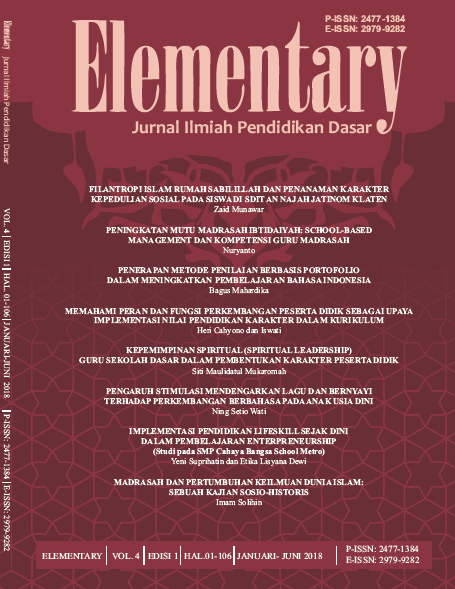 This work is licensed under a Creative Commons Attribution-ShareAlike 4.0 International License.
Authors who publish with this journal agree to the following terms:
Authors retain copyright and grant the journal right of first publication with the work simultaneously licensed under a Creative Commons Attribution-ShareAlike 4.0 International License that allows others to share the work with an acknowledgement of the works authorship and initial publication in this journal.
Authors are able to enter into separate, additional contractual arrangements for the non-exclusive distribution of the journals published version of the work (e.g., post it to an institutional repository or publish it in a book), with an acknowledgement of its initial publication in this journal.
Authors are permitted and encouraged to post their work online (e.g., in institutional repositories or on their website) prior to and during the submission process, as it can lead to productive exchanges, as well as earlier and greater citation of published work (See The Effect of Open Access).