Ornamen Masjid Jami Kajen serta Kontribusinya dalam Penguatan Pendidikan Karakter di Madrasah Ibtidaiyah
M. Sofyan Alnashr

Institut Pesantren Mathali'ul Falah Pati
Abstract
This study aims to explain the meaning of ornaments contained in the Jami Kajen Mosque and its contribution in strengthening character education of children in Madrasah Ibtidaiyah. This research is a qualitative descriptive study with a philosophical interpretative approach to find the meaning behind the mosque's ornaments then relate it to teaching material of PAI MI and find its contribution to the strengthening of the character education of MI students. The results showed, first, the ornaments contained in the Jami Kajen Mosque contained philosophical meaning in containing Islamic teachings and local wisdom conveyed by Shaykh Mutamakkin through art. Ornaments with symbolic meanings are found in the Jami Kajen Mosque, namely the sculpture of Kuntul Nucuk Bulan, Naga Aji Saka, Gajah-Trisula-Taman, Corresponding Board, and Mosque Sky Calligraphy. The teachings conveyed came from Islamic teachings sourced from the Qur'an and Hadith as well as teachings from Javanese tradition and culture. Second, ornaments with the meaning of the content of Islamic teachings and local culture in the Jami Kajen Mosque make a major contribution to the strengthening of the character of MI students through learning based on local wisdom of the Jami Kajen Mosque as a source of learning and learning media. Active learning and contextual learning to strengthen the character of MI students can be done by making the ornaments of the Jami Kajen Mosque as the basis of learning of PAI MI.
References
Anderson T. & Armbruster, B. Reader and Text Studying Strategies. (W. O. White, Ed.). New York: Academic Press, 1982
Bizawie, Zainul Milal. Syaikh Mutamakkin Perlawanan Kultural Agama Rakyat. Tangerang: Compas Pustaka, 2014
Covey, Stephen R. The Seven Habits of Highly Effective People. (Budijanto, Trans.). Jakarta: Binarupa Aksara, 1997
Dowling, Marion. Young Children's Personal, Social and Emotional Development, (Vol. 2). London: Paul Chapman Publishing, 2005
Fathurrahman. "Masjid Sebagai Pusat Pendidikan Islam Masa Klasik". Jurnal Studi Pemikiran Pendidikan Islam Kreatif. Vol. XII. No. 1 (2015)
Hidayat, Arif. "Masjid dalam Menyikapi Peradaban Baru". Ibda': Jurnal Kebudayaan Islam. Vol. 12 (1), (2014)
Hurlock, Elizabeth B. Perkembangan Anak. (M. Tjandrasa, Trans.). Jakarta: Erlangga, 2008
Ilhaq, Muhsin. "Bentuk dan Penempatan Ornamen pada Mesjid Agung Palembang". Jurnal Ekspresi Seni. 18 (2), (2016)
Kadir, Abd. dan Hanun Asrohah. Pembelajaran Tematik. Jakarta: Rajawali Press, 2014
Keputusan Menteri Agama RI No. 183 Tahun 2019 tentang Kurikulum PAI dan Bahasa Arab pada Madrasah
Kurniawan, Syamsul. "Masjid dalam Lintasan Sejarah Umat Islam". Jurnal Katulistiwa - Journal of Islamic Studies. Vol. 4 No. 2 (2014)
Lickona, Thomas. Character Matter (Persoalan Karakter). Jakarta: Bumi Aksara, 2013
Mufid, Ahmad Syafii. Tangklukan, Abangan, dan Tarekat: Kebangkitan Agama di Jawa. Jakarta: Yayasan Obor Indonesia, 2006
Prastowo, Andi. "Permainan Tradisional Jawa Sebagai Strategi Pembelajaran Berbasis Kearifan Lokal Untuk Menumbuhkan Keterampilan Global Di MI/SD". JMIE: Journal of Madrasah Ibtidaiyah Education. 2 (1), (2018)
Rizal, Mohammad Zuli. Infografis Masjid Kajen. Pati: Perpustakaan Mutamakkin Press, 2017
Santrock, John W. Life-Span Development, Perkembangan Masa Hidup. Jakarta: Erlangga, 2002
Shihab, M. Quraish. Membaca Sirah Nabi Muhammad SAW. Jakarta: Lentera Hati, 2011
Siswayanti, Novita. "Mengenal Masjid Nahdliyin dalam Peranan Masjid Jami Kajen". Bimas Islam. VII No. II (2018)
Supriyadi, Bambang. "Kajian Ornamen Pada Mesjid Bersejarah Kawasan Pantura Jawa Tengah". Enclosure. 7 (2), (2008)
Ubaidillah, Ahmad, dan Yuliatin Tajuddin. Suluk Kiai Cebolek (Dalam Konflik Keberagamaan dan Kearifan Lokal). Jakarta: Prenada, 2014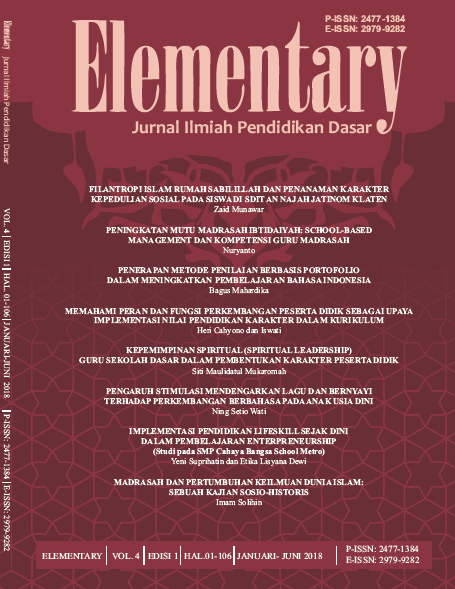 This work is licensed under a Creative Commons Attribution-ShareAlike 4.0 International License.
Authors who publish with this journal agree to the following terms:
Authors retain copyright and grant the journal right of first publication with the work simultaneously licensed under a Creative Commons Attribution-ShareAlike 4.0 International License that allows others to share the work with an acknowledgement of the works authorship and initial publication in this journal.
Authors are able to enter into separate, additional contractual arrangements for the non-exclusive distribution of the journals published version of the work (e.g., post it to an institutional repository or publish it in a book), with an acknowledgement of its initial publication in this journal.
Authors are permitted and encouraged to post their work online (e.g., in institutional repositories or on their website) prior to and during the submission process, as it can lead to productive exchanges, as well as earlier and greater citation of published work (See The Effect of Open Access).