Manajemen Perencanaan Program Festival Jazirah Arab untuk Mengembangkan Bahasa dan Seni Arab
Al Lastu Nurul Fatim

Universitas Islam Negeri Maulana Malik Ibrahim Malang

Ahmad Faizal Amin

Universitas Islam Negeri Maulana Malik Ibrahim Malang

Tsabit Nurrahman

Universitas Islam Negeri Maulana Malik Ibrahim Malang

Zakiyah Arifa

Universitas Islam Negeri Maulana Malik Ibrahim Malang
Abstract
This study describes the model of approach, scope, and planning process of the Arabian Peninsula Festival (FJA) program to develop Arabic language and art learning. This research uses the descriptive qualitative method. The Data collection used is the method of interview, observation, and documentation. The results of this study are: first, the FJA program uses a bottom-up planning approach model, which overall program planning starts from the proposal or idea of some BSA HMJ management members and lecturers as compilers of the objectives of developing Arabic language and art learning. Second, the scope of this program includes short-term activities that are held regularly once a year and are incidental on a national scale. Third, the planning process has been carried out optimally with a preparation time of two months, then the stages of the activity procedure are clear and easily understood by the participants, namely the assistance of activity guidelines that determine the race by reflecting the development of Arabic language and arts such as speech, singing, poetry, calligraphy, debates, essays, reading news, and MQK in Arabic.
References
Ad-Dhowi, Munif Hadhir. An-Nadzariyah Al-Bina'iyah Fi Tadris Al-Lughah Al-Arabiyah. Riyadh: Maktabah al-Mulk Fahdi Wathoniyah, 2013.
Alwasilah, Chaedar. Pokoknya Kualitatif. Jakarta: Pustaka Jaya, 2008.
Amtu, Onisimus. Manajemen Pendidikan di Era Otonomi Daerah; Konsep, Strategi, dan Implementasi. Bandung: Alfabeta, 2011.
Andika Putra Adi Prasetyo. Hasil Wawancara dengan Ketua HMJ BSA, 7 November 2018.
Azh-zahra, Fatma Nurshuma Shalawat, Feliza Zubair, dan Heru Ryanto Budiana. "Perencanaan Special Event 'Pengajian Akbar Februari' oleh HIijabers Community Bandung." Jurnal Komunikasi 11, no. 1 (2017): 1–10. https://journal.trunojoyo.ac.id/komunikasi/article/view/3017.
Baharuddin, dan Esa Nur Wahyuni. Teori Belajar & Pembelajaran. Yogyakarta: Ar-Ruzz Media, 2007.
Dzuqon, Kaid Abdul al-Haq Abidat, dan Abdurrahman. Al-Bahts Al-Ilmi, Mafhumuhu, Adawatuhu, Asalibihi. Riyadh: Dar Isamah li an-Nashr wa at-Tauzi', 1997.
Hans, Idham Muhammad. "Al-Wihdah Wan Tanawwu' Fi Nadzriyati Al-Fan Al-Islami: Unity and Diversity in the Theory of Islamic Art." Al-Fikr al-islāmī al-muʿāṣir 18, no. 69 (2012): 146–119. https://doi.org/10.35632/citj.v18i69.875.
Hendra, Faisal. "Peran Organisasi Mahasiswa dalam Meningkatkan Mutu Pembelajaran Keterampilan Berbahasa Arab." Arabiyat : Jurnal Pendidikan Bahasa Arab dan Kebahasaaraban 5, no. 1 (2018): 103–20. https://doi.org/10.15408/a.v5i1.7480.
Legi, Riedel, Wilson Y. Rompas, dan Jericho D. Pombengi. "Implementasi Pendekatan Bottom Up Dalam Perencanaan Pembangunan Desa Di Kecamatan Tumpaan Kabupaten Minahasa Selatan." Jurnal Administrasi Publik 1, no. 010 (2015). https://ejournal.unsrat.ac.id/index.php/JAP/article/view/6537.
Miles, Matthew B., A. Michel Huberman, dan Johnny Saladana. Qualitative Data Analysis A Methods Sourcebook Edition 3. New York: SAGE Publications, 2014.
Panitia FJA 2018. "Buku Panduan Festival Jazirah Arab 2018." HMJ BSA UIN Maulana Malik Ibrahim Malang, 2018. http://festivaljaziraharab.blogspot.com/p/blog-page_44.html.
Paselle, Enos. "Perencanaan Pembangunan Partisipatif: Studi Tentang Efektivitas Musrenbang Kec. Muara Badak Kab.Kutai Kartanegara." Jurnal Paradigma (JP) 2, no. 1 (2017): 10–25. http://e-journals.unmul.ac.id/index.php/JParadigma/article/view/339.
Rahmah, Ulfah Fauziyah. "Program Pembelajaran Bahasa Arab Di SMP Plus Al-Aqsha Jatinagor Sumedang." An Nabighoh: Jurnal Pendidikan Dan Pembelajaran Bahasa Arab 21, no. 02 (2019): 255. https://doi.org/10.32332/an-nabighoh.v21i02.1680.
Razimona, Thia. "Pengawasan dan Evaluasi Program Bahasa Arab untuk Peningkatan Berkelanjutan di Universitas Islam Negeri Maulana Malik Ibrahim, Malang." Al-Ma'rifah: Jurnal Budaya, Bahasa, dan Sastra Arab 16, no. 2 (2019): 1–15. http://journal.unj.ac.id/unj/index.php/jba/article/view/9471.
Rusman. Model-Model Pembelajaran Mengembangkan Profesionalisme Guru. Jakarta: Grafindo Persada, 2011.
Sa'ud, Udin Syaefudin, dan Abin Syamsuddin Makmun. Perencanaan Pendidikan: Suatu Pendekatan Komprehensif. Bandung: Remaja Rosdakarya, 2014.
Shalfiah, Ramandita. "Peran Pemberdayaan Dan Kesejahteraan Keluarga (PKK) Dalam Mendukung Program-Program Pemerintah Kota Bontang." Jurnal Fisipol Universitas Mulawarman 1, no. 3 (2017): 975–84. http://perpustakaan.unmul.ac.id/ejournal/index.php/um/article/view/92.
Siswanto. Pengantar Manajemen. Jakarta: Bumi Aksara, 2010.
Sugiyanto. Dasar-Dasar Manajemen Kristiani. Jakarta: Gunung Mulia, 2008.
Trianto. Mendesain Model Pembelajaran Inovatif-Progresif : Konsep, Landasan dan Implementasinya pada Kurikulum Tingkat Satuan Pendidikan. Jakarta: Kencana Prenada Media Group, 2010.
Usman, Husaini. Manajemen: Teori, Praktik, Dan Riset Pendidikan. Jakarta: Bumi Aksara, 2008.
Wekke, Ismail Suardi. Model Pembelajaran Bahasa Arab. Yogyakarta: Deepublish Publisher, 2012.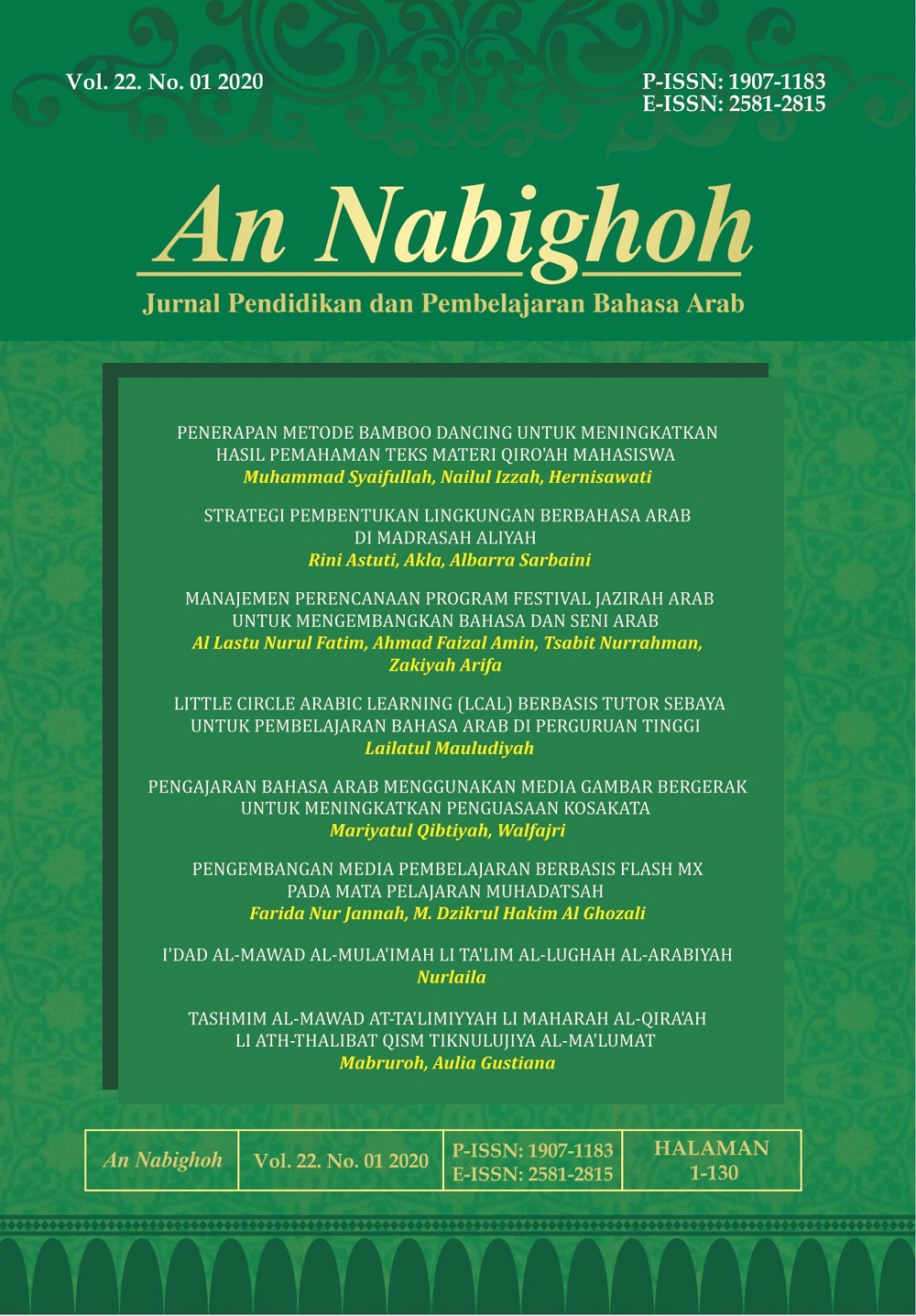 This work is licensed under a Creative Commons Attribution-ShareAlike 4.0 International License.