Pengajaran Bahasa Arab Menggunakan Media Gambar Bergerak Untuk Meningkatkan Penguasaan Kosakata
Mariyatul Qibtiyah

Institut Agama Islam Negeri Metro

Walfajri Walfajri

Institut Agama Islam Negeri Metro
Abstract
This study aimed to analyze the process of teaching Arabic using moving picture media and the level of vocabulary mastery in Islamic Junior High School. This research method was quantitative with an experimental approach. The research was conducted at Islamic Junior High School Darul Amal Metro, involving 30 students of grade VIII as the sample. The data collection method used a test. The test method was aimed at students to get vocabulary mastery data. The data analysis technique used the T-test to determine the level of vocabulary mastery after using moving picture media. The results showed that the learning process by using moving picture media had been able to increase students' learning activities and enthusiasm. The spirit of learning characterized by a high concentration during the learning process, encouraging students to understand the lesson easily. The high of learning concentration caused by the characteristics of the moving picture media varied and corresponded with students' progress. The success of using moving picture media was supported by the teacher's ability to use media. The results of statistical analysis showed that the application of moving picture media in learning Arabic had a significant effect on students' vocabulary mastery.
References
Afriyanti, Isma, Fadillah, dan Sukmawati. "Penggunaan Media Gambar Untuk Meningkatkan Aktivitas Dan Hasil Belajar Siswa Pada Mata Pelajaran Ilmu Pengetahuan Alam Di Sekolah Dasar Negeri." Jurnal Pendidikan Dan Pembelajaran Khatulistiwa 2, no. 2 (2013). http://jurnal.untan.ac.id/index.php/jpdpb/article/view/1049.
Ardiyanti, Azisah, Irianti Bandu, dan Moses Usman. "Pembelajaran Kosakata Bahasa Prancis Dengan Media Flashcard (Studi Kasus Pada Mahasiswa Sastra Prancis)." Jurnal Ilmu Budaya 6, no. 1 (2018). https://doi.org/10.34050/jib.v6i1.4327.
Astuti, Widi. "Berbagai Strategi Pembelajaran Kosa Kat Bahasa Arab." Journal Al-Manar 5, no. 2 (2016). https://journal.staimsyk.ac.id/index.php/almanar/article/view/38.
Febrisma, Nurliya. "Upaya Meningkatkan Kosakata Melalui Metode Bermain Peran Pada Anak Tunagrahita Ringan (PTK Kelas DV Di SLB Kartini Batam)." Jurnal Penelitian Pendidikan Khusus 2, no. 2 (2013). http://ejournal.unp.ac.id/index.php/jupekhu/article/view/1150.
Hasnah, Sitti. "Pembelajaran Kosakata (Mufradat) Bahasa Arab Melalui Media Gambar Untuk Meningkatkan Minat Belajar Mahasiswa Pada Jurusan PAI Fakultas Tarbiyah IAIN Palu." Istiqra: Jurnal Hasil Penelitian 3, no. 1 (2015): 197–225. https://jurnal.iainpalu.ac.id/index.php/ist/article/view/217.
Hilmi, Hilmi. "Efektivitas Penggunaan Media Gambar Dalam Pembelajaran Bahasa Arab." Lantanida Journal 4, no. 2 (2017): 128. https://doi.org/10.22373/lj.v4i2.1885.
Ni'mah, Khoirotun. "Korelasi Penguasaan Kosakata Bahasa Arab Dengan Kemampuan Berpidato Bahasa Arab Mahasiswa PBA UNISDA Lamongan." DAR EL-ILMI : Jurnal Studi Keagamaan, Pendidikan Dan Humaniora 4, no. 1 (2017): 121. http://www.e-jurnal.unisda.ac.id/index.php/dar/article/view/689.
Nurmadiah. "Media Pendidikan." Al-Afkar : Jurnal Keislaman & Peradaban 5, no. 1 (2016): 43–62. https://doi.org/10.28944/afkar.v5i1.109.
Rudianto, Gaguk, dan Yessie Aldriani. "Pengajaran Kosakata Bagi Mahasiswa EFL Dengan Menggunakan Game." BASIS: Jurnal Bahasa Dan Sastra Inggris 5, no. 2 (2018): 53–62. https://doi.org/10.33884/basisupb.v5i2.770.
Sukiyasa, Kadek, dan Sukoco Sukoco. "Pengaruh Media Animasi Terhadap Hasil Belajar Dan Motivasi Belajar Siswa Materi Sistem Kelistrikan Otomotif." Jurnal Pendidikan Vokasi 3, no. 1 (2013). https://doi.org/10.21831/jpv.v3i1.1588.
Tafonao, Talizaro. "Peranan Media Pembelajaran Dalam Meningkatkan Minat Belajar Mahasiswa." Jurnal Komunikasi Pendidikan 2, no. 2 (2018): 103. https://doi.org/10.32585/jkp.v2i2.113.
Yuswanti, Yuswanti. "Pengunaan Media Gambar Untuk Meningkatkan Hasil Belajar Siswa Pada Pembelajaran IPS Di Kelas IV SD PT. Lestari Tani Teladan (LTT) Kabupaten Donggala." Jurnal Kreatif Online 3, no. 4 (2014). http://jurnal.untad.ac.id/jurnal/index.php/JKTO/article/view/3077.
Zuhdy, Halimi. "Teknik Pengajaran Kosakata Bahasa Arab." Fakultas Humaniora UIN Maulana Malik Ibrahim Malang, 28 Oktober 2017. http://repository.uin-malang.ac.id/2138/.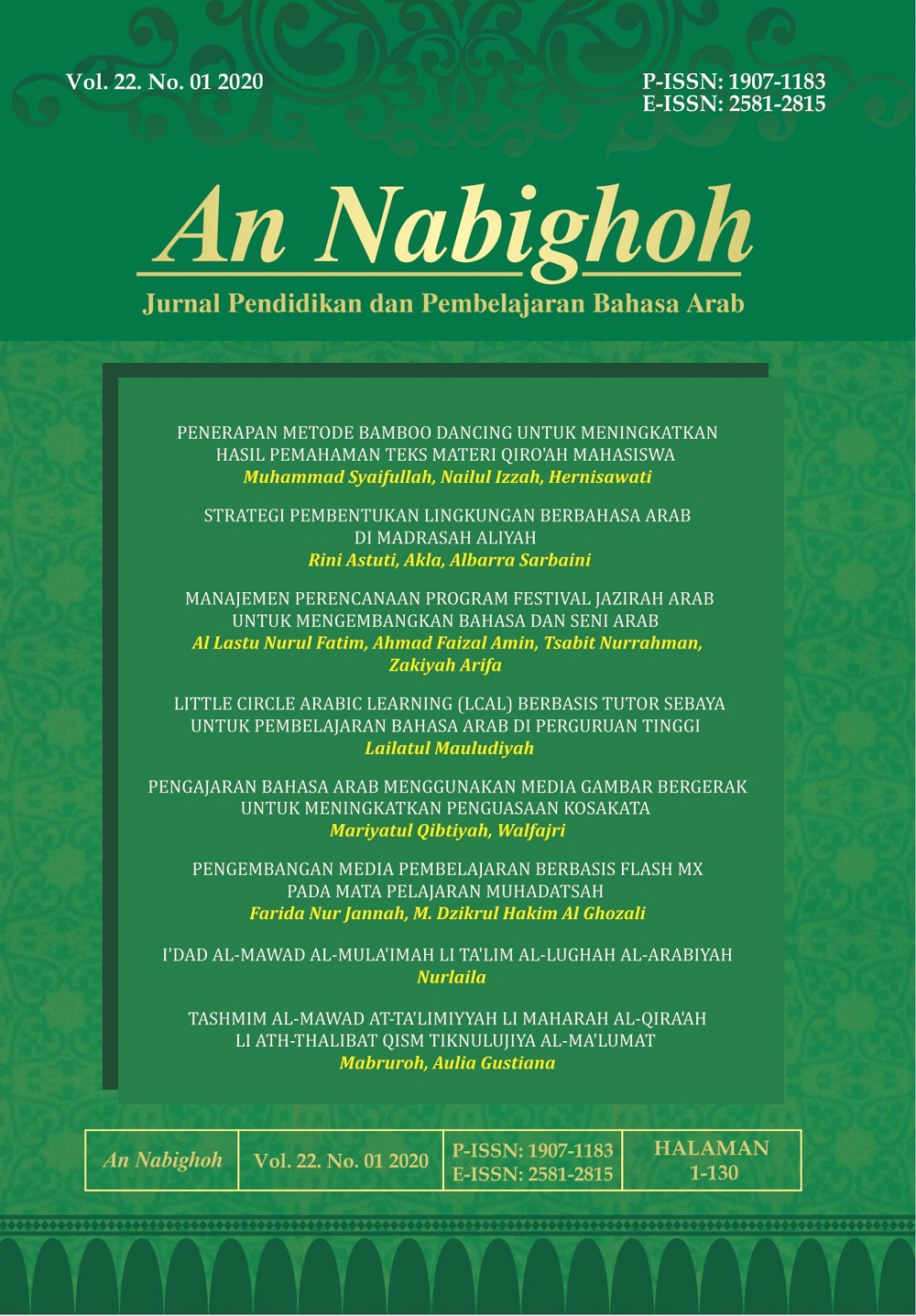 This work is licensed under a Creative Commons Attribution-ShareAlike 4.0 International License.