Pendekatan Keterampilan Dalam Pembelajaran Bahasa Arab
Muna Nabila Amatullah

Universitas Islam Negeri Sunan Kalijaga Yogyakarta

Novi Kusumaningrum

Universitas Islam Negeri Sunan Kalijaga Yogyakarta
Abstract
The approach is an essential part of language teaching. This is a way of looking at teaching and learning. One of the techniques of Arabic language teaching is the Integrated Skills Approach. This approach combines four language skills in the learning process. This study aims to describe the mastery approach and its implementation in learning Arabic. The method used in this research is a descriptive qualitative method. The data in this study were collected through library research. Based on the study results, it was found that using the integrated skills approach in learning Arabic will train students in the use of language in its entirety and naturally, which includes receptive and productive language activities. Because in real life these four skills are not used separately.
References
Abdrabo, Nasr D. "Integrated-Skills Approach: Teaching vs. Practice in L2 Acquisition." Defense Language Institute Foreign Language Center, 2014, 1–21.
Akram, Aneela, dan Ameela Malik. "Integration of Language Learning Skills in Second Language Acquisition." International Journal of Arts and Sciences 3, no. 14 (2010): 231. http://www.openaccesslibrary.org/images/PRV127_Aneela_Akram.pdf.
An-Naqah, Muhammad Kamil. Ta'lim Al-Lughah Al-'Arabiyah Lighairi Nathiqin biha: Asasuhu wa Madhakhiluhu wa Thuruqu Tadrisuhu. Makkah Al-Mukarramah: Jami'ah Umm Al-Qura, 1985.
Audh, Ahmad Abdul. Madakhil Ta'limul Lughah Al-Arabiyyah. Makkah Al-Mukarramah: Jami'ah Umm Al-Qura, 2000.
Aydoğan, Hakan, dan Azamat A. Akbarov. "The Four Basic Language Skills, Whole Language & Intergrated Skill Approach in Mainstream University Classrooms in Turkey." Mediterranean Journal of Social Sciences 5, no. 9 (2014): 672. http://dx.doi.org/10.5901/mjss.2014.v5n9p672.
Deneme, Selma, dan Selen Ada. "An Application of Skills Integration in Language Teaching." Language In India 10 (2010): 9–18. http://languageinindia.com/sep2010/selmasecond.html.
Departemen Pendidikan Nasional. Kamus Besar Bahasa Indonesia. Jakarta: PT Gramedia Pustaka, 2008.
Hinkel, Eli. "Integrating the Four Skills: Current and Historical Perspectives." The Oxford Handbook of Applied Linguistics, 2010. https://doi.org/10.1093/oxfordhb/9780195384253.013.0008.
Kridalaksana, Harimurti. Kamus Linguistik. Jakarta: PT Gramedia, 2008.
Maksudin, dan Qoim Nurani. Pengembangan Kurikulum Pembelajaran Bahasa Arab (Teori dan Praktik). Yogyakarta: Lesfi, 2018.
Oxford, Rebecca. Integrated Skills in the ESL/EFL Classroom. Washington: ERIC, 2001. https://eric.ed.gov/?id=ED456670.
Sanchez, Miguel Angel Almarza. "An Approach to the Integration of Skills in English Teaching." Didactica (Lengua y Literatura) 12 (2000): 21–41.
Zulhannan. Teknik Pembelajaran Bahasa Arab Interaktif. Jakarta: PT Raja Grafindo Persada, 2014.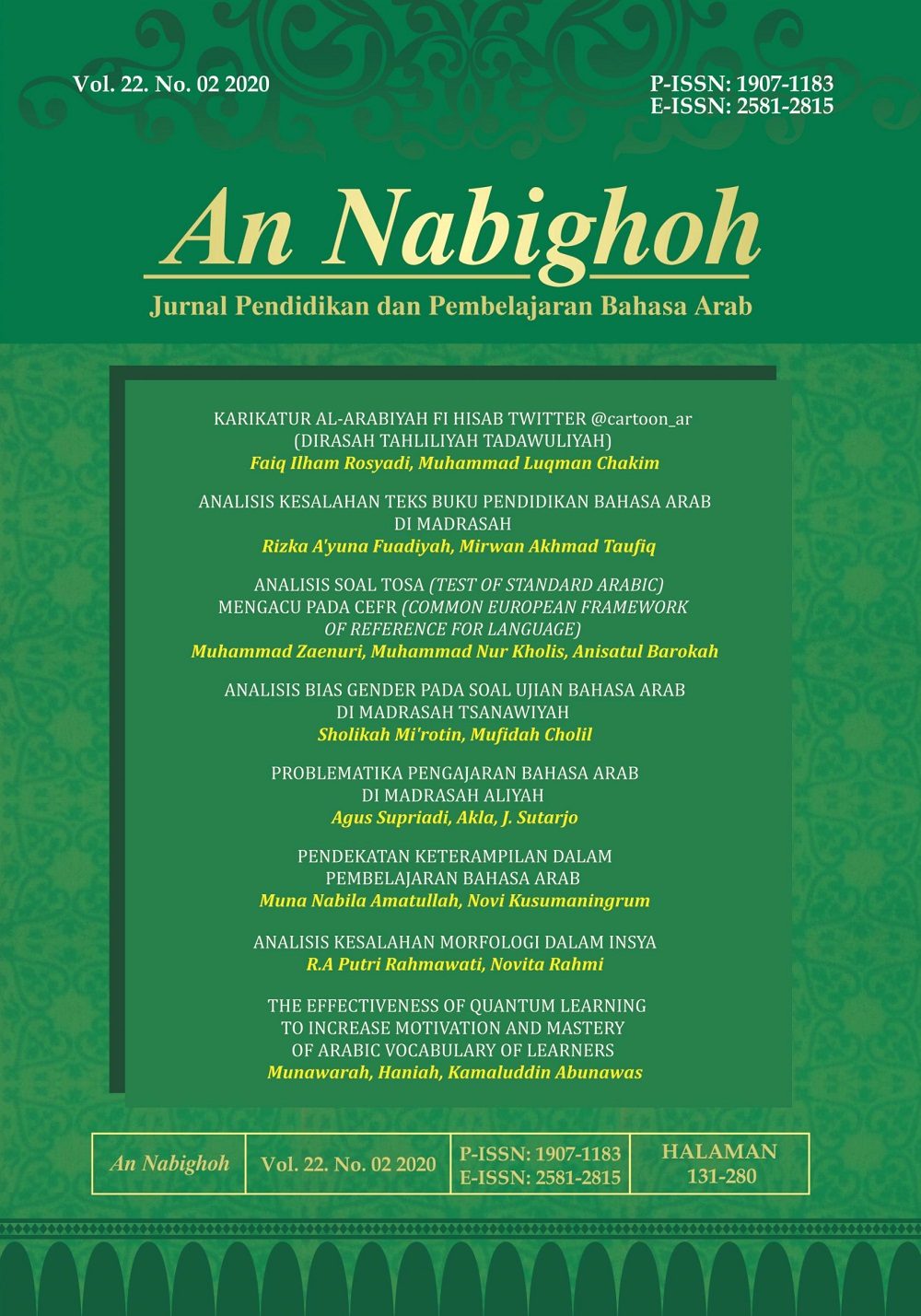 This work is licensed under a Creative Commons Attribution-ShareAlike 4.0 International License.