Digital Islamic Business Ethics: Video Unboxing as a Khiyar mechanism in Online Buying and Selling Transactions
Andrian Harmoko

Nidaku Griya Hijad.id

Diana Ambarwati

Institut Agama Islam Negeri Metro
Abstract
This article describes unboxing video content as a khiyar mechanism in online transactions. The sale and purchase transaction is declared invalid if one of the parties feels compelled and disadvantaged due to product defects. The method used in this article is a field research study with a phenomemological approach. The findings of this study are that video unboxing becomes the mechanism of choice for buyers to Khiyar or the choice to continue or cancel the transaction made. Buyers who upload unboxing videos showing product defects are given the opportunity to cancel the transaction or exchange it for a new product. This mechanism arises because sellers and buyers do not meet directly in the online transaction process. Video unboxing is done as a form of awareness and responsibility (responsibility) in muamalah as a form of ethics in business. The unboxing video will ultimately give pleasure to both the seller and the buyer as a condition for the fulfillment of blessings in the transaction
References
Amiruddin, Muhammad Majdy. "Khiyār (Hak Untuk Memilih) Dalam Transaksi On-Line: Studi Komparasi Antara Lazada, Zalara Dan Blibli." FALAH: Jurnal Ekonomi Syariah, 2016. https://doi.org/10.22219/jes.v1i1.2695.
Asriyanti, Feby. "TINJAUAN HUKUM ISLAM TERHADAP JUAL-BELI ONLINE." Ilmiah Ekonomi Islam, 2021.
Baiq Elbadriati. "RASIONALITAS PENERAPAN KHIYAR DALAM JUAL BELI ISLAM." Jurnal Ekonomi Islam IQTISHADUNA, 2014.
Chalid, Pheni. "Trust and Business Transaction." Signifikan: Jurnal Ilmu Ekonomi, 2016. https://doi.org/10.15408/sjie.v5i2.3393.
Diana Ambarwati. "ETIKA BISNIS YUSUF AL- QARADÂWI (UPAYA MEMBANGUN KESADARAN BISNIS BERETIKA)." Journal of Chemical Information and Modeling, 2019. https://doi.org/10.1017/CBO9781107415324.004.
El-Badriaty, Baiq. "IMPLIKASI NILAI-NILAI ETIKA PADA BISNIS PERSPEKTI F AL-QUR'AN DAN AL-HADITS." Profit : Jurnal Kajian Ekonomi Dan Perbankan Syariah, 2018. https://doi.org/10.33650/profit.v2i1.551.
Gillespie, Nicole. "Trust Dynamics and Repair: An Interview with Roy Lewicki." Journal of Trust Research, 2017. https://doi.org/10.1080/21515581.2017.1373022.
Hasanah, Dafiqah, Mulyadi Kosim, and Suyud Arif. "Konsep Khiyar Pada Jual Beli Pre Order Online Shop Dalam Perspektif Hukum Islam." IQTISHODUNA: Jurnal Ekonomi Islam, 2019. https://doi.org/10.36835/iqtishoduna.v8i2.426.
Holijah, Holijah. "Konsep Khiyar 'Aib Fikih Muamalah Dan Relevansinya Dalam Upaya Perlindungan Konsumen (Tanggung Jawab Mutlak Pelaku Usaha Akibat Produk Barang Cacat Tersembunyi)." Al-Manahij: Jurnal Kajian Hukum Islam, 1970. https://doi.org/10.24090/mnh.v9i2.507.
Indriati, Dewi Sri. "PENERAPAN KHIYAR DALAM JUAL BELI." Jurnal Ilmiah Al-Syir'ah, 2016. https://doi.org/10.30984/as.v2i2.220.
Jamilah, Jamilah, and Firmansyah Firmansyah. "Tinjauan Fikih Muamalah Terhadap Penerapan Khiyar Dalam Transaksi E-Commerce." JURNAL EKONOMI DAN PERBANKAN SYARIAH, 2019. https://doi.org/10.46899/jeps.v6i1.87.
Khisom, Muhammad. "Akad Jual Beli Online Dalam Perspektif Hukum Islam Dan Hukum Positif." Turatsuna : Jurnal Keislaman Dan Pendidikan, 2019.
Moleong, Lexy J. Metodologi Penelitian Kualitatif. Jakarta: Rosda, 2018.
Muhammad Taufan Djafri, Askar Patahuddin, and Muhammad Ridha. "Khiyār Al˗Majlis Dan Aplikasinya Dalam Jual Beli Modern (Studi Komparatif Pandangan Jumhur Ulama Dan Imam Malik)." BUSTANUL FUQAHA: Jurnal Bidang Hukum Islam, 2020. https://doi.org/10.36701/bustanul.v1i4.273.
Puspita Sari, Arina Dyah. "Tinjauan Akad Jual Beli Dan Khiyar Dalam Situs Bukalapak Perspektif Maslahah." Journal of Business & Banking, 2019. https://doi.org/10.14414/jbb.v8i2.1644.
Raihanah. "Konsep Kejujuran Dalam Al-Qur'an." Al-Iqtishadiyah, 2018.
Rasyid, Daud. "Concept of Khiyār in Transaction in Islamic Law." Samarah, 2020. https://doi.org/10.22373/sjhk.v4i2.8148.
Yosephus, L Sinuor. Etika Bisnis: Pendekatan Filsafat Moral Terhadapa Perilaku Pebisnis. Jakarta: Obor Indonesia, 2010.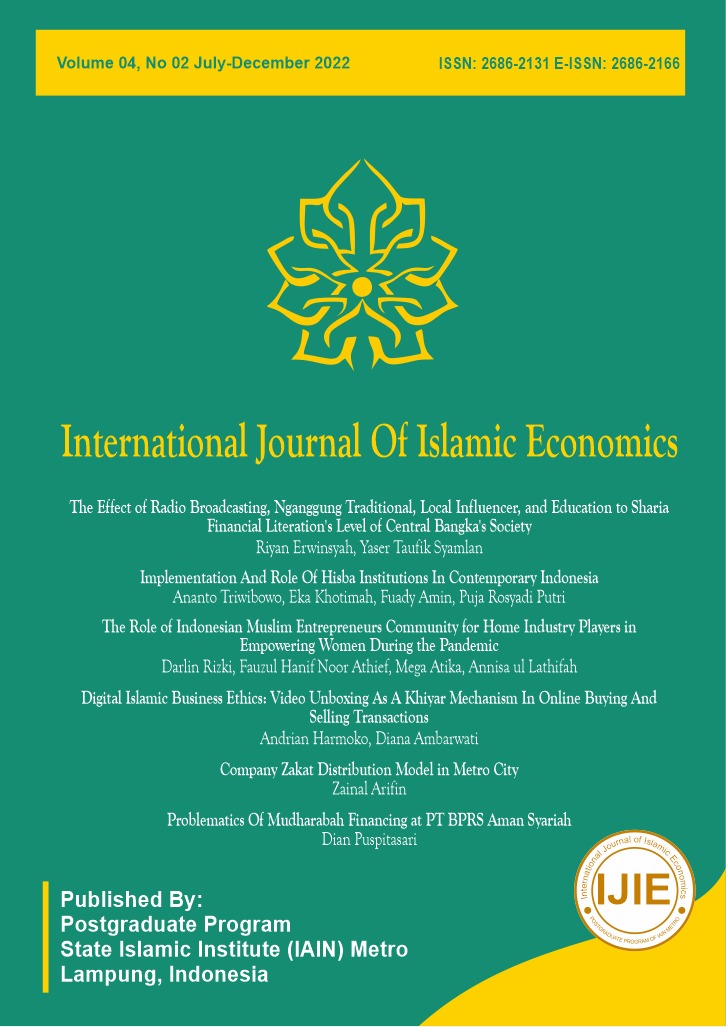 This work is licensed under a Creative Commons Attribution-ShareAlike 4.0 International License.