The Role of Indonesian Muslim Entrepreneurs Community for Home Industry Players in Empowering Women During the Pandemic
Darlin Rizki

Gadjah Mada University

Fauzul Hanif Noor Athief

University of Muhammadiyah Surakarta

Mega Atika

University of Muhammadiyah Surakarta

Annisa ul Lathifah

University of Muhammadiyah Surakarta
Abstract
The occurrence of a pandemic (Covid-19) resulted in many changes, especially in the economy of the people who became unstable. The women's empowerment community is one of the organizations that provides a platform for women who want to help improve the economy of their families. So this study aims to find out how big the role of a Muslim community in Indonesia is and its impact on empowering women in home-based industrial businesses which experienced a drastic decline during the COVID-19 pandemic. This research uses a qualitative research type. Data was collected through observation, interviews and documentation. Based on the research that the author conducted at the Indonesian Muslim Entrepreneurs Association, it shows that Indonesian Muslim Entrepreneurs Association has various major programs that aim to be able to advance and help enlighten Muslim entrepreneurs. They have played an active role in empowering women in which in carrying out their activities good morals are the main focus in attracting members. Because in entrepreneurship besides having to be good at looking for relationships and opportunities, of course it also requires good ethics. So that the marketing network becomes wider, and the knowledge and skills increase.
References
Ambar, K. (2014). Peran Komunitas Dalam Interaksi Sosial Remaja Di Komunitas Angklung Yogyakarta. Universitas Negri Yogyakarta.
Anggaini, M. C. U. dan N. L. V. (2020). Community Empowerment: Teori dan Praktik Pemberdayaan Komunitas. Universitas Brawijaya Pers.
Anwas, O. M. (2013). Pemberdayaan Masyarakat Di Era Global (1st ed.). Alfabeta.
Dewi Wulansari, C. (2013). sosiologi konsep & teori (2nd ed.). PT. Refika Aditama.
Firdaus, M. N. (2018). Perilaku Religiusitas Pengusaha Muslimah Surabaya (Studi Kepatuhan Berzakat Pada Ikatan Pengusaha Muslimah Indonesia). Universitas Islam Negeri Sunan Ampel.
Fitra, A. (2013). Tinjauan Ekonomi Islam Terhadap Usaha Rumahan ( Home Industri ) Dalam Meningkatkan Ekonomi Masyarakat Di Kecamatan Kampar Timur. Universitas Islam Negeri Sultan Syarif Kasim Riau.
Hubeis., A. V. S. (2011). Pemberdayaan Perempuan Dari Masa Ke Masa. PT Penerbit IPB Press.
Huda, A. (2013). Peran Perempuan Dalam Pemberdayaan Ekonomi Syariah. Journal de Jure, 5(1), 42–51.
Imron, M. S. A. (2020). Revitalisasi Home Industry Berbasis Modal Sosial Sebagai Strategi Ketahanan Ekonomi Menghadapi Pandemi Covid-19. PROSIDING SEMINAR NASIONAL PROBLEMATIKA SOSIAL PANDEMI COVID-19 Membangun Optimisme Di Tengah Pandemi Covid-19, 99.
Janah Fitria Roudhotul. (2019). "Peran Ikatan Pengusaha Muslimah Indonesia Dalam Meningkatkan Kesejahteraan Anggota (Studi Kasus IPEMI Kota Kediri). IAIN Kediri.
Lestari, M. dan R. K. (2022). Pelaksanaan Perjanjian Pemberian Pinjaman Khusus Antara Bank Ntb Syariah Dengan Anggota Ikatan Pengusaha Muslimah Indonesia (IPEMI). Private Law, 2(1).
Mandal, K. C. (2013). Concept and Types of Women Empowerment (Vol. 2). International Forum of Teaching and Studies 9.
Moleong, L. J. (2002). Metodologi Penelitian Kualitatif. PT. Remaja Rusdakarya.
Ningsih, S. R. (2009). Pemberdayaan Perempuan Dalam Pembangunan Berkelanjutan. Jurnal Pendidiknan Luar Sekolah, 2.
Onny, P. & P. (2008). Pemberdayaan: Konsep, Kebijakan Dan Implementasi (6th ed.). CSIS.
Ratnawati, N. dkk. (2022). Kolaborasi Program Doktor Islamics Economics And Finance Universitas Trisakti Guna Meningkatkan Sumber Daya Manusia Ikatan Pengusaha Muslim Indonesia Di Kota Bandung. Media Bina Ilmiah, 6(10), 15.
Reno, R. (2019). Manfaat Usaha Peningkatan Pendapatan Keluarga (Up2k) Dalam Pemberdayaan Perempuan Di Kelurahan Tejosari Kota Metro. Universitas Islam Negeri Raden Intan Lampung.
Sany, U. P. (2019). Prinsip-Prinsip Pemberdayaan Masyarakat Dalam Perspektif Al Qur'an. IAIN Salatiga.
Shofiyuddin., F. I. dan A. (2019). Gerakan Komunitas Perempuan 'Srikandi Lintas Iman' Yogyakarta Dalam Telaah Pendidikan Islam Multikultural. Jurnal PAI Raden Fatah, 1(4).
Sirajuddin, S. (2017). Analisis Data Kualitatif. Pustaka Ramadhan.
Soebianto, T. M. dan P. (2015). Pemberdayaan Masyarakat Dalam Perspektif Kebijakan Publik. Alfabeta.
Sufiarti, S. (2013). Persepsi Perempuan Berkarir Di Lingkungan Upi Tentang Konsep Kesetaraan Gender.
Sugiyono. (2009). Metode Penelitian Pendekatan Kuantitaif, Kualitatif dan R&D. Alfabeta.
Tatasari, T. (2018). Pelatihan UMKM dalam Peningkatan Kesejahteraan Anggota IPEMI (Studi Kasus Toko Women Style – BG Junction). Ekonomi, 6(3)
Tresiana, N., & dan Duadji, N. (2019). Mewujudkan Gender Equality Melalui Pengembangan Industri Rumahan Perempuan. Jurnal Musawa Study Gender, 18(2).
Wardianti, ria rizqy. (2019). Peran Program Kelompok Usaha Bersama Dalam Meningkatkan Kesejahteraan Masyarakat Dalam Perspektif Ekonomi Islam (Studi Di Kecamatan Baradatu Kabupaten Way Kanan). Universitas Islam Negeri Raden Intan.
Widjono. (2007). Bahasa Indonesia (Mata Kuliah Pengembangan Kepribadian Di Perguruan Tinggi). PT. Gramedia Widiasarana Indonesia.
Zulfadrial, L. (2012). Pendekatan Kualitatif. Yuma Pustaka.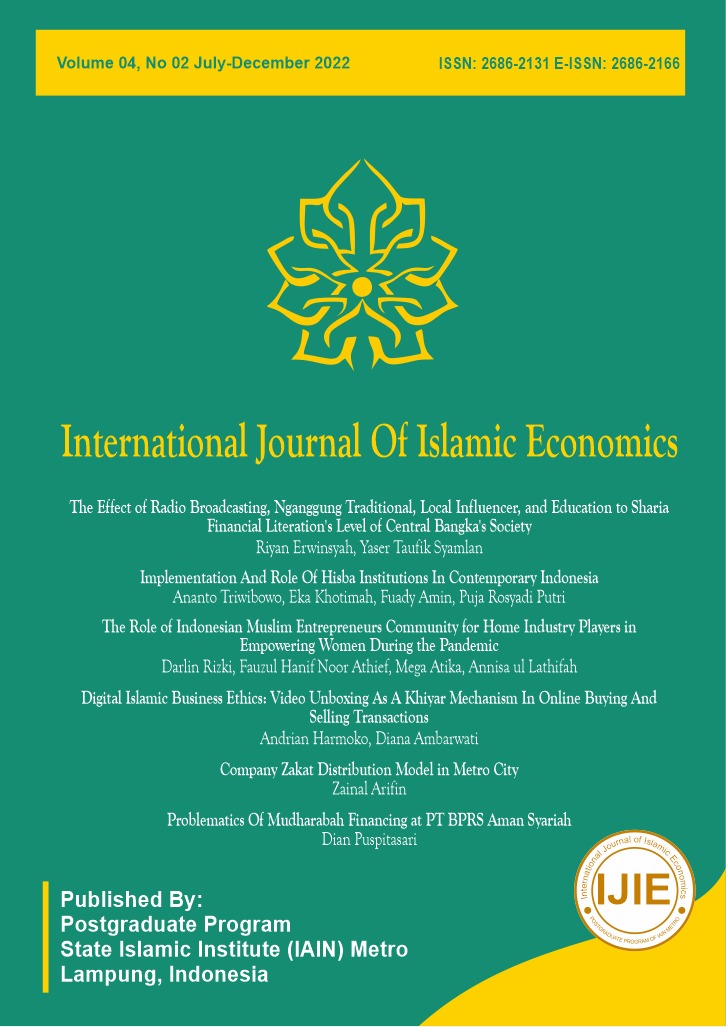 This work is licensed under a Creative Commons Attribution-ShareAlike 4.0 International License.