PENGEMBANGAN MOTORIK HALUS ANAK MELALUI GERAK DAN LAGU DALAM PEMBELAJARAN DARING DI MASA PANDEMIK COVID 19
Siti Kurniasih

Institut Agama Islam Negeri Metro
Abstract
Abstract: This study is aimed at exploring the fine motor skills improvement process of group B students and investigating to what extend the processing result of fine motor skills can be improved through movements and songs of online learning during the COVID-19 pandemic. This study was a classroom action research using Kemmis and Mc. Taggart research model. This study was conducted in 2 cycles with 8 meetings in each cycle where every cycle consisted of the following steps: planning, action and observation, reflection. The sample of this study was 10 Group B students . The instruments used in this study was observational sheet of students activities using movements and songs. The data in this study were quantitative and qualitative data. Quantitative data were analyzed by using descriptive statistic to compare the result from the first and second cycle. While qualitative data from observation and interview were analyzed through the following steps: data reduction, data display and data verification. The results of this study show that there is the improvement of fine motor skills through movements and songs, proven by the fine motor skills mean score in pre-cycle which was 50,25 % improve tso 67,50 % in cycle I and keep increasing becoming 86,29 % in cycle II.
References
Aisyah, S. (2012). Perkembangan dan Konsep Dasar Pengembangan Anak Usia Dini. Universitas Terbuka.
Beaty, J. (2013). Observasi Perkembangan Anak. Kencana.
Dariyo, A. (2007). Psikologi Perkembangan Anak Tiga Tahun Pertama. PT Refika Aditama.
Hasanah, U. (2016). Pengembangan Kemampuan Fisik Motorik Melalui Permainan Tradisional Bagi Anak Usia Dini. Jurnal Pendidikan Anak, 5(1), 717–733. https://doi.org/10.21831/jpa.v5i1.12368
Herliandry, L. D., Nurhasanah, N., Suban, M. E., & Kuswanto, H. (2020). Pembelajaran Pada Masa Pandemi Covid-19. JTP - Jurnal Teknologi Pendidikan, 22(1), 65–70. https://doi.org/10.21009/jtp.v22i1.15286
Latif, M. (2013). Orientasi Pendidikan Anak Usia Dini. Kencana.
Magil, R. A. (2011). Motor Learning, Concepts And Application. Boston McGraw Hill.
Merliza, P. (2016). Peranan Kemampuan Abstraksi Peserta Didik dalam Pembelajaran Matematika Melalui Soal Rich Context Persamaan Linear Dua Variabel. 104–110.
Miles, M. B. dan A. M. H. (1989). Qualitatif Data Analysis: A Sourcebook of New Method. Ninth Printing.
Nurdin, N., & Anhusadar, L. (2020). Efektivitas Pembelajaran Online Pendidik PAUD di Tengah Pandemi Covid 19. Jurnal Obsesi : Jurnal Pendidikan Anak Usia Dini, 5(1), 686. https://doi.org/10.31004/obsesi.v5i1.699
Papalia, D. E. (2009). Human Development (Perkembangan Manusia) (10th ed.). Salemba Humanika.
Pekerti, W. (2013). Metode Pengembangan Seni. Universitas Terbuka.
Ralmugiz, U., & Merliza, P. (2020). Desain Pembelajaran Matematika untuk SMK dengan Pendekatan Realistic Mathematics Education. Uwais Inspirasi Indonesia.
Rantina, M., Hasmalena, H., & Yosef, Y. (2019). Pengembangan Lagu Berbasis Aplikasi Musescore dalam Pengembangan Aspek Perkembangan Anak Usia Dini. Jurnal Obsesi : Jurnal Pendidikan Anak Usia Dini, 4(1), 438. https://doi.org/10.31004/obsesi.v4i1.351
Santrock, J. W. (2007). Child Development Perkembangan Anak. Edisi Kesebelas, Terjemahan Mila Rahmawati dan Anna Kuswanti. Erlangga.
Sujiono, B. (2007). Metode Pengembangan Fisik. Universitas Terbuka.
Tejapermana, P. (2018). Pengembangan Model Gerak dan Lagu Berbasis Budaya Lampung Untuk Guru PAUD Di Bandar Lampung. Al-Athfaal : Jurnal Pendidikan Anak Usia Dini, 1(1), 17. https://doi.org/10.1017/CBO9781107415324.004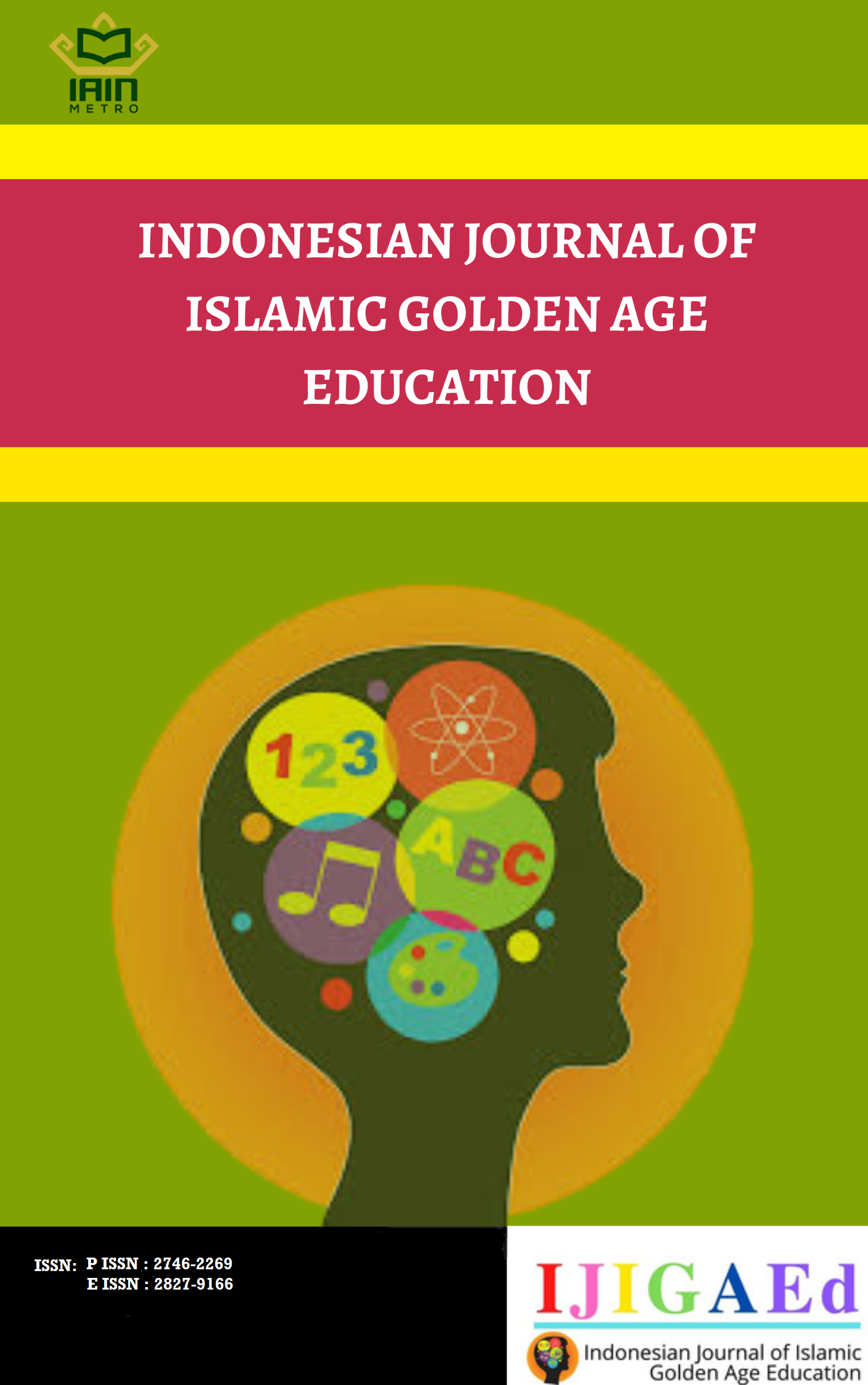 How to Cite
KURNIASIH, Siti. PENGEMBANGAN MOTORIK HALUS ANAK MELALUI GERAK DAN LAGU DALAM PEMBELAJARAN DARING DI MASA PANDEMIK COVID 19.
IJIGAEd: Indonesian Journal of Islamic Golden Age Education
, [S.l.], v. 1, n. 2, p. 31-43, july 2021. ISSN 2827-9166. Available at: <
https://e-journal.metrouniv.ac.id/index.php/IJIGAEd/article/view/3434
>. Date accessed: 21 mar. 2023.
This work is licensed under a Creative Commons Attribution 4.0 International License.