PENANAMAN MORAL AGAMA PADA ANAK MELALUI CERITA BERNUANSA ISLAMI
Nur Kholis

STAI Darussalam Lampung

Putri Ferawati

STAI Darussalam Lampung
Abstract
This article aims to describe the cultivation of religious morals in children through stories with Islamic nuances. The method used in this research is descriptive qualitative, data was taken using interviews, observation and documentation. The results of this study indicate that the use of stories with Islamic nuances can increase the moral values of religion in children. This is evidenced by students who are able to speak politely to teachers and their peers, students begin to show a responsible attitude and students also begin to show an honest attitude. The positive contribution of this research is to provide information to the wider community, especially in the field of education that the use of Islamic nuanced story methods can increase religious moral values in children.
References
Abdul Aziz, A. M. (2002). Mendidik Dengan Cerita. PT . Remaja Rosda Karya.

Abdullah Nashih Ulwan. (1993). Pedoman Pendidikan Anak dalam Islam. Asy-syifa.

Abdurrazaq, A. (2013). Analisis Pesan Dakwah dalam Karya Sastra: Studi atas Publikasi Novel-Novel Islami Karya Habiburrahman El-Shirazy. Intizar, 19(2), 205–230.

Appalanaidu, S. R. (2018). Pertimbangan moral dan motivasi pelajar dalam Pendidikan Moral. Journal Of Research, Policy & Practice of Teachers & Teacher Education, 8(2), 53–70. https://doi.org/10.37134/jrpptte.vol8.no2.6.2018

Asri Budi Ningsih. (2004). Pembelajaran Moral. PT Asdi Mahasatya.

Chasanah, U. (2017). Urgensi Pendidikan Hadis dalam Pembentukan Karakter Anak Usia Dini. Jurnal Living Hadis, 2(1), 83–115. https://doi.org/10.14421/livinghadis.2017.1357

Dian Purnomo. (n.d.). Implementasi Metode Cerita Dalam Moral Agama.

Heri Juhari Muchtar. (2008). Fikih Pendidikan. PT. Remaja Rosdakarya.

Misbahus Surur. (2010). Problematika Pendidikan Moral Di Sekolah Dan Upaya Pemecahannya. Jurnal Fikroh, 4(2).

Putri, H. (2018). Penggunaan Metode Cerita untuk Mengembangkan Nilai Moral Anak TK/SD. Muallimuna : Jurnal Madrasah Ibtidaiyah, 3(1), 87–95. https://doi.org/10.31602/muallimuna.v3i1.957

Rama Yulis. (2002). Ilmu Pendidikan Islam. Kalam Mulia.

Wijayanti, K. D. (2019). Wayang Existence In The Islamization For Traditional Javanese People. El Harakah (Terakreditasi), 21(1), 125. https://doi.org/10.18860/el.v21i1.6279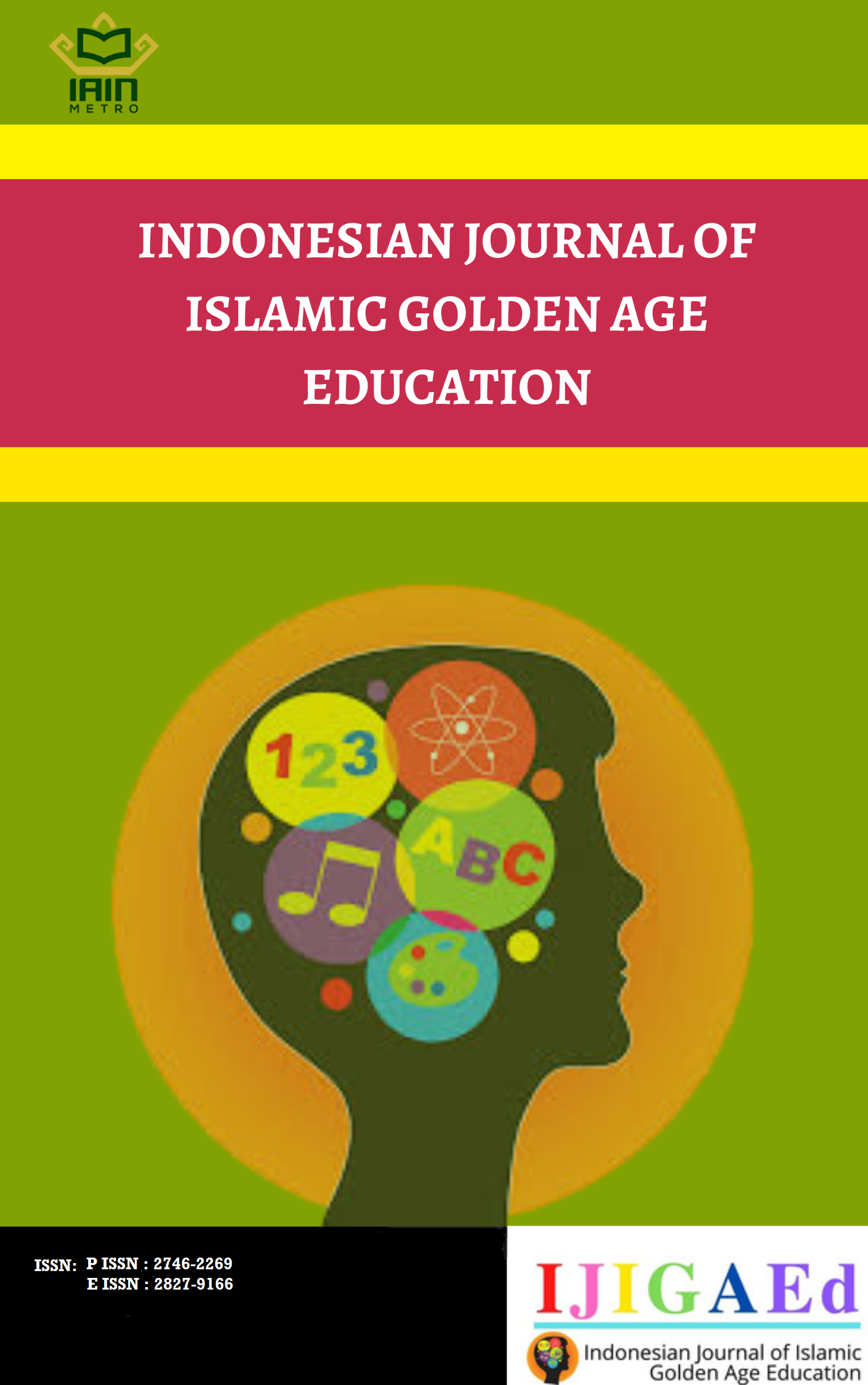 This work is licensed under a Creative Commons Attribution 4.0 International License.