KOMPETENSI PROFESIONAL GURU KELAS B DI RA ASSAFI'IYAH MADA JAYA WAY KHILAU PESAWARAN
KOMPETENSI PROFESIONAL GURU KELAS B DI RA ASSAFI'IYAH MADA JAYA WAY KHILAU PESAWARAN
Abstract
Teacher professional competence is the skills, abilities, skills of a teacher in the teaching and learning process. This research was conducted to find out how the professional competence of class B teachers at RA Assafi'iyah Mada Jaya Way Khilau Pesawaran, which includes the professional competence of teachers in improving learning outcomes, managing classes, using learning media, and assessing learning outcomes. This research uses field research (Field Research). To collect data the author uses 3 methods, namely: Interview / interview, observation, and documentation. Based on the research results, it shows that professional competence in improving learning outcomes is quite good, the teacher implements teaching and learning programs with the right strategy, and implements improvement programs to optimize children's development. In managing the class, it has not been maximized, such as the arrangement of the classroom layout and the learning atmosphere that is not conducive. In using learning media it is good enough. Teachers are skilled in utilizing everything that exists as a learning medium. In assessing learning outcomes, the teacher uses a variety of assessments that are tailored to the developmental aspects that they want to measure.
References
Ama, Buchari (2009), Guru Profesional, Bandung:Alfabeta.
Akmal Hawi, (2014), Kompetensi Guru Pendidikan Agama Islam, Jakarta: Rajawali Pers.
Dimyati dan Mudjiono, (2009), Belajar dan Pembelajaran. Jakarta: PT Rineka Cipta.
Getteng,Rahman (2012), Menuju Guru Profesional dan Beretika, Makasar:Alaudin Perss.
Menteri Dalam Negeri, (1996), Garis-garis Besar Haluan Negar:Ketetapan MPR No. II/MPR/1993, (Jakarta : Perum Percetakan Negara RI.
Hamid, Abdul (2017), Guru Profesional, Dalam Jurnal Al Falah Vol. XVII No. 32.
Supardi, (2013), Sekolah Efektif (Konsep Dasardn Praktiknya), Jakarta:Rajawali Pers.
Hasibuan, JJ, ddk, (2007), Proses Belajar Mengajar (Keterampilan Dasar Pengajaran Mikro), Bandung:Remaja Karya.
Kartowagiran,Badrun (2011), Kinerja Guru Profesional (Guru Pasca Sertifikasi), Jurnal Cakrawala Pendidikan, No. xxx.
Kristiawan, Muhammad, Rahmat Nur (2018), Pingkatan Profesionalisme Guru Melalui Inovasi Pembelajaran Kajian Ilmu Pendidikan, jurnal iqraa', Volume 3, Issue 2, Desember.
Nana Sudjana, (2009), Penilaian Hasil Proses belajar mengajar, Bandung:PT Remaja Rosda Karya.
Supardi, (2013), Sekolah Efektif Konsep Dasar dan prakteknya, jakarta:Rajawali Pers.
Supriyadi, Dedi (1999), Mengangkat Citra dan Martabat Guru, (Yogyakarta: Adicita Karya Nusa.
Suryanto dan Hisyam, Jihad (2000), kompetensi guru sebuah Tuntutan, Bandung: Gressindo.
Suyadi, Manajemen PAUD, Yogyakarta:Pustaka Pelajar, 2011.
Tim penyusun, (2006), Undang-Undang Nomor 14 Tahun 2005 Tentang Guru dan Dosen, jakarta: Sinar Grafika.
Undang-Undang SIKDIKNAS (2006) No. 20 Tahun 2003, jakarta: Redaksi Sinar grafika.
Suryobroto, (2006), Proses Belajar Mengajar, Jakarta:Rhineka Cipta.
Darmadi, Hamid (2015), Tugas, Peran, Kompetensi, Dan Tanggung Jawab Menjadi Guru Profesional, dalam Jurnal Edukasi, Vol. 13, No. 2, Desember.
Supriyadi, Dedi (1999), Mengangkat Citra dan Martabat Guru, Yogyakarta: Adicita Karya Nusa.
Sudjono, Anas (2006), Pengantar Statistik Pendidikan, Jakarta: PT. Rajawali Grafido Persada.
Suharti, (2018), Manajemen Pendidikan Anak Usia Dini (PAUD) Dalam Ragka Meningkatkan Mutu Pembelajaran, Jurnal Tadbir Studi Mnajemen Pendidikan, Vol. 2, No. 1, Juni.
Wiyani, Novan Ardy (2015), Manajemen PAUD Bermutu, Yogyakarta: Gava Media.
Observasi, (2019). Proses Belajar Mengajar Guru Guru Kelas B RA Assafi'iyah Mada Jaya Pesawaran, pada tanggal 04-08, November.
Razuba, Febriyanti, (2019). Wawancara, Guru Kelas B RA Assafi'iyah Mada Jaya Way Khilau Pesawaran, pada tanggal 06, November.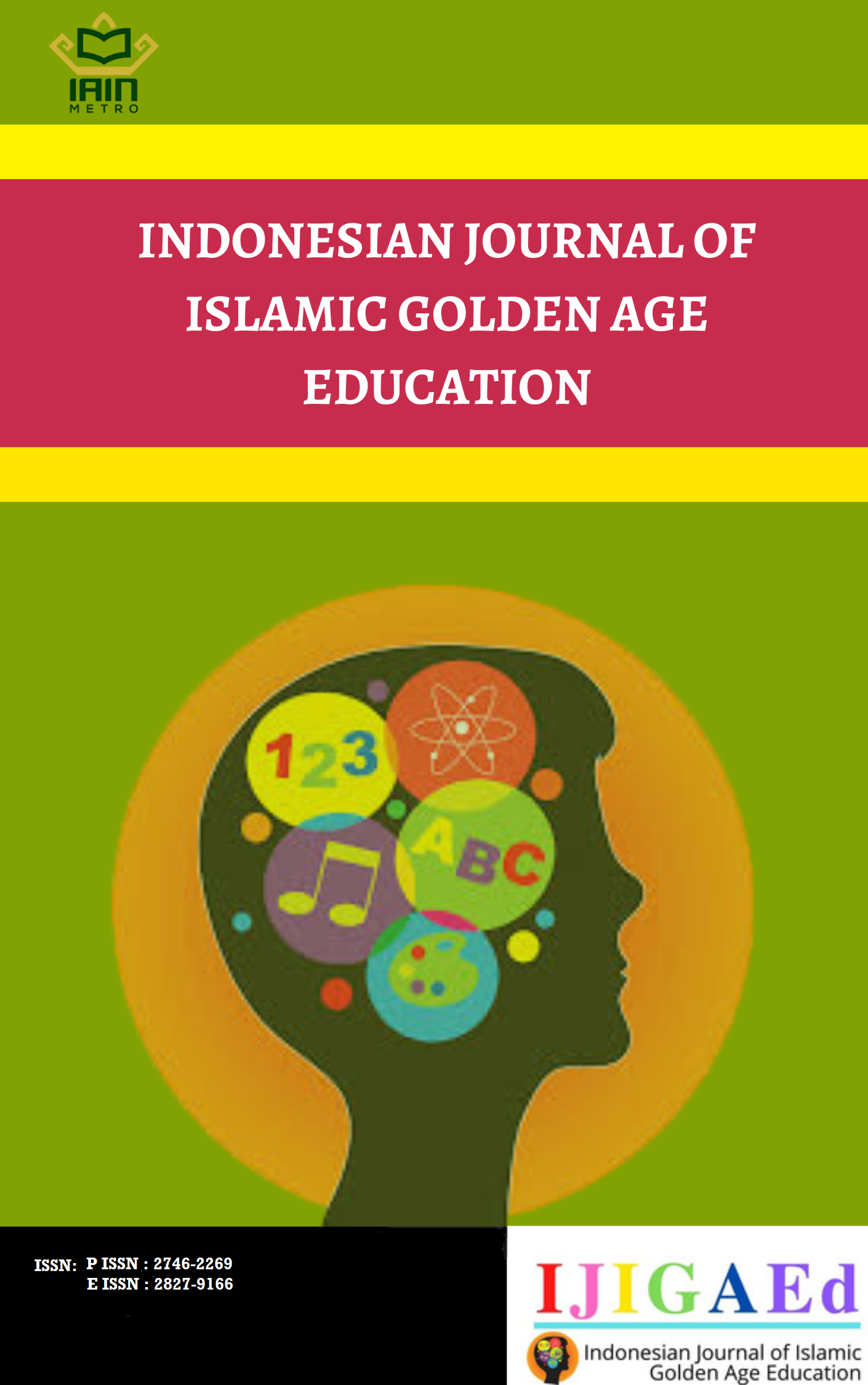 This work is licensed under a Creative Commons Attribution 4.0 International License.