PENANAMAN PENDIDIKAN KARAKTER ANAK USIA DINI MELALUI PENERAPAN PROGRAM PARENTING DI TK ALAM BANGKA BELITUNG
Dwi Haryanti

IAIN Syaikh Abdurrahman Siddik Bangka Belitung

Sisi Milata

IAIN Syaikh Abdurrahman Siddik Bangka Belitung

Alifia Luqiana Ansory

IAIN Metro
Abstract
Abstract
This research is motivated by the importance of parenting programs implemented by parents in school institutions. This is because parents are the primary and first educators for children in the context of the child's personal formation, which is better because children spend a lot of their time at home. The purpose of implementing parenting programs is for parents to get knowledge about how to educate children properly. This study uses qualitative research methods with a descriptive approach. Data collection techniques were carried out using observation, interviews and documentation. The informants in this study consisted of 1 principal, 2 teachers and 5 people involved in the implementation of the parenting program namely parents of students. Data analysis techniques using data display data reduction and conclusion drawing. The results of research on the implementation of the parenting program at Alam Bangka Belitung Kindergarten were carried out in three stages, namely the planning, implementation, and evaluation stages. The planning phase is carried out by holding a meeting, determining the theme and schedule to be held, the implementation phase consists of activities to be carried out and the evaluation phase is carried out by the parenting committee. The benefits of implementing parenting programs in instilling character education in early childhood is that children can develop character in being honest, polite, caring about the environment and having independent character.
References
Daftar Pustaka

Agustinus Hermino. (2013). Asesmen Kebutuhan Organisasi Persekolahan: Tinjauan Perilaku Organisasi Menuju Comprehensive Multilevel Planning. PT Gramedia.

Alexander Lucas Slamet Ryadi. (2016). Ilmu Kesehatan Masyarakat. CV Andi Offset.

An-Nahlawi, A. (2004). Pendidikan Islam di Rumah Sekolah dan Masyarakat. Gema Insani.

Aunillah, N. I. (2010). Panduan Menerapkan Pendidikan Karakter di Sekolah. Laksana.

Dkk, D. K. (2011). Pendidikan Karakter: Kajian Teori dan Praktik di Sekolah. PT Remaja Rosdakarya.

Dkk, S. M. (2018). Implementasi Pendidikan Karakter. CV Jakad Publishing.

Fadlillah, M. (n.d.). Pendidikan Karakter.

Hasil Observasi di TK Alam Bangka Belitung. (n.d.). 08 Juli 2019 dan 25 Desember 2019

Ichsan Solihudin. (2016). Hypnosis for Parents. PT Mizan Pustaka.

Jazariyah dan Maemonah. (n.d.). Pengembangan PAUD Berbasis Keluarga untuk Meningkatkan Keterampilan Pengasuhan. https://journa.staialhikmahtuban.ac.id diakses tanggal 11 November 2019

Marisa Humaira. (2019). Membangun Karakter dan Melejitkan Potensi Anak: Seni Mendidik Anak Islami. PT Elex Media Komputindo.

Muktar Latif, Zukhairina, Rita Zubaidah, dan M. (2013). Orientasi Baru Pendidikan Anak Usia Dini Teori dan Aplikasi. Kencana.

Rachmadiana, W. W. dan M. (2003). Mengkomunikasikan Moral Kepada Anak. PT Elex Media Komputindo.

Ridwan Abdullah Sani dan Muhammad Kadri. (2016). Pendidikan Karakter: Mengembangkan Karakter Anak yang Islami. PT Bumi Aksara.

Rivai, B. (2018). School of Talent: Apresiasi Bakat dan dan Minat Setiap Siswa. Edu Publisher.

Setyono, A. A. (2006). Hypnoparenting. Gramedia Pustaka Utama.

Suharsono. (2009). Mencerdaskan Anak Sejak dalam Rahim Ibu Hingga Remaja. Ummah Publishing.

Sukmadiarti Perangin. (2018). Parenting School: Orangtua Bahagia Anak Tumbuh Ceria. PT Lontar Digital Asia.

Sunaidi Suryabrata. (2006). Metodologi Penelitian. Raja Grasindo Persada.

Usman Rianse dan Abdi. (2009). Metodologi Penelitian Sosial dan Ekonomi: Teori dan Aplikasi. Alfabeta.

Wibowo, A. (2012). Pendidikan Karakter: Strategi Membangun Karakter Bangsa Peradaban. Pustaka Pelajar.

Zubaedi. (2011). Desain Pendidikan Karakter: Konsepsi dan Aplikasinya dalam Lembaga Pendidikan. Kencana.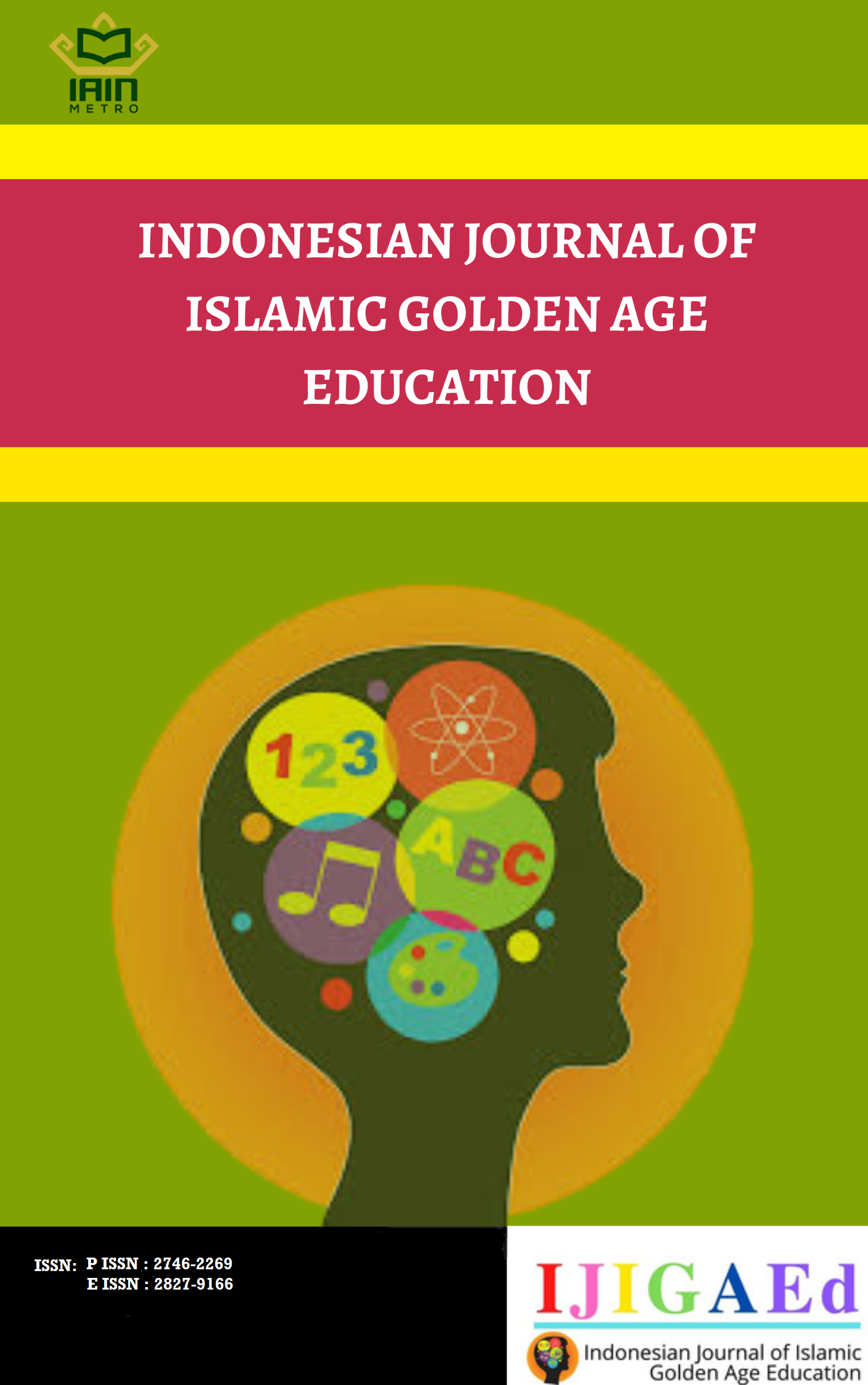 How to Cite
HARYANTI, Dwi; MILATA, Sisi; ANSORY, Alifia Luqiana. PENANAMAN PENDIDIKAN KARAKTER ANAK USIA DINI MELALUI PENERAPAN PROGRAM PARENTING DI TK ALAM BANGKA BELITUNG.
IJIGAEd: Indonesian Journal of Islamic Golden Age Education
, [S.l.], v. 1, n. 2, p. 11-20, july 2021. ISSN 2827-9166. Available at: <
https://e-journal.metrouniv.ac.id/index.php/IJIGAEd/article/view/3348
>. Date accessed: 21 mar. 2023.
This work is licensed under a Creative Commons Attribution 4.0 International License.