Study Application of Student Center Learning Method in Fiqh Munakahat Learning
Abdul Muis

Universitas Islam Negeri (UIN) Sunan Kalijaga, Yogyakarta, Indonesia

Sibawaihi Sibawaihi

Universitas Islam Negeri (UIN) Sunan Kalijaga, Yogyakarta, Indonesia

Muhammad Ali

Institut Agama Islam Negeri (IAIN) Metro, Lampung, Indonesia
Abstract
The sophistication of technology that is now developing and the interaction of teenagers who can't be controlled today with the sophistication of technology certainly make parents' hearts become restless because, on the other hand, they have to learn online. Learning awareness which sometimes needs to be improved with online learning models makes lecturers have to look for the right method to be applied in online learning. Student Center Learning is one of the methods that can be applied in the online learning process because the SCL method makes students active in learning. The research method in writing this article uses a qualitative method with primary data in the form of a questionnaire which has obtained respondents from 78 students in the Munakahat Fiqh course with the achievement of students' understanding of the Munakahat Fiqh course getting a very effective score (A) ranging from 85-100 as many as 11 students, effective (B) ranged from 70 to 84 as many as 57 students, and less effective (C) ranged from 55 to 69 as many as 10 students.
References
Aisah, Narinda, & Pratiwi, W. D. (2021). Efektivitas Pembelajaran Jarak Jauh terhadap Mahasiswa Unsika pada saat Pandemi Covid-19. Jurnal Pendidikan Bahasa Dan Sastra Indonesia, vol. 11, no. (1), 131.

Dasor, Y. W. (2017). Efektivitas Pembelajaran Berbasis Student Centered Learning Dalam Mengatasi Kecemasan Komunikasi. Jurnal Inovasi Pendidikan Dasar, vol. 1, no. (1), 85–100.

Ena, Z., & Djami, S. H. (2021). Peranan Motivasi Intrinsik Dan Motivasi Ekstrinsik Terhadap Minat Personel Bhabinkamtibmas Polres Kupang Kota. Among Makarti, vol. 13, no. (2), 68–77. https://doi.org/10.52353/ama.v13i2.198

ESU. (2010). Student-centred learning—Toolkit for students, staff and Higher Education Institutions. Learning, vol. 23.

Handayani, L. (2020). Peningkatan Motivasi Belajar IPA Melalui Model Pembelajaran Project Based Learning pada Masa Pandemi Covid-19 bagi Siswa SMP Negeri 4 Gunungsari. Jurnal Paedagogy, vol. 7, no. (3), 168. https://doi.org/10.33394/ jp.v7i3.2726

Marhani, Tahir, H., Mustika, Rahmawati, & Madubun, D. A. N. (2019). Strategi Pembelajaran Pendekatan SCL (Student Centered Learning). vol.19, no. 87.

Meity, N., Ernawati, Safra, & Yunita. (2018). Pengaruh metode. Jurnal Keperawatan, vol. 8, no. (1), 814–818.
Mujahidin, E., Tamam, A. M., & Alim, A. (2022). Waktu-waktu efektif belajar menurut para ulama dan santri. vol.11, no. (1), 52–65.

Ngafifi, M. (2014). Kemajuan Teknologi Dan Pola Hidup Manusia Dalam Perspektif Sosial Budaya. Jurnal Pembangunan Pendidikan: Fondasi Dan Aplikasi, vol. 2, no. (1), 33–47. https://doi.org/10.21831/jppfa.v2i1.2616

Nursikin, M. (2016). Aliran-aliran Filsafat Pendidikan dan Implementasinya dalam Pengembangan Kurikulum Pendidikan Islam. Attarbiyah, vol.1, no. (2), 303–334. https://doi.org/10.18326/attarbiyah.v1i2.303-334

Ratnawati, S. (2020). Implementasi Student Center Learning dengan Metode Blended Learning Mata Kuliah Perilaku Organisasi. Soedirman Economics Education Journal, vol. 2, no. (1), 85. https://doi.org/10.32424/seej.v2i1.2088

Rini, W. A. (2019). Pembelajaran Dengan Pendekatan Student Centered Learning (Scl) Pada Sekolah Minggu. Jurnal Shanan, vol. 3, no. (1), 85–96. https://doi.org/ 10.33541/shanan.v3i1.1575
Satriaman, K. T., Pujani, N. M., & Sarini, P. (2019). Implementasi Pendekatan Student Centered Learning Dalam Pembelajaran Ipa Dan Relevansinya Dengan Hasil Belajar Siswa Kelas Viii Smp Negeri 4 Singaraja. Jurnal Pendidikan Dan Pembelajaran Sains Indonesia (JPPSI), vol. 1, no. (1), 12. https://doi.org/ 10.23887/jppsi.v1i1.21912
Ulfah, M. (2021). Efektivitas pembelajaran ilmu nagham Al-Qur'an di Institut Ilmu Al-Quran (IIQ) Jakarta. Ta'dibuna: Jurnal Pendidikan Islam, vol. 10, no. (4), 523. https://doi.org/10.32832/tadibuna.v10i4.5215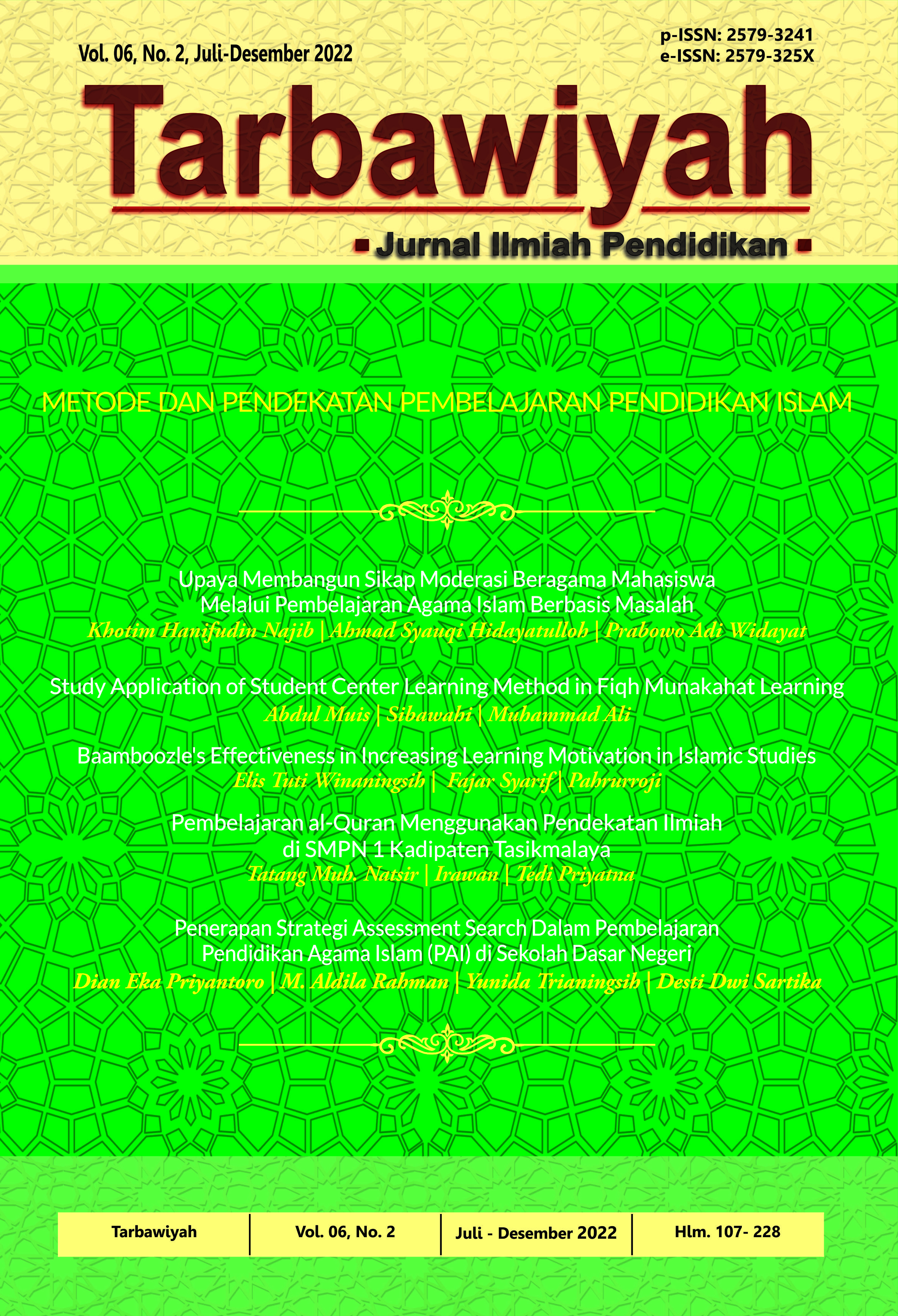 This work is licensed under a Creative Commons Attribution-ShareAlike 4.0 International License.