Inovasi Pembelajaran Agama Islam Menggunakan Mobile Learning Quizizz di SMA Shafta Pada Era Pandemi
Lailaturrohmah Lailaturrohmah

UIN Sunan Ampel Surabaya

Husniyatus Salamah Zainiyati

UIN Sunan Ampel Surabaya
Abstract
The essence of the title is an innovative inspiration for al-Dinul Islamic education with mobile learning quizizz at SMA SHAFTA Surabaya towards covid-19, the procedure for examining the culture of giving birth to procedures for changing policies as well as numbers covering a combination of teachers and students. In this combination, the teacher and student have other capacities and desires. Therefore, teachers and students have an appropriate understanding, there is feedback to realize educational procedures (transferring knowledge, levels, and skills as desired). Problems are always proven when education is running, not only for teachers but also for students. In this study, researchers focused on: 1) What are the problems of Islamic Education Teacher at SHAFTA SMA Surabaya? 2) How are the efforts to solve the problems of Islamic Education Teachers in SMA SHAFTA Surabaya?
References
Abdurrahman, M. Peranan Suasana Belajar Kooperatif Dan Kompetitif Dalam Peningkatan Hasil Belajar. Jakarta: Lembaga Penelitian IKIP, 1997.

Ali, Muhtadi. "Menciptakan Iklim Kelas (Classroom Climate) Yang Kondusif Dan Berkualitas Dalam Proses Pembelajaran." Majalah Ilmiah Pembelajaran 2, 2005.

Bungin, Burhan. Penelitian Kualitatif: Komunikasi, Ekonomi, Kebijakan Publik, Dan Ilmu Sosial Lainnya. Jakarta: Kencana, 2007.

Danim, Sudarwan. Komunikasi Pendidikan, Pelayanan Profesional Pembelajaran Dan Mutu Hasil Belajar. Jakarta: Rajawali Press, 1977.

Huberman, A. Michael, and Miles B Matthew. Analisis Data Kualitatif. Jakarta: UI Press, 1992.
Indonesia, Presiden Republik. "Undang-Undang Republik Indonesia Nomor 20 Tahun 2003 Tentang Sistem Pendidikan Nasional.," 2003.

Miarso, Yusuf Hadi. Definisi Teknologi Pendidikan, Satuan Tugas Definisi Dan Terminologi AEC. Jakarta: Bumi Akasara, 1994.

Miarso, Yusuf hadi. Menyemai Benih Teknologi Pendidikan. Jakarta: Kencana, 2007.

Moleong, Lexi J. Metode Penelitian Kualitatif. Bandung: Rosda Karya, 2002.

Sadiman, Arief S. Pendayagunaan Teknologi Pendidikan Di Negara Tetangga. Jakarta: Kencana, 2007.

Saputra, Puput Rahmat. "Respon Dan Kesiapan Guru Pendidikan Agama Islam Terhadap Pemberlakuan Kurikulum 2013 Mata Pelajaran Pendidikan Agama Islam Di SMP Negeri 5 YOGYAKARTA.," 2013.

Uno, Hamzah B, and Nina Lamatenggo. Teknologi Komunikasi Dan Informasi Pembelajaran. Jakarta: Bumi Akasara, 2010.

"Pendidikan-Indonesia-Di-Tengah-Pandemi-Covid-19." Https://Mediaindonesia.Com/Read/Detail/311137-, n.d.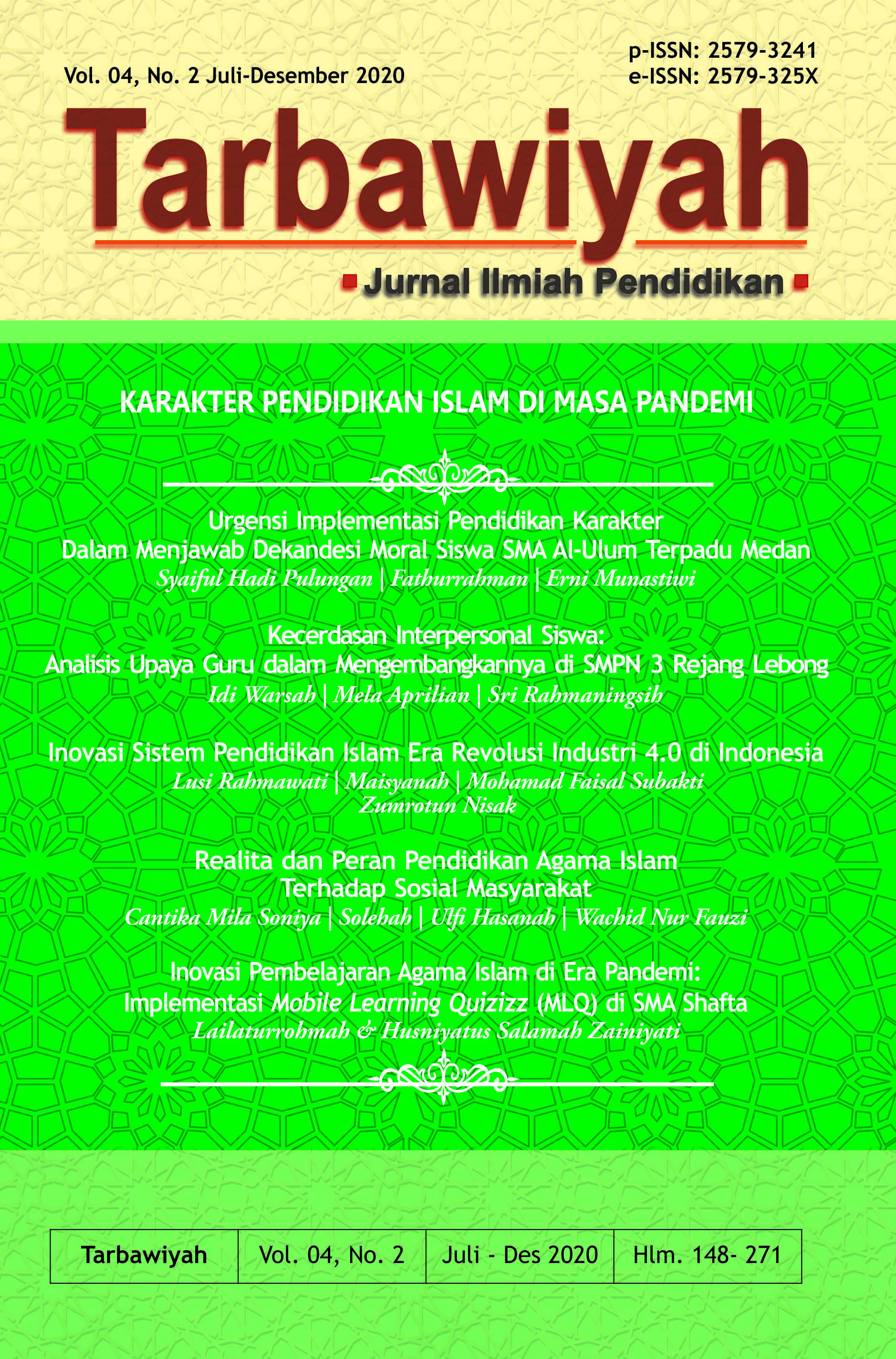 This work is licensed under a Creative Commons Attribution-ShareAlike 4.0 International License.