Upaya Guru Fiqih dalam Meningkatkan Kompetensi Pedagogik di Madrasah
UPAYA GURU FIQH DALAM MENINGKATKAN KOMPETENSI PEDAGOGIK DI MADRASAH
Muhammad Insan Jauhari

IAIN Babel
Abstract
The teacher has an important role in learning activities. Lack of understanding of educators about designing and implementing learning activities is still a problem today. In addition, educators do not pay attention to the condition of the characteristics of students so that learning activities carried out less than the maximum is not in accordance with the objectives of education. Pedagogical competence is one of the concepts designed to be understood and mastered by educators as an important solution in dealing with learning problems. Educators also need to conduct an increase in competence by doing a variety of ways such as; participating in the organization of subject teachers, attending educational seminar activities, increasing the ability to increase reading and discussing, and participating in internal deliberations in the madrasa environment.
References
Abd. Assegaf, Pendidikan Tapa Kekerasan: tipologi Kondisi, Kasus dan Konsep, Yogyakarta: Tiara Wacana Yogya, 2004.
Moh. Haitami Salim & Syamsul Kurniawan, Studi Ilmu Pendidikan Islam, Yogyakarta: Arruzz Media, 2012.
E. Mulyasa, Guru dalam Implementasi Kurikulum 2013, Bandung: Rosdakarya, 2015.
Jejen Musfah, Peningkatan Kompetensi Guru: Melalui Pelatihan dan Sumber Belajar Teori dan Praktik, Jakarta: Kencana 2011.
Lyle M. Spencer & Signe M Spencer, Competence at Work: Models For Superior Performance, Canada: John Willey & Son, Inc, 1993.
Nur Irwantoro & Yusuf Suryana, Kompetensi Pedagogik, Surabaya: Genta Group Production, 2016.
Uyoh Sadullah, Pedagogik (Ilmu Mendidik), Bandung: Alfa Beta, 2015.
Heri Gunawan, Pendidikan Islam: Kajian Teoritis dan Pemikiran Tokoh, Bandung: Remaja Rosdakarya, 2014.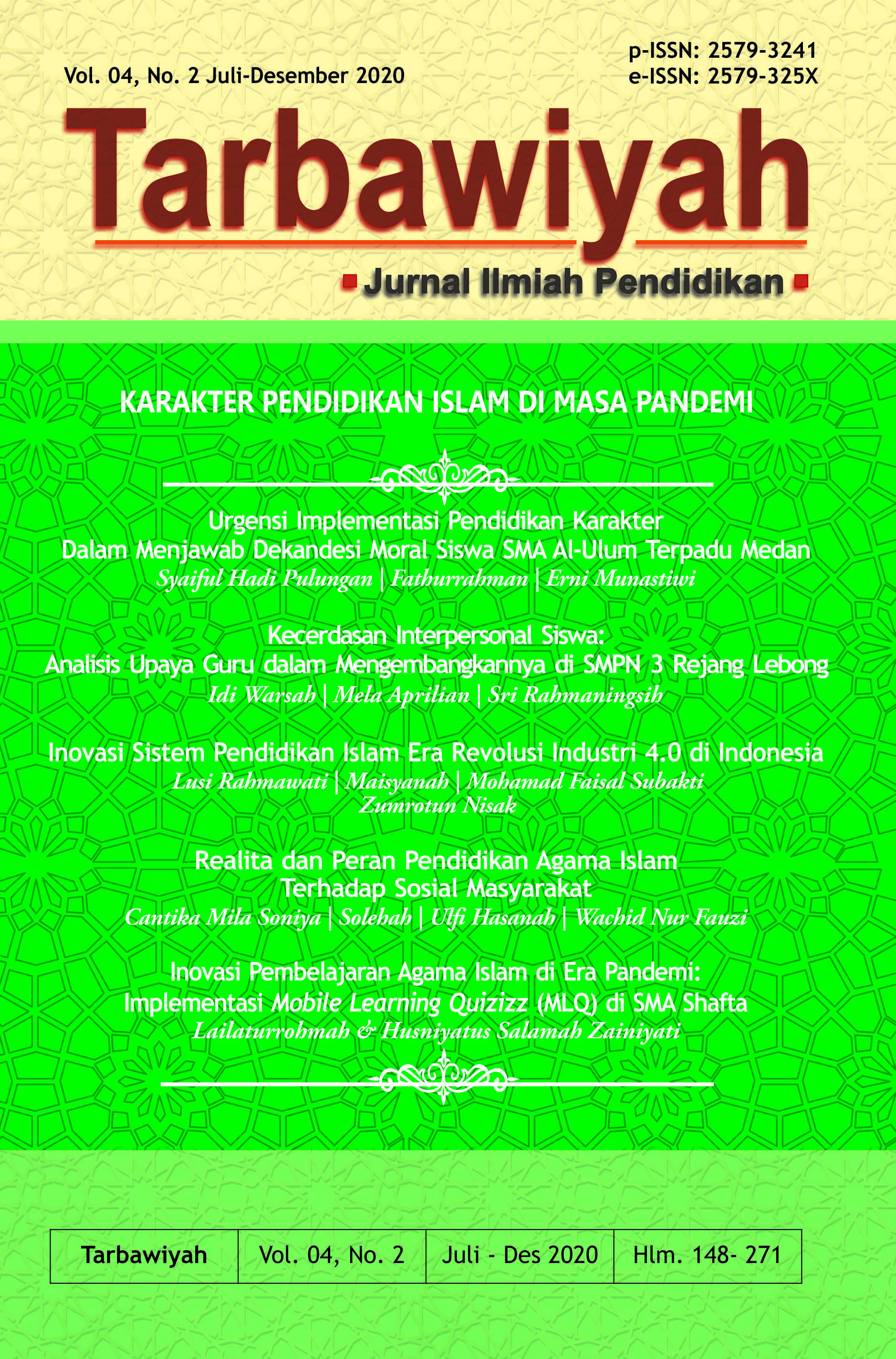 This work is licensed under a Creative Commons Attribution-ShareAlike 4.0 International License.