Problematika Pendidikan Agama Islam di Sekolah Umum Tingkat SMA
Annuriana Tsalitsa

IAIN Kudus

Siti Nurrahayu Putri

Institut Agama Islam Negeri (IAIN) Kudus

Lusi Rahmawati

Institut Agama Islam Negeri (IAIN) Kudus

Nur Azlina

Institut Agama Islam Negeri (IAIN) Kudus

Ulya Fawaida

Institut Agama Islam Negeri (IAIN) Kudus
Abstract
This article describes the problems of Islamic religious education high school level public schools. The formulation of the issues raised is 1) What are the problems of Islamic religious education (PAI) found in high school level public schools 2) How are the solutions to overcome the problems of learning Islamic religious education (PAI) in public schools at the high school level. This research method is qualitative research using a literature study method, namely by displaying scientific reasoning arguments. The problems of PAI in high school level public schools include low interest learning learners in the PAI learning, lack of time allocation, problems in educators, problem in students, problem in facilities and infrastructure, the problem in PAI learning methods, and problem in learning evaluation. Meanwhile, solutions to overcome these problems, including replacing professional teachers, finding PAI teachers who are professional in their fields, every educator is included in events such as seminars, providing facilities and infrastructure for the implementation of sufficient Islamic religious teaching practices, educators must master various learning methods so that students easily understand the material delivered, increase the number of PAI teachers, and develop a learning evaluation system where the emphasis is on self-evaluation.
References
AH. Sanaky, Hujair. Paradigma Pendidikan Islam: Membangun Masyarakat Madani Indonesia, Yogyakarta: Safiria Insani Press, 2003

Ahmadi, Abu. dan Joko Tri Prasetya, Strategi Belajar Mengajar, Bandung: Pustaka Setia, 1997

Arsyad dan Salahudin, "Hubungan Kemampuan Membaca Al Qur'an Dan Minat Belajar Siswa Dengan Hasil Belajar Pendidikan Agama Islam (PAI)," Edukasi: Jurnal Penelitian Pendidikan Agama dan Keagamaan, Vol. 16, No. 2 (2018); http://jurnaledukasikemenag.org

Ashoumi, Hilyah. "Pendayagunaan Lingkungan Sekolah Religius Untuk Memaksimalkan Pencapaian Kurikulum PAI," Dinamika, Vol. 1, No. 1, (2016), http://ejournal.unwaha.ac.id/index.php/dinamika/article/ view/103,

Awwaliyah, Robiatul dan Hasan Baharun, "Pendidikan Islam dalam Sistem Pendidikan Nasional (Telaah Epistemologi Terhadap Problematika Pendidikan Islam)," Jurnal Ilmiah DIDAKTIKA, Vol. 19, No. 1 (2018), http://jurnal.ar-raniry.ac.id/index.php/didaktika/article/download/ 4193/2726.

Hanafi, Halid. dkk., Profesionalisme Guru dalam Pengelolaan Kegiatan Pembelajaran di Sekolah, Yogyakarta: Deepublish, 2018

Irham, Muhammad. "Evaluasi Program Pembelajaran PAI di SMA Al-Hidayah Medan", Tesis, UIN Sumatera Utara Medan, 2016

Jalaluddin dan Usman Said, Filsafat Pendidikan Islam dan Perkembangan Pemikirannya, Jakarta: Raja Grafindo, 1994

Malawi, Ibadullah dan Endang Sri Maruti, Evaluasi Pendidikan, Magetan: CV. AE Media Grafika, 2016

Mayrani, Vina. "Hubungan Minat Belajar Dengan Prestasi Belajar Pendidikan Agama Islam Kelas XI Di SMA N 1 Way Pengubuan Lampung Tengah" Skripsi, IAIN Metro, 2018

Muslimin, "Problematika Pembelajaran Pendidikan Agama Islam Dan Upaya Solusi Guru Agama Dalam Pembinaannya di Sekolah," Tarbawiyah: Jurnal Ilmiah Pendidikan, Vol. 01, No. 2, (2017)

Sabri, Ahmad. Strategi Belajar Mengajar Micro Teaching, Jakarta: Quantum teaching, 2005

Sanjaya, Wina., Strategi Pembelajaran Berorientasi Standar Proses Pendidikan, Jakarta: Prenada Media Group, 2010

Siddik, Dja'far. Konsep Dasar Ilmu Pendidikan Islam, Cipta Pustaka, 2006

Sudjana, Nana. Dasar-Dasar Belajar Mengajar, Bandung: Sinar Baru Algensindo, 2005

Suprapto, "Kebutuhan Guru Pendidikan Agama Islam di Sekolah," Jurnal Penelitian Pendidikan Agama dan Keagamaan, Vol. 16, No. 2 (2018), http://jurnaledukasi kemenag.org/index.php/edukasi

Susiana, "Problematika Pembelajaran PAI di SMKN 1 Turen," Jurnal Al-Thariqah, Vol. 2, No. 1, (2017) https://journal.uir.ac.id/index.php/ althariqah/article.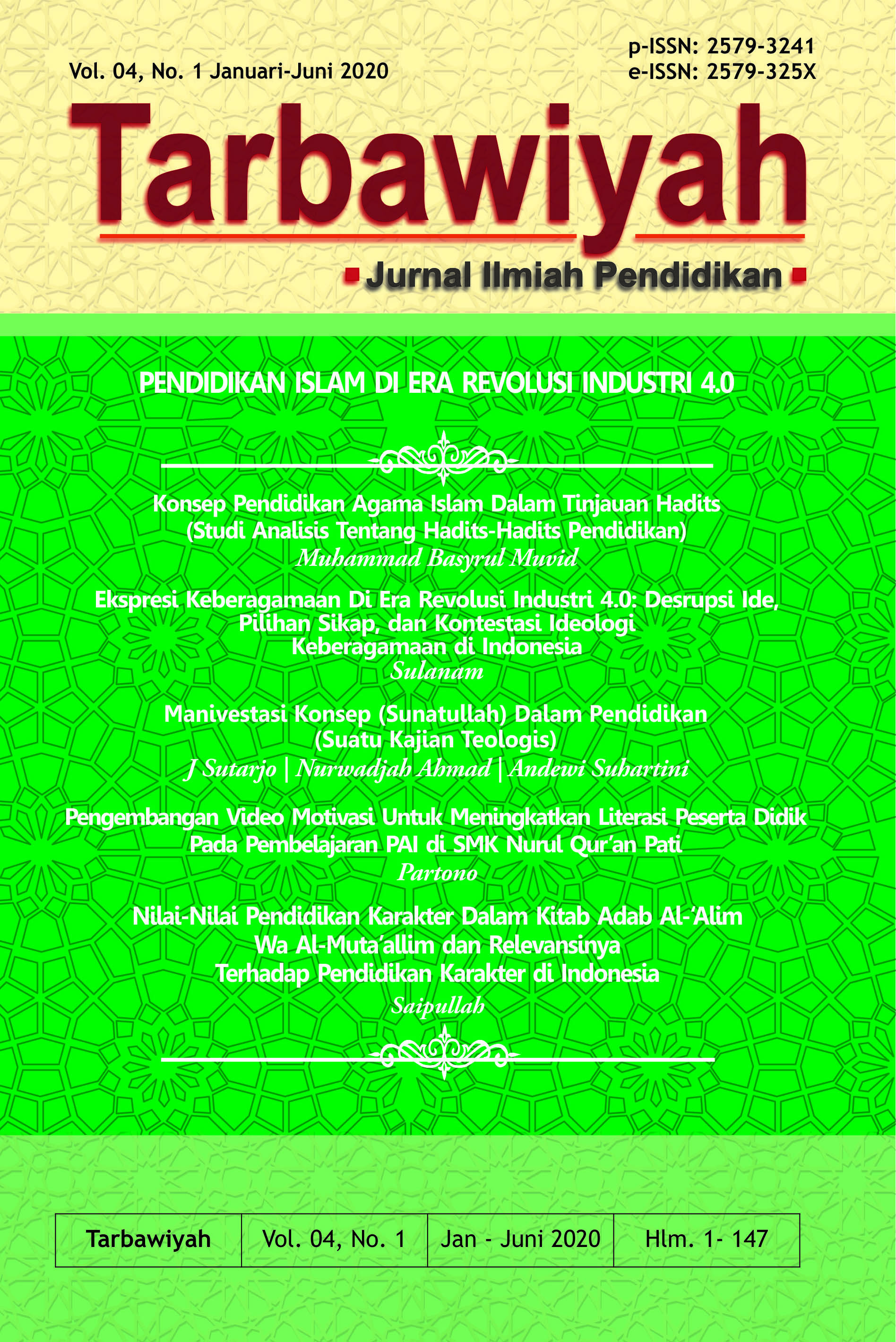 This work is licensed under a Creative Commons Attribution-ShareAlike 4.0 International License.