Nilai-Nilai Pendidikan Karakter Dalam Kitab Adab Al-'Alim Wa Al-Muta'allim dan Relevansinya Terhadap Pendidikan Karakter di Indonesia
Saipullah Saipullah

Institut Agama Islam Negeri (IAIN) Metro
Abstract
The results of this study concluded that the strengthening of the feeling is more effective than the strengthening of the ratio in self-development. It can be done withthat the values ​​of character education contained in Adab al-'Alim wa al-Muta'allim written by KH. Hasyim Asyari are taqwa, loving science, zuhd, discipline, al-qawamiyah, patience, wara', tawad'u, hard work/sincerity, loving cleanliness, democracy, affection, communication/ frienkedship, righteousness, social care, and gratitude. These 17 values ​​are in accordance with character  education in Indonesia. So that it can be interpreted that the values are proven to form a good disciple (santri) and support effective teaching and learning activities. The primary source of this study is Adab al-'Alim wa al-Muta'allim written by KH. Hasyim Asyari. While secondary data are references related to character education in the form of books, magazines, journals and other references relevant to this research. This research is library research. The data obtained were analyzed by descriptive-analysis approach that is by describing the book Adab al-'Alim wa al-Muta'allim withsocial history analysis in character education, then analyzed by conducting in-depth study about character education values and their relevance to character education in Indonesia.
References
Abdullah Nashih Ulwan, Pendidikan Anak Dalam Islam: Pendidikan Soisial Anak, Cet. Ke-3, Bandung: Remaja Rosda Karya, 1996

Abu Muslim Ibnu Hajjaj, Shahih Muslim, Juz II, Beirut: Dar Kutub al-Ilmiyah, 1809.

Abu N. As-Sarraj, Al-Luma': Rujukan Lengkap Ilmu Tasawuf, Surabaya: Risalah Gusti, 2009

Ahsin W. Al-Hafidz, Fikih Kesehatan, Jakarta: Amzah, 2007

Al-quran dan terjemahan, Jakarta: Pustaka al-Mubin, 2013

Amir Syukur, Zuhud di Abad Modern, cet-3, Yogyakarta: Pustaka Pelajar, 2004

Clara Willoughby Davidson."A Course of Study in Character Education". Journal of Bible and Religion. Vol. 7 1939.

Daniel P. Eginton."Principles of Character Education". Junior-Senior High School Clearing House, Vol. 8, 1934.

Kementerian Agama RI, al-Quran dan Tafsirnya Jilid 10, Jakarta: Kementerian Agama RI, 2012

Kementerian Pendidikan dan Kebudayaan Republik Indonesia, Analisis Kearifan Lokal Ditinjau Dari Keragaman Budaya, Jakarta: Pusat Data dan Statistik Pendidikan dan Kebudayaan, 2016

Kementrian Pendidikan Nasional, Badan Penelitian Dan Pengembangan Pusat Kurikulum, Bahan Pelatihan Penguatan Metodologi Pembelajaran Berdasarkan Nilai-Nilai Budaya Untuk Membentuk Daya Saing Dan Karakter Bangsa

KH. Hasyim Asyari, Adab al-'Alim Wa al-Muta'allim, Jombang: Maktabah al-Turath al-Islami, 1415 H/ 1994.

KH. Said Agil Siradj, Lihat http://www.nu.or.id/post/read/68797/kiai-said-cinta-tanah-air-penjaga-bangsa-dari-perpecahan.

Ma'mun Gharib, Rabi'ah al-Adawiayah Fi Mihrab al-Hubbi Ilahi, Kairo: Dar al-Gharib, 2000

Muhammad Nuh, Desain Induk Pendidikan Karakter 2010-2025, Kementrian Pendidikan Nasional.

Muhammad Nuh, Desain Induk pendidikan karakter di Indonesia, diakses dari wordpress.com/ 2011/05/desain-induk-pendidikan-karakter-kemdiknas.pdf

Munandar, Strategi Pembelajaran Di Perguruan Tinggi, Yogyakarta: CTSD, 1987

Ridjaluddin, Peranan KH. Hasyim Asyari dalam Kebangkitan Islam di Indonesia, Jakarta: Pusat Kajian Islam Fakultas Agama Islam Uhamka, 2008

Salmiwati, "Pendidikan Keimanan dan Ketaqwaan Bagi Anak-Anak" Jurnal Tarbiyah al-Aulad, Vol. IV, Edisi 1, 2015

Subandi, "Sabar Sebuah Konsep Psikologi", Jurnal Psikologi, Vol. 38, No. 2, Desember 2012
www.kemdikbud.go.id/main/blog/2017/11/membangun-pendidikan-karakter-melalui-keteladanan-guru

Zamakhsyari Dhofier, Tradisi Pesantren: Study Tentang Pandangan Hidup Kiai, Jakarta: LP3ES, 1994

Zubaedi, Desain Pendidikan Karakter Konsepsi dan Aplikasinya Dalam Lembaga Pendidikan, Jakarta: Kencana Prenada Media Grup, 2013.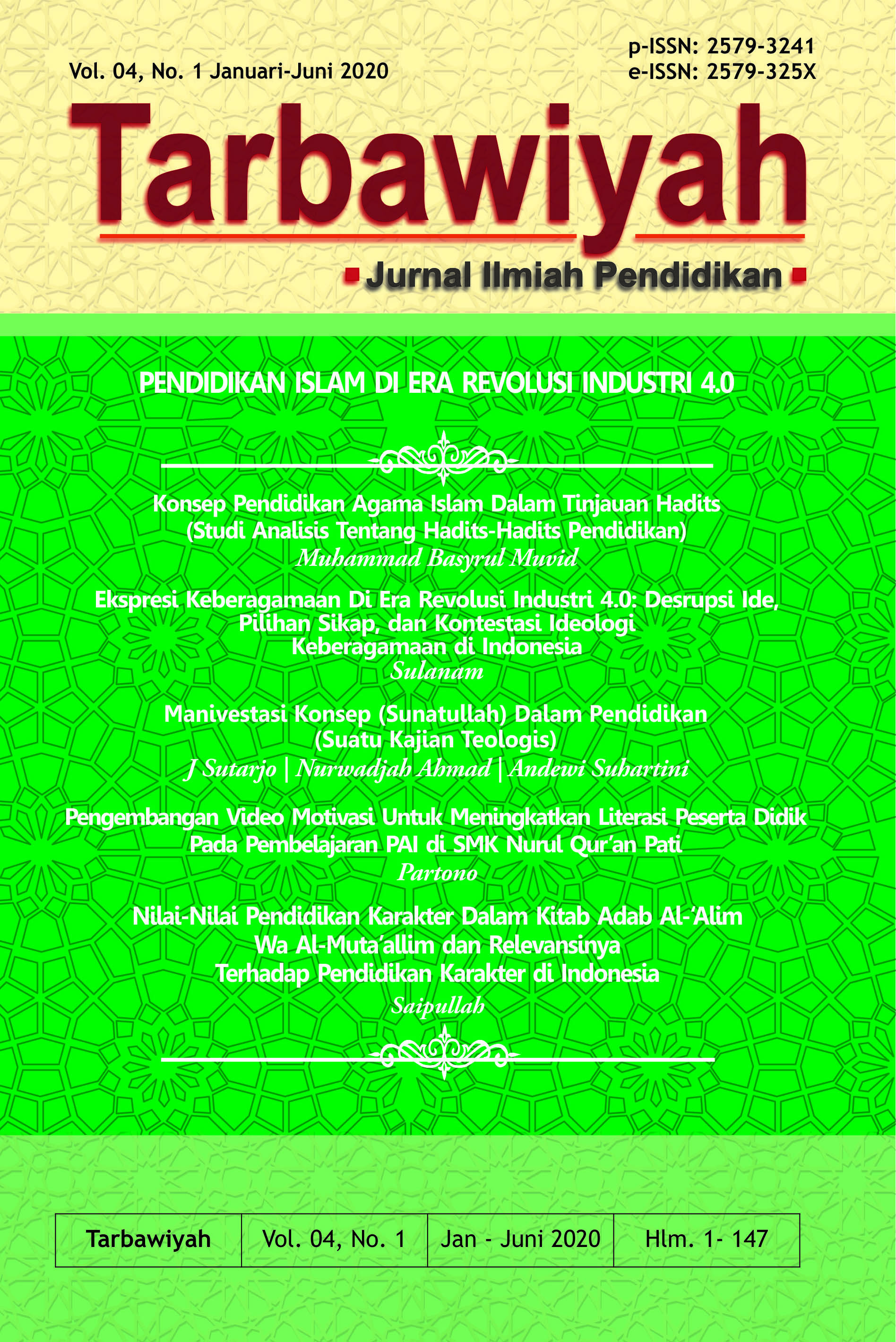 This work is licensed under a Creative Commons Attribution-ShareAlike 4.0 International License.