Ekspresi Keberagamaan Di Era Revolusi Industri 4.0 Desrupsi Ide, Pilihan Sikap, dan Kontestasi Ideologi Keberagamaan di Indonesia
Sulanam Sulanam

UIN Sunan Ampel Surabaya
Abstract
Tulisan ini akan mengeksplorasi empat hal penting yang berhubungan dengan ekspresi keberagamaan di Indonesia, khususnya di era – yang sebagian kalangan menyebutnya – revolusi industri 4.0 (the fourth industrial). Sebuah era, yang salah satu fiturnya ialah, masyarakat terkoneksi secara digital dan sangat bergantung pada akses internet. Empat hal tersebut adalah: pertama, dinamika ekspresi keberagamaan pasca reformasi, sebagai penanda perubahan sikap sosial secara fundamental; dari terkanalisasi ke demokrasi tanpa batas. Kedua, desrupsi ide keberagamaan. Ketiga, cara baru pilihan sikap keberagamaan. Terakhir, dampak dekonstelasi politik keberagamaan dan percaturan ideologis di Indonesia. Secara metodik, pendekatan tulisan ini akan menggunakan paradigma antropologis; agar bisa melihat fenomena sikap yang tampak dan mengejawantah di era kontemporer, serta fenomenologisme sebagai perangkat baca untuk menilai postur kesadaran yang membentuk ekspresi keberagamaan tersebut. Pada kesimpulannya, tulisan ini, tidak ingin menilai atau menganalisis mana ekspresi keagamaan yang paling benar dan salah di era revolusi industri  4.0. Sebalinya, tulisan ini sekedar ingin menggambarkan apa yang terjadi pasca kemajuan tekhnologi 'memperbaiki' dan 'merusak' nilai-nilai keberagamaan yang dipahami/diekspresikan oleh umat Islam di Indonesia.
References
Ahmad Syafi'i Ma'arif, Politik Identitas dan Masa Depan Pluralisme Kita, Jakarta; Democracy Project, 2012.

Akh Muzakki "Fenomena Premanisme Kelompok Keberagamaan dalam perspektif Studi Islam (Makalah seminar "Islam dan Premanisme Kelompok Keberagamaan" oleh Pusat Pengembangan Intelektual (P2I) Program Pascasarjana IAIN Sunan Ampel, di Gedung SAC, IAIN Sunan Ampel, Surabaya, 26 September 2012.

Arie Setyaningrum Pamungkas, "The Dakwah Media in Post Soeharto Indonesia; From Politics Identity to popular culture; The Case of Ummi, Phd Thesis, Universitas Berlin 2015.

Bo Xing & T Marwala "Implication of the Fourth Industrial Age on Higher Education" dalam Proceedings of the International Joint Conference on Neural Networks, BC, Canada, Maret 2017.

Charlene Tan, Islamic Education andIndoctrination; The Case of Indonesia, New York; Routledge, 2011.

Dale F. Eickelman, "The Study of Islam in Local Context" dalam Richard C. Martin Contribution to Asian Studies, vol. xvii Tahun 1982.

Douglas Allen, "Phenomenology of religion" dalam J. R Hinnels, Rutledge Companion of Religious Study, New York; Routledge, 2005.

Farish A Noor, Yogindar Sikand, dan Martin Van Bruinessen, ed, The Madrasa in Asia; Political Activism and Transnational Linkage, Amsterdam; Amsterdam University Press, 2008.

Greg Fealy & Selly White, Expressing Islam; Religious Life and Politics in Indonesia, Singapore; ISASS, 2007.

Greg Fealy dan Anthony Bubalo, Jejak Kafilah, terj. Akh. Muzakki, Bandung; Mizan, 2004.

Husniyatus Salamah "Politic of Cirizenship; Shape of identities, education and critical media literacy" Paper Seminar Internasional Pendidikan Islam di UM Malang Pada Desember 2016; tidak dipublikasikan.

Idrus al-Hamid, "Islam Politik di Papua; Resistensi dan Tantangan Membangun Pedamaian" dalam Jurnal Millah Vol XII, No 02 Tahun 2013.

Jacobus Oosthuizen "The Determinant of Fourth Industrial Revolution Leadership Dexterity; a Poposed Framework for 4IR-Inteligence and Subsequest 4IR Leadership Development" dalam Proceeding of International Conference of Resources Management, Milpark Buiness School.

Jajat Burhanuddin "Traditional Islam and Modernity; Some note Changing of the ulama' in early 20th Century Indonesia " dalam Azyumardi Azra, Kees Van Dijk, dan Nico J.G Kaptein, Varieties of religious Authority; Changes and Challenges in 20th Century Indonesian Islam, Singapore, ISAS Publishing, 2010.

Kim Knot, "Spatial Theory and Method for Study of Religion" dalam The Fenmish Study for the Study of religion, Temenos, Volume 41. No 2, 2005.

Martin Van Bruinessen, "Genealogies of Islamic Radicalism in Post-Soeharto
Indonesia" dalam South-East Asia Research, Vol 10 No. 2 Tahun 2002, Singapore: LSAS, 2002.

Martin Van Bruisennen, "Tradisional and Islamist Pesantrens in Contemporary Indonesia" dalam Fasrish A Noor edt. Madrasa in Asia; Political Activism and Transnational Linkages, Amsterdam; Amsterdam University Press, 2008.

Merlyna Lim, "Radical Islamism in Indonesia and Its Middle Eastern Connection," dalam Meria Journal, Volume 15, Issue 2 June Tahun 2011.

Mutohharun Jinan "Intervensi New Media dan Impersonalisasi Otoritas Keagamaan di Indonesia" Jurnal Komunikasi Islam Vol 03, Nor 02, Tahun 2013.

Mutohharun Jinan, "New Media dan Pergeseran Otoritas Keagamaan Islam di
Indonesia" dalam Jurnal Lektur Keagamaan, Vol. 10, No. 1, 2012.

Najib Burhani "Aksi Bela Islam dan Fragmentasi Otoritas keagamaan":
https://nasional.sindonews.com/read/1168539/18/aksi-bela-islam-danfragmentasi-otoritas-keagamaan-1483668174; diakses pada tanggal 10 Januari 2018.

Oliver Roy, the Failure of Political Islam, Cambridge, Massachusetts: Harvard
University Press, 1994.

Robert W. Hefner, "Islamic School, Social Movement, and Democracy in Indonesia", dalam Robert W. Hefner edit, Making Modern islam Politic of Education in South Asia, USA: Hawai University Press, 2009.

Roland Berger, "Industry 4.0, The New Industrial Revolution: How Europe Will Succeed, Munich, diakses melalui http://www.rolandberger. com/media/pdf/ pada 12 Juni 2017.

Siti Nurul Hidayah "Tele Dai dan Persolan Otoritas Keagamaan"
https://news.detik.com/kolom/d-3770783/tele-dai-dan-persoalan-otoritaskeagamaan; diakses pada tanggal 10 Januari 2018.

Siti Qomala Khayati, "Mengantisipsi Lawan Diskursif Islam-Indonesia; bingkai Baru Kelompok Radik menggerogoti Pancasila" dalam Proceeding Annual Confrence of Muslim Scholar, Surabaya 2018.

Syamsul Rizal, "Media and Islamism in Post New Order Indonesia; The Case of sabili", dalam Jurnal Studia Islamika Vol 12 No 3, Tahun 2005, Jakarta; UIN Syarif Hidayatullah, 2005.

Wael B. Hallaq, Authority, Continuity, and Change in Islamic Law, London; Cambrige University Press, 2001.

Yudi Latief, Geneologi Íntelegensia; Pengetahuan dan Kekuasaan Intelegensia Muslm, Jakarta; Kencana Gramedia Group, 2013.

Zifirdaus Adnan, "Ideological Conflict between the Indonesian Government and the Indonesian Muslim Radical" dalam Australian Folklore: a Yearly Journal of Folklore Studies; February 2017, Australia; Australian Folklore, 2017.
"media dan otoritas pemikiran Islam" https://www.hidayatullah.com/artikel /ghazwulfikr/read/2017/02/16/111930/sihir-media-dan-kampanye-anti-otoritasagama.html. diakses pada tanggal 10 Januari 2018.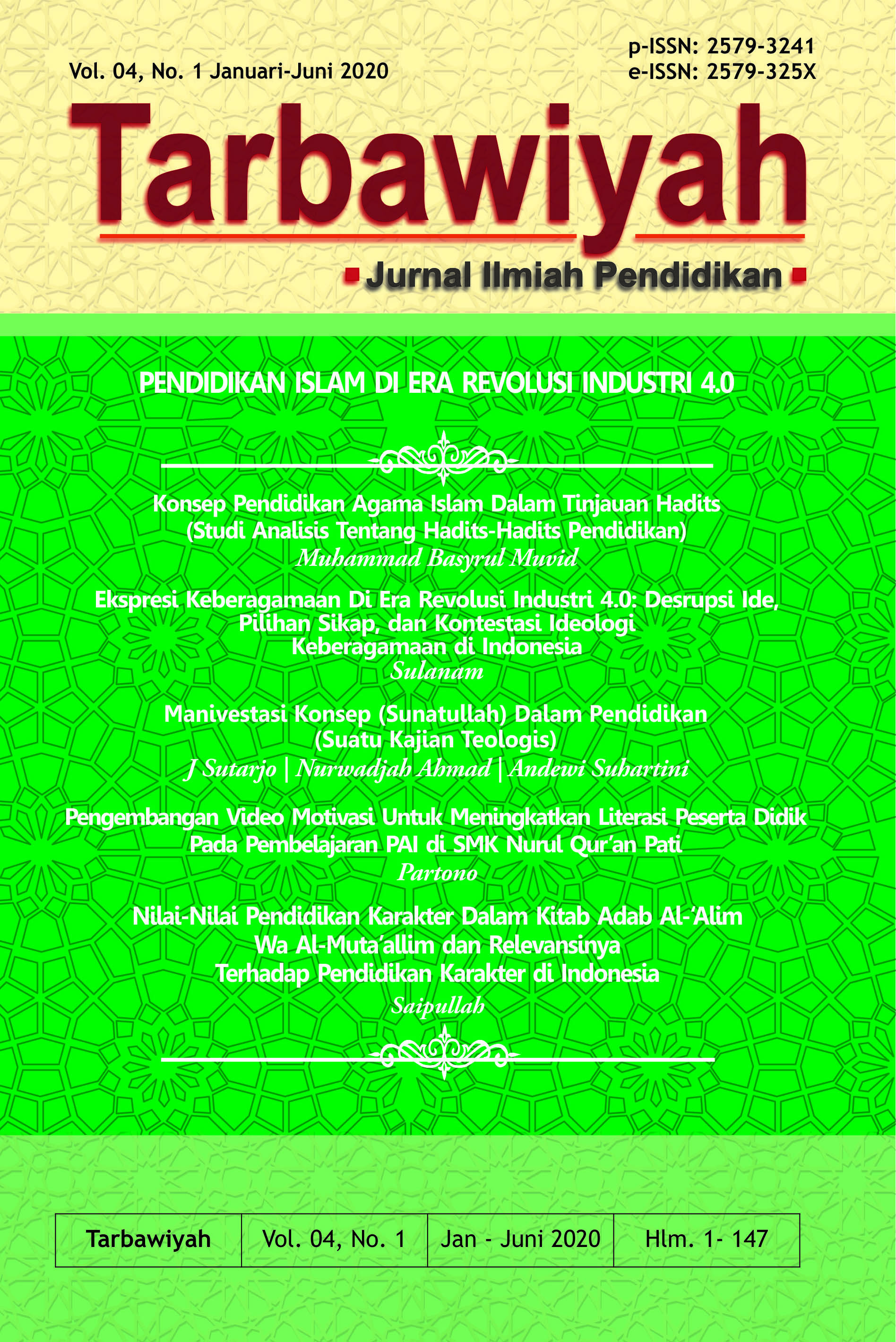 This work is licensed under a Creative Commons Attribution-ShareAlike 4.0 International License.