Figur Kyai dan Pendidikan Karakter di Pondok Pesantren
Abstract
Pesantren is an important institution in Indonesia to build generation character. Dormitory system (Mondok) has its own advantages in the process of transformation of science intensive theology. Kyai figure was in control in the process of learning activities for Islam in these institutions is the key to the success of a boarding school. Model Kyai's leadership is leadership Charismatic with a spirit of exemplary, where figure Kyai seen by the public as a person who is an expert in the field of religion, seen as able to provide solutions in the areas of social and religious, are also able to contribute to the nation in building younger generation is characterized as widened national educational purposes. Character education is what an Kyai include sincerity education, independence education, brotherhood education and discipline educatio. All of these character-building process carried out on the basis of exemplary. That is all that is taught by a Kyai are sciences that have been exemplified in advance. With exemplary zeal in educating the students, then we may see every graduate boarding school has a character similar to them Kyai.
References
Zamakhsyaray Dhofier, Tradisi Pesantren Studi Tentang Pandangan Hidup Kyai, Jakarta: LP3ES, 1985.
Imam Bawani, Tradisionalisme Dalam Pendidikan Islam, Surabaya: Al-Ikhlas, 1990.
Soekamto, Kepemimpinan Kyai Dalam Pesantren, Jakarta: LP3ES, 1999.
Undang-Undang No20 Tahun 2003 tantang Sisdiknas
Ridwan Nasir, Mencari Tipologi Format Pendidikan Ideal, Pondok Pesantren di Tengah Arus Perubahan, Yogyakarta: Pustaka Pelajar 2005.
Haidar Putra Daulay, Pendidikan Islam dalam Sistem Pendidikan Nasional di Indonesia, Jakarta: Kencana Prenada Media Group.
M. Ali Mas'udi, "Peran Pesantren Dalam Pembentukan Karakter Bangsa", Jurnal Paradigma, Vol. 2, No 1, November 2015, ISSN 2406-9787
Wahjoetomo, Perguruan Tinggi Pesantren, Pendidikan Alternatif Masa Depan, Jakarta: Gema Insani Press, 1997.
M. Syaifuddien Zuhriy, "Budaya Pesantren Dan Pendidikan Karakter Pada Pondok Pesantren Salaf", Jurnal Walisongo, Vol. 19, No. 2, November 2011
Lamberi Dirawat, dkk, Pengentar Kepemimpinan Pendidikan, Surabaya: Usaha Nasional, 1985.
Gerry Yukl, Kepemimpinan dan Organisasi, Jakarta: Stya Wacana, 1999.
Iva Yulianti Umdatul Izzah, "Perubahan Pola Hubungan Kiai Dan Santri Pada Masyarakat Muslim Tradisional Pedesaan", Jurnal Sosiologi Islam, Vol. 1, No.2, Oktober 2011 ISSN: 2089-0192
Martin van Bruinessen, NU, Tradisi Relasi-relasi Kuasa Pencarian Wacana Baru, Yogyakarta: LKiS, 1994.
H.A. Rodli Makmun, "Pembentukan Karakter Berbasis Pendidikan Pesantren: Studi Di Pondok Pesantren Tradisional Dan Modern Di Kabupaten Ponorogo", Cendikia, Jurnal Stain Ponorogo, Vol. 12 No. 2, Juli - Desember 2014
Nurla Isna Aunillah, Panduan Menerapkan Pendidikan Karakter di Sekolah, Yogyakarta: Laksana, 2011.
http://www.pesantren-latansa.sch.id/index.php/berita-terbaru/292-kyai-syukri-pondok-lautan-perjuangan-dan-keikhlasan, diakses pada Tanggal 02 Juli 2016 Pukul 22.00 wib
http://www.republika.co.id/berita/dunia-islam/hikmah/11/11/28/ lvchvs-belajar-kesederhanaan-dari-kiai-rasimin, diakses pada Tanggal 03 Juli 2016 Pukul 20.00 wib
Mangun Budiyanto, Imam Machali, "Pembentukan Karakter Mandiri Melalui Pendidikan Agriculture Di Pondok Pesantren Islamic Studies Center Aswaja Lintang Songo Piyungan Bantul Yogyakarta", Jurnal Pendidikan Karakter, UIN Sunan Kalijaga Yogyakarta Tahun IV, Nomor 2, Juni 2014
M. Syahran Jailani, "Kepemimpinan Kyai Dalam Merevitalisasi Pesantren" Artikel, Tarbiyah, IAIN STS Jambi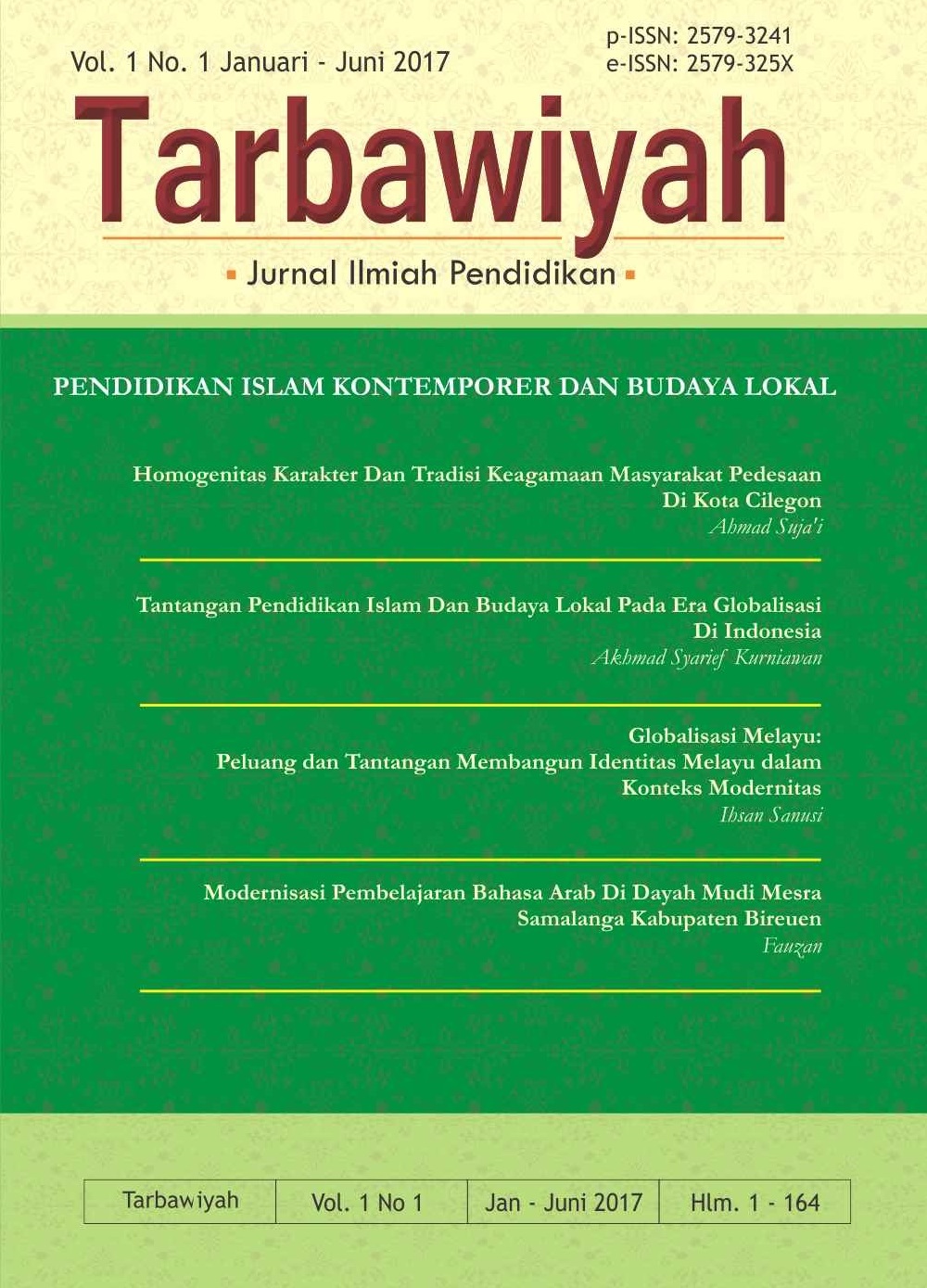 This work is licensed under a Creative Commons Attribution-ShareAlike 4.0 International License.