Analisis Konsikwensi Terhadap Kelemahan Konsep Akad dalam Kompilasi Hukum Ekonomi Syariah
Abdur Rahman Adi Saputera

Mohamad Ramdan Suyitno

Muhammad Syakir Alkautsar
Abstract
This study aims to analyze how the consequences of the weaknesses of the contract concept as stated in the KHES, and how the solutions to the weaknesses of the contract concept are. This research is a qualitative research library research (literature review) with a descriptive-analytical approach which is strengthened by primary and secondary data sources, while the data analysis techniques used are inductive, deductive, and comparative. The results showed that the consequences of the weaknesses of the contract concept in KHES were; Different interpretations, Sharia economic disputes are not resolved, the parties are harmed and do not provide massive information. While the solution to the weakness of the concept of the contract in article 25 paragraph (2) is that the solution to the clarity of the meaning of sighat al aqd is to provide a comparison with the sighat al-aqd that is in muamalah fiqih as KHES absorption adheres to these rules. More precisely, the contract must be carried out clearly, in oral, written and/or art form, and for the harmony of the mudharabah agreement Article 232 it is customary to add the object of the contract, and the main purpose of the contract as one of the pillars in the contract, as well as adding the provisions of the qardul hasan contract to book II. in chapter XXVII, also provides limitations in article 607, while article 347 must provide clarity in detail.
References
Abdul Ghofur, "Pengantar Ekonomi Syariah: Konsep Dasar, Paradigma, Pengembangan Ekonomi Syariah," 2017.
Abdul Mughits, "Kompilasi Hukum Ekonomi Syari'ah (KHES) Dalam Tinjauan Hukum Islam," Al-Mawarid Journal of Islamic Law, Vol.18, No.1, 2008.
Andy Triyawan, "Konsep Qard Dan Rahnmenurut Fiqhalmadzhahib," Ijtihad: Jurnal Hukum dan Ekonomi Islam, Vol.8, No.1, 2014.
Any Widayatsari, "Akad Wadiah Dan Mudharabah Dalam Penghimpunan Dana Pihak Ketiga Bank Syariah," Economic: Journal of Economic and Islamic Law, Vol.3, No.1, 2013.
Assim, Usang M and Julia Sloth-Nielsen, "Islamic Kafalah as an Alternative Care Option for Children Deprived of a Family Environment," African Human Rights Law Journal, Vol.14, No.2, 2014.
Bagus Ahmadi, "Akad Bay', Ijarah Dan Wadi'ah Perspektif Kompilasi Hukum Ekonomi Syariah (KHES)," Epistemé: Jurnal Pengembangan Ilmu Keislaman, Vol.7, No.2, 2012.
Edhy Rustan, "Analisis Penggunaan Bahasa Indonesia Laras Hukum Pada Putusan Perkara Ekonomi Syariah Pengadilan Agama Makassar", Center for Open Science, 2016.
Husni Kamal, "Penyelesaian Sengketa Ekonomi Syariah Pasca Putusan MK No. 93/Puu-X/2012 (Analisis Putusan Pengadilan Agama Cilegon No. 411/Pdt. G/2013/PA. Clg)," Universitas Islam Negeri" Sultan Maulana Hasanuddin" Banten, 2018.
Ifa Lathifa Fitriani, "Kompilasi Hukum Ekonomi Syariah Dalam Pemaknaan Hukum Islam Dan Sistem Hukum Positif di Indonesia," Supremasi Hukum: Jurnal Kajian Ilmu Hukum, Vol.5, No.1, 2020.
Johar Arifin, "Substansi Akad Dalam Transaksi Syariah," Al-Amwal: Jurnal Ekonomi dan Perbankan Syari'ah, Vol.6, No.1, 2016.
Kelik Pramudya, "Strategi Pengembangan Ekonomi Syariah Melalui Penguatan Fungsi Pengadilan Agama Dalam Penyelesaian Sengketa," Journal of Chemical Information and Modeling, Vol. 5, No. 9, 2019.
M.Ichsanuddin, "Tinjauan Hukum Islam Terhadap Wanprestasi Dalam Hukum Perdata", IAIN Sunan Ampel Surabaya, 1988.
Mughits, "Kompilasi Hukum Ekonomi Syari'ah (KHES) Dalam Tinjauan Hukum Islam."
Mutiara Citra, Rika Lestari, and Rahmad Hendra, "Tinjauan Yuridis Terhadap Kawin Kontrak Dalam Perspektif Hukum Perjanjian Dan Hukum Islam", Riau University, 2016.
Nashihul Ibad Elhas, "Kompilasi Hukum Ekonomi Syariah (KHES) Dalam Tinjauan Umum Hukum Islam," Al-Tsaman: Jurnal Ekonomi Dan Keuangan Islam, Vol.2, No.1, 2020.
Novi Ratna Sari, "Komparasi Syarat Sah Nya Perjanjian Menurut Kitab Undang-Undang Hukum Perdata Dan Hukum Islam," Jurnal Repertorium, Vol.4, No.2, 2017.
Nugraha Pranadita, "Akad-Akad Dalam Kompilasi Hukum Ekonomi Syariah (KHES) Dan Implementasinya Pada Sebuah Warung," Jurnal Hukum, Vol.32, No.2, 2016.
Popon Srisusilawati dan Nanik Eprianti, "Penerapan Prinsip Keadilan Dalam Akad Mudharabah Di Lembaga Keuangan Syariah," Law and Justice, Vol.2, No.1, 2017.
Rahayu Ningsih Eka Putri, "Penggunaan Kompilasi Hukum Ekonomi Syariah (Khes) Dalam Putusan Perkara Perlawanan Eksekusi Lelang Hak Tanggungan Pembiayaan Fasilitas Murabahah (Studi Kasus Putusan Nomor: 1301/Pdt. G/2019/PA. JP)," IAIN Purwokerto, 2020.
Rahmani Timorita Yulianti, "Asas-Asas Perjanjian (Akad) Dalam Hukum Kontrak Syari'ah," Jurnal Fakultas Hukum UII, Vol.2, No.1, 2008.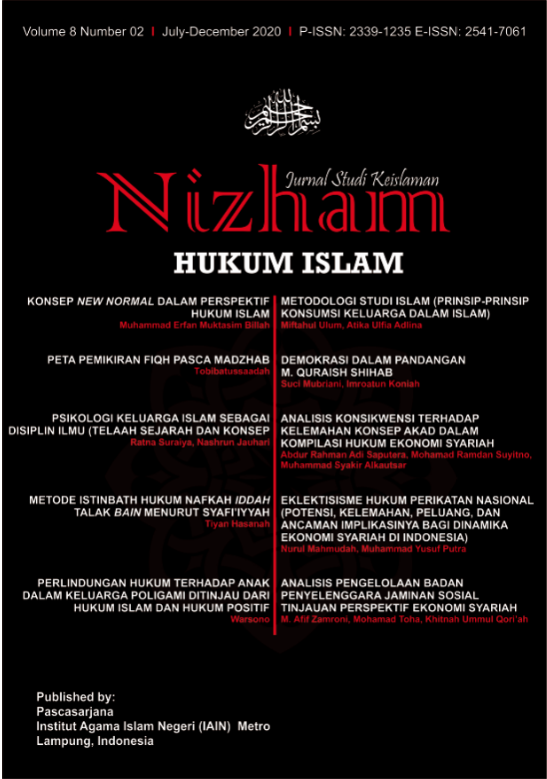 This work is licensed under a Creative Commons Attribution-NonCommercial-NoDerivatives 4.0 International License.