Analisis Pengelolaan Badan Penyelenggara Jaminan Sosial Tinjauan Perspektif Ekonomi Syariah
M. Afif Zamroni

Mohamad Toha

Khitnah Ummul Qori'ah
Abstract
In Indonesia, there are many companies that offer guarantees to face risks in the future, one of the examples is sharia insurance, which means that efforts to protect each other and help each other to face risks, while BPJS is a guarantee institution prepared by the government for the community. But in practice The operation between sharia insurance and BPJS is very much different if Islamic insurance has used and the system is in accordance with sharia, while BPJS is still not clear that the contract and still contains elements of usury because there are fines to be paid when in arrears, which means that there is already an element of usury because the premiums paid are not equal to the premium earned. In this discussion using a qualitative method with a literature approach, from this literature method, we get a meeting point that there are still some BPJS systems that are not yet sharia, so the government should implement a syariah BPJS that has clear akd and differentiated management of funds to help help and investment funds. So that from the tabrru 'fund or help to help, it can be repeated if participants who are late paying premiums are not subject to fines. And for premiums, a premium table should be made when registering BPJS participation at the beginning so that it is clear that premiums will be paid and earned. And if the application for inpatient care, the system is improved so that it is no longer difficult to apply for BPJS, because BPJS is to ensure public health, it should not be complicated when needed.
References
Andri Soemitra, Bank dan Lembaga Keuangan Syraiah, Jakarta: Kencana, 2016.
Arie Syantoso,"Analisis Ffiqh Keuangan Badan Penyelenggara Jaminan Sosial (Studi Terhadap Undang-Undang Nomor 24 Tahun 2011 Tentang Badan Penyelenggara Jaminan Sosial)", At-Taradhi: Jurnal Studi Ekonomi, Vol.7, No.1, Juni 2016.
Baginda Parsaulian,"Prinsip Dan Sistem Operasional Asuransi Syariah (Ta'min, Takaful atau Tadhamun) di Indonesia", Ekonomika Syariah: Journal of Economic Studies, Vol.2, No.2, Desember 2018.
BPJS, "Panduan Praktis Kepesertaan dan Pelayanan Kesehatan yang Diselenggarakan oleh BPJS kesehatan Berdasarkan Regulasi yang Sudah Terbit", dalam https://bpjs-kesehatan.go.id/bpjs/dmdocuments/, diakses pada 24 januari 2020.
Diyan Ayu Purnama Sari, Skripsi: "Sistem Pembayaran Premi dan Pengelolahan Dana Badan Penyelenggara Jaminan Sosial Kesehatan (BPJS Kesehatan) Prespektif Hukum Islam Di Kota Makasar (Tahun 2016-2017)", Jurusan Peradilan Fakultas Syariah dan Hukum Universitas Islam Negeri Alauddin Makasar, Tahun 2018.
Jeni susyanti, Pengelolaan Lembaga Keuangan Syariah, Malang: Empat Dua, 2016.
Mohamad Edris, dkk, "Analisis Operasional BPJS Kesehatan Terhadap Prinsip Ekonomi Syariah", Universty Research Colloquium, Vol.3, No.1, Februari 2016.
Trisna wadada dkk, "Peran Badan Penyelenggara Jaminan Sosial (BPJS) Kesehatan dan Imolikasi Terhadap Kesehatan Masyarakat (Studi kasus RSUD Hasanuddin Damra Mana, Kabupaten Bengkulu Selatan, Provinsi Bengkulu)", Jurnal Ketahanan Sosial, Vol.23, No.2, Agustus 2017.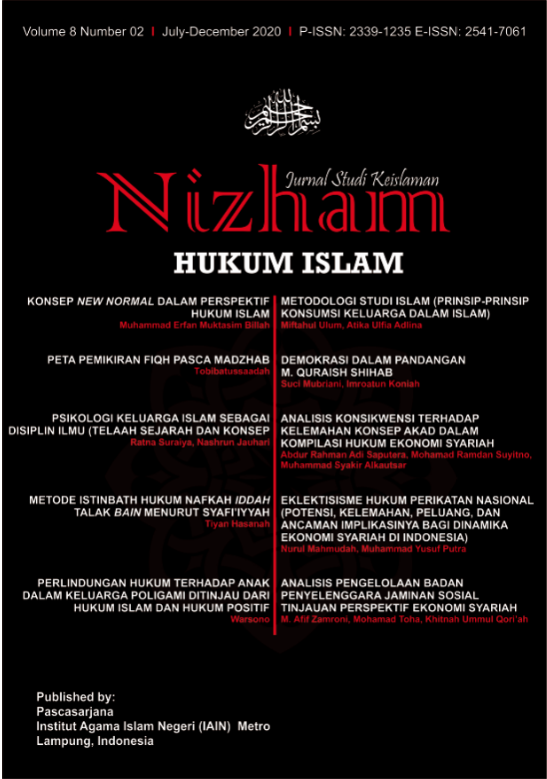 This work is licensed under a Creative Commons Attribution-NonCommercial-NoDerivatives 4.0 International License.