Metode Istinbath Hukum Nafkah Iddah Talak Bain Menurut Syafi'iyyah
Abstract
Iddah is one of the obligations of a wife who is divorced by her husband. During iddah, the wife has the right to get a place to live and provide a living, that is what applies to talak raj'i and not to a wife who is divorced ba`in. This research is a library research. Nafkah Iddah the details of which are not explicitly explained in the Al-Qur'an and Hadith. This has led to differences of opinion among the schools of thought. Shafi`iyyah uses mafhum mukhalafah as an istinbaṭh method in understanding Surah ath-Talaq Verse 6 and uses the ahad Hadith from Fatimah bint Qais as the basis for the absence of iddah talaq bain for wives who are not pregnant. The use of mafhum mukhalafah by Shafi`iyyah affects the rule of law. According to Syafi`iyyah, pregnancy is a requirement or qayid for the obligatory support for the wife who has been bullied, which means that if there is no pregnancy, it is not obligatory to provide for the wife who is wronged.
References
Abdul Hadi Muthohhar, Pengaruh Mazhab Syafi`i di Asia Tenggara, Semarang: Aneka Ilmu, 2003.
Abdul Manan, Aneka Masalah Hukum Perdata Islam di Indonesia, Jakarta: Kencana, 2017.
Abdul Manan, Pembaruan Hukum Islam di Indonesia, Jakarta: Kencana, 2017.
Khallaf, Abdul Wahhab, Ijtihad dalam Syariat Islam, Terj. Rohidin Wahid, Jakarta: Pustaka Al-Kautsar, 2015.
Salim, Abu Malik Kamal bin as-Sayyid, Ensikiopedi Fiqih Wanita, Terj. Beni Sarbeni, Bogor: Pustaka Ibnu Katsir, 2009.
Rusyd, Abul Wahid Muhammad Ibnu, Bidayatul Mujtahid Wa Nihayatul Muqtasid, Terj. Imam Ghazali Said dan Ahmad Zaidun, Jakarta: Pustaka Amani, 2007.
Salam, Ahmad Nahrawi Abdus, Ensiklopedia Imam Syafi'i, al-Imam al-Syafi`i Mazdhabihi al-Qadim wa al-Jadid), Terj. Usman Sya`roni, Jakarta: Mizan Publika, 2008.
Amir Syarifudin, Ushul Fiqih Jilid II, Jakarta: Kencana, 2011.
Boedi Abdullah, Perkawinan dan Perceraian Keluarga Muslim, Bandung: Pustaka Setia, 2013.
Fauzi, Sejarah Hukum Islam, Jakarta: Kencana, 2018.
Ghufron A. Mas'adi, Pemikiran Fazlur Rahman tentang Metodologi Pembaharuan Hukum Islam, Jakarta: Raja Grafindo Persada, 1998.
Gus Arifin dan Sundus Wahidah, Ensikiopedia Fikih Wanita: Pembahasan Lengkap A-Z Fikih Wanita dalam Pandangan Empat Mazhab, Jakarta: Elex Media Komputindo, 2018.
Kasjim Salenda, "Kehujjahan Istihsan dan Implikasinya dalam Istinbat Hukum," Jurnal Ad-Daulah, Vol.1, No.2, Juni 2013.
Mughniyah, Muhammad Jawad, Fiqih lima mazhab: Ja'fari, Hanafi, Maliki, Syafi'i, Hambali, Terj. Masykur A.B., Jakarta: Lentera 2012.
Rahmawati, Istinbâṭ Hukum Teungku Muhammad Hasbi Ash-Shiddieqy, Yogvakarta: Deepublish, 2015.
Sabiq, Sayyid, Fiqih Sunnah, Terj. Nor Hasanuddin, Jakarta: Pena Pundi Aksara, 2006.
Sirajuddin Abas, Sejarah dan Keagungan Madzhab Syafi'i, Jakarta: Pustaka Tarbiyah Baru, 2007.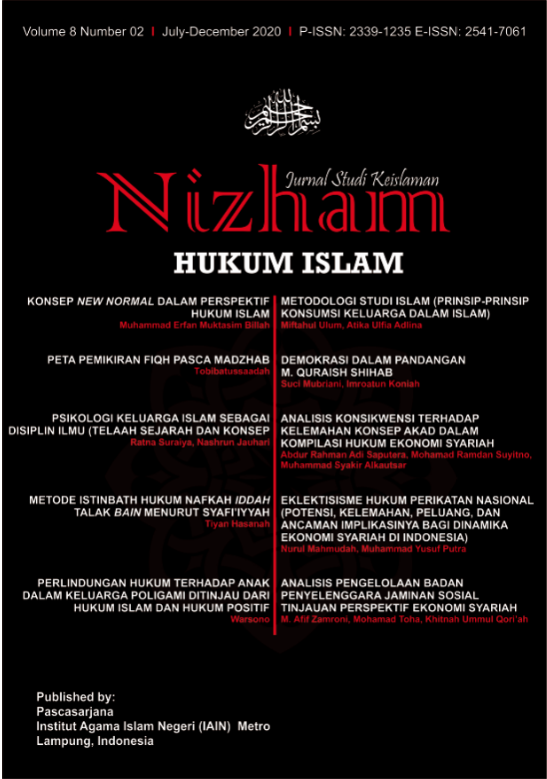 This work is licensed under a Creative Commons Attribution-NonCommercial-NoDerivatives 4.0 International License.