Manajemen Mutu Program Kallimni pada Kelas Online Kursus Bahasa Arab Al-Azhar Pare
Ahmad Azhari

Pascasarjana UIN Maulana Malik Ibrahim Malang

Gesbi Rizqan Rahman Arief

Danial Hilmi
Abstract
The purpose of this study is to describe the quality management in the Kallimni program which is applied by the Al-Azhar Pare language course institution in online classes. The method used in this research is descriptive qualitative. Data were collected with several instruments, namely observation, interviews, and documents. Data is analyzed through data condensation, data presentation, and data verification. The results of the study indicate that quality management in the Kallimni program of online Arabic classes at the Al-Azhar Pare course institution includes planning, implementation, and evaluation. The planning stage is carried out through the SWOT (Strength, Weakness, Opportunity, Threath) stages. So that the quality and quality of the online class program can be well maintained during the online learning period. In its implementation, all components contained in the program are always considered, in order to avoid any discrepancies with what has been planned. Likewise in quality evaluation, all aspects of the curriculum are monitored, so that the quality and quality of online class programs can be well maintained during online learning. It is hoped that the research can contribute to both formal and non-formal educational institutions as a reference in quality management.
References
Abdullah, Abdullah. ―Manajemen Kepala
Sekolah dalam Pembelajaran Daring
Pada Masa Pandemi Covid 19.‖
Jurnal Pendidikan Guru 2, no. 1 (12
Januari 2021).
https://doi.org/10.47783/jurpendigu.v2
i1.183.
Admin. ―Kelas Bahasa Arab Online Via
Whatsapp,‖ 2021.
https://alazharpare.com/kelas-bahasa-
arab/.
Ainin, Mohammad. Metode Penelitian
Peningkatan Kualitas Pembelajaran
Bahasa Arab (Teori dan Praktik).
Malang Jawa Timur: Lisan Arabi,
2019.
Andari, Izqy Yuan. ―Pentingnya media
pembelajaran berbasis video untuk
siswa jurusan ips tingkat SMA se-
Banten.‖ Dalam Prosiding Seminar
Nasional Pendidikan FKIP, 2:263–75,
2019.
Apud, Apud. ―Manajemen mutu pendidikan
man insan cendekia.‖ Tarbawi: Jurnal
Keilmuan Manajemen Pendidikan 4,
no. 02 (2018): 171–90.
Arifudin, Moh., Fathma Zahara Sholeha,
dan Lilis Fikriya Umami. ―Planning
(perencanaan) dalam manajemen
pendidikan islam.‖ Ma'alim: Jurnal
Pendidikan Islam 2, no. 02 (11
Desember 2021).
https://doi.org/10.21154/maalim.v2i2.
3720.
Handoko, Muhamad Dini. ―Manajemen
Mutu Pendidikan dalam Persfektif
Kebijakan Pendidikan Nasional.‖
Jurnal Dewantara 9, no. 1 (2020): 18.
Indraswati, Dyah, dan Deni Sutisna.
―Implementasi Manajemen Mutu di
SDN Prambon.‖ Jurnal Dinamika
Manajemen Pendidikan 5, no. 1 (1
Oktober 2020): 10.https://doi.org/10.26740/jdmp.v5n1.p10-21.
Iqbaluddin, Dicky, dan Aufia Aisa. ―Asas
Pengembangan Bahan Ajar Bahasa
Arab (Sosial Budaya, Psikologis,
Kebahasaan dan Pendidikan).‖ El-
Wasathiya: Jurnal Studi Agama 8, no.
1 (2020): 99–112.
Kuntarto, Eko. ―Keefektifan Model Pembe-
lajaran Daring dalam Perkuliahan
Bahasa Indonesia di Perguruan
Tinggi.‖ Journal Indonesian Langu-
age Education and Literature 3, no. 1
(2017): 12.
https://doi.org/DOI:http://dx.doi.org/10.242
35/ileal.v3i1.1820.
Mar, Nur Azaliah, dan Danial Hilmi.
―Manajemen program pembelajaran
bahasa Arab pada anak prasekolah
Yayasan PAUD Sultan Qaimuddin di
Kendari.‖ Jurnal Akuntabilitas
Manajemen Pendidikan 9, no. 1 (1
Mei 2021): 1–10.
https://doi.org/10.21831/jamp.v9i1.36943.
Naharti, Maniar. ―Pelaksanaan Total Mana-
jemen Mutu Terpadu Sebagai Upaya
Meningkatkan Kualitas Pembe-
lajaran.‖ Journal of Elemantary
School (JOES) 3, no. 2 (2020): 12.
https://doi.org/10.31539/joes.v3i2.186
6.
Pujilestari, Yulita. ―Dampak Positif Pem-
belajaran Online dalam Sistem
Pendidikan Indonesia Pasca Pandemi
Covid-19.‖ 'adalah: Buletin Hukum &
Keadilan 4, no. 1 (2020): 8.
Rizqi, Shoniatul Ummi, dan Widya
Nusantara. ―Penerapan Sistem Mana-
jemen Mutu ISO 9001: 2015 dalam
Meningkatkan Mutu Lulusan di LKP
Magistra Utama Tuban.‖ JPUS:
Jurnal Pendidikan Untuk Semua 4, no.
2 (2020): 1–12.
Sari, Widya, Andi Muhammad Rifki, dan
Mila Karmila. ―Analisis Kebijakan
Pendidikan Terkait Implementasi
Pembelajaran Jarak Jauh pada Masa
Darurat Covid 19.‖ Jurnal Mappesona
3, no. 2 (2020): 13.
Sujana, I Wayan Cong. ―Fungsi dan Tujuan
Pendidikan Indonesia.‖ Adi Widya:
Jurnal Pendidikan Dasar 4, no. 1 (23
Juli 2019): 29.
https://doi.org/10.25078/aw.v4i1.92.
Syaifullah, Muhammad, dan Nailul Izzah.
―Kajian Teoritis Pengembangan
Bahan Ajar Bahasa Arab.‖ Arabiya-
tuna: Jurnal Bahasa Arab 3, no. 1
(2019): 127–44.
Syarif, Zainuddin. ―Manajemen Kepemim-
pinan Kiai dan Kontribusinya
Terhadap Mutu Pendidikan Pesan-
tren.‖ FIKROTUNA 6, no. 2 (28
Desember 2017).
https://doi.org/10.32806/jf.v6i2.311.
Tanjung, Rahman, Hanafiah Hanafiah, Opan
Arifudin, dan Dedi Mulyadi. ―Kom-
petensi Manajerial Kepala Sekolah
dalam Meningkatkan Kinerja Guru
Sekolah Dasar.‖ JIIP-Jurnal Ilmiah
Ilmu Pendidikan 4, no. 4 (2021): 291–
96.
Umam, Muhamad Khoirul. ―Dinamisasi
Manajemen Mutu Persfektif Pen-
didikan Islam.‖ Jurnal Al-Hikmah 08
(2020): 14.
———.―Peningkatan Mutu Pendidikan
Melalui Manajemen Peserta Didik.‖
Jurnal al–Hikmah 6, no. 2 (2018): 15.
Zakiatunnisa, Alfian Sukma Dinda, dan
Nada Masiva. ―Problematika Pem-
belajaran Bahasa Arab dan Solusinya
Bagi Non-Arab.‖ dalam Peran
Mahasiswa Bahasa Arab dalam
Menghadapi Revolusi Industri 4.0,
Vol. 4. Universitas Negeri Malang,
2020.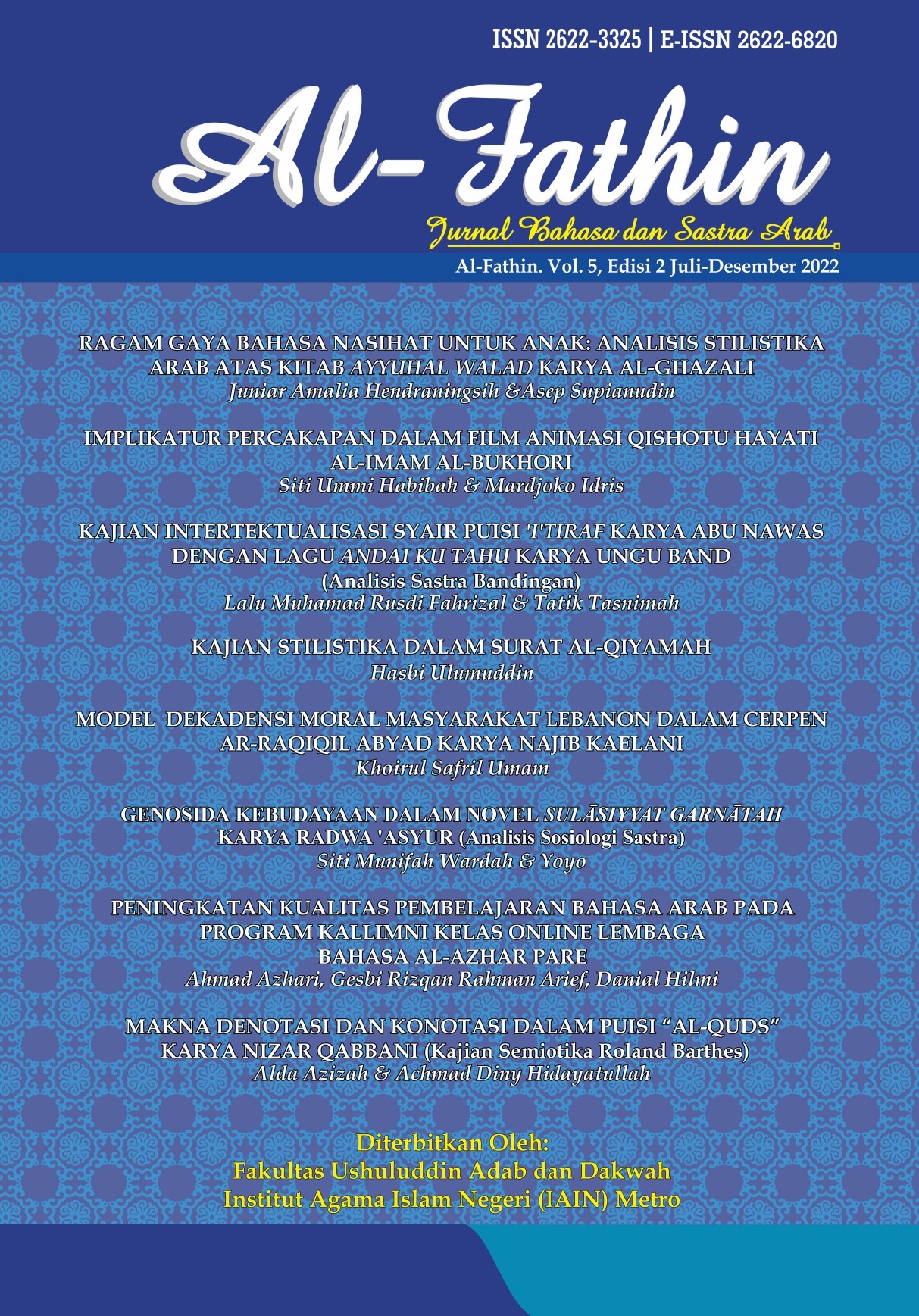 This work is licensed under a Creative Commons Attribution-ShareAlike 4.0 International License.